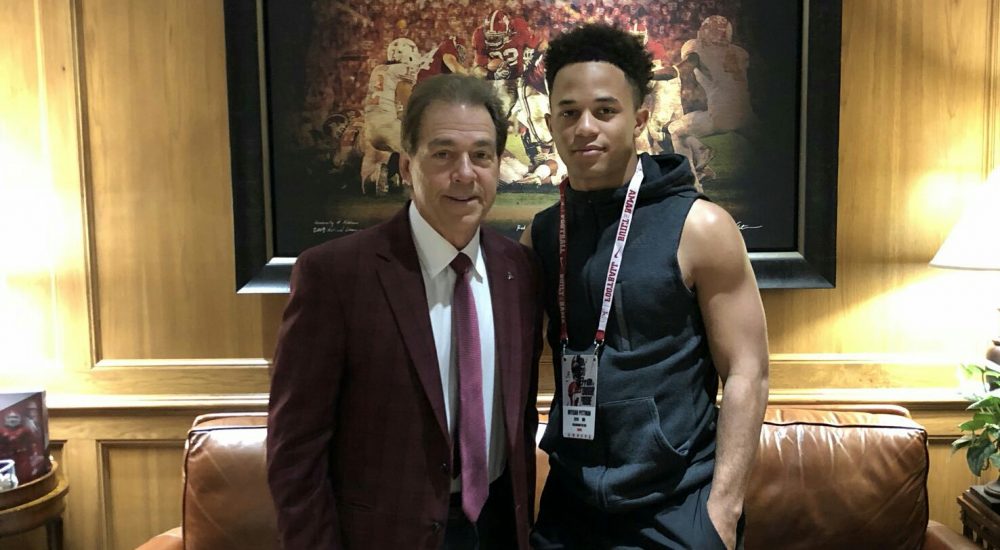 Alabama has been on fire on the recruiting trail. They have pulled in some of the top talent from around the nation as well as made their prescensce felt inside of the state of Alabama. They currently have a verbal commitment from every position group except for running back and wide receiver.
Although, the Tide will have a stable of running backs this season, it is vital that they get a running back commit in this class after only landing one, Jerome Ford, in the 2018 recruiting class. Alabama also has a lot of youth and talent in their wide receiver corps, but would love to add a couple this recruiting class because wide out is a position that any team would love to have depth at.
The Tide are targeting some outstanding skill players. Here is a few of the offensive skill players the Tide are recruiting heavily:
Trey Sanders
Sanders has had an interesting recruitment thus far. He was once committed to Alabama, but decided to de-commit to open up his options. He did say Alabama would remain as one of his top schools. Many teams have made up ground since Sander's de-commitment, especially Florida. They have become a huge player in the battle for the top running back in the nation. Sanders has the whole package. He is explosive and very elusive. He can make juke moves on the dime, which enables him to take advantage of his great vision. The fact that he goes to IMG Academy will only help his game developed more as he gets the chance to travel around the nation and battle it out against the best. The Tide have gotten a commitment from him once. It'll be interesting to see if they could do it again.
Jerrion Ealy
Ealy is currently committed to Ole Miss and plans to play football and baseball for the Rebels. This kid is an all-around athlete and actually has more offers in baseball than in football. Fortunately for Alabama, Ealy has revealed that he is going to take a closer look at Alabama and seveeral other schools up until signing day. Ealy is a back that runs with a lot of power and speed. At 5-feet-9-inches and 195 pounds he is able to run low to the ground and make defenders bounce off him with ease. He also has a pretty effective stiff arm. It is easy to tell this guy is going to do some damage wherever he goes.
Quavaris Crouch
Crouch is the top athlete in this class. The Tide do have the advantage of the fact that they offered Crouch over a year ago and have been able to build a connection with him. Crouch is a bit of a taller back at 6-feet-2-inches, but knows how to use his height to stride and make up ground quickly. There is no secret that this kid is one of the most highly recruited backs in this class. He has not released a top school list yet, but have been visiting many different places. Alabama's wide receiver coach, Josh Gattis, took a visit to see him on April, 28. This could be a huge get for the Tide if they can land Crouch.
Quavaris Crouch is the definition of Beastmode
Isaiah Spiller
Spiller is the top all-purpose back in this class. The Tide are jumping on the boat late for this guy as they offered him late last month. Alabama's special team coach, Jeff Banks, has already built a connection with this kid and hopefully, he can work his magic on the ESPN 300 back. Spiller is an explosive runner. He has a plethora of juke moves and spins. He is also able to stop on the dime and make moves in the open field. He can be used in both the passing and running game as he is a great route runner. One of the more special things about this kid is his ability to get through tight holes and explode into the secondary.
Mycah Pittman
Pittman is the top wideout in the state of California. He has Alabama in his top 5 along with Nebraska, Florida, Ohio State and Oregon. Pittman could fit right in with Alabama's loaded wide receiver group. He has a ton of speed and is most definitely a deep threat. He is also something special with the ball in his hands. His quickness makes it very difficult for guys to tackle him in the open field.
Devonta Lee
Lee is one of the top wide receivers in the state of Louisiana and his recruitment looks like it is going to come done to another LSU versus Alabama recruiting battle. This guy has a great pair of hands that he uses on both sides of the ball. Saban definitely has his eyes on this kid since he has experience playing on both sides of the ball and with Saban's willingness to try guys at different positions, This could be a huge get for The Tide.
Joe Ngata
Ngata holds more than 20 offers as he is a lengthy and effective wideout.  His 6-feet-4 frame makes him a nightmare for any defensive back. He is aggressive in the air and it is going to take a lot to get the ball form him in those 50/50 situations. UCLA, USC, and Washington are not going to let this kid escape Pac-12 country without a fight, so it will be interesting to see if the Tide can make a move on Ngata.
Nnamdi Adim-Madumere
Madumere is another one of the guys that Alabama has to make up a huge amount of ground for as they just offered him on Monday. He is a rising wide receiver that Baylor and Texas hope they can keep inside of the Longhorn state. It is going to be a battle the Tide are ready to fight. Alabama's special team coach, Jeff Banks, offered Madumere and hopes he can get Madumere to really think about joining the tide. The Texas-native is a big physical wide receiver at 6-feet-3-inches and 226 pounds. He is an easy target for the quarterback with his great size and is a defensive backs nightmare.
Justin Smith is a Scouting/Recruiting analyst for Touchdown Alabama Magazine. You can follow him on Twitter, via @Jdsmith31Smith