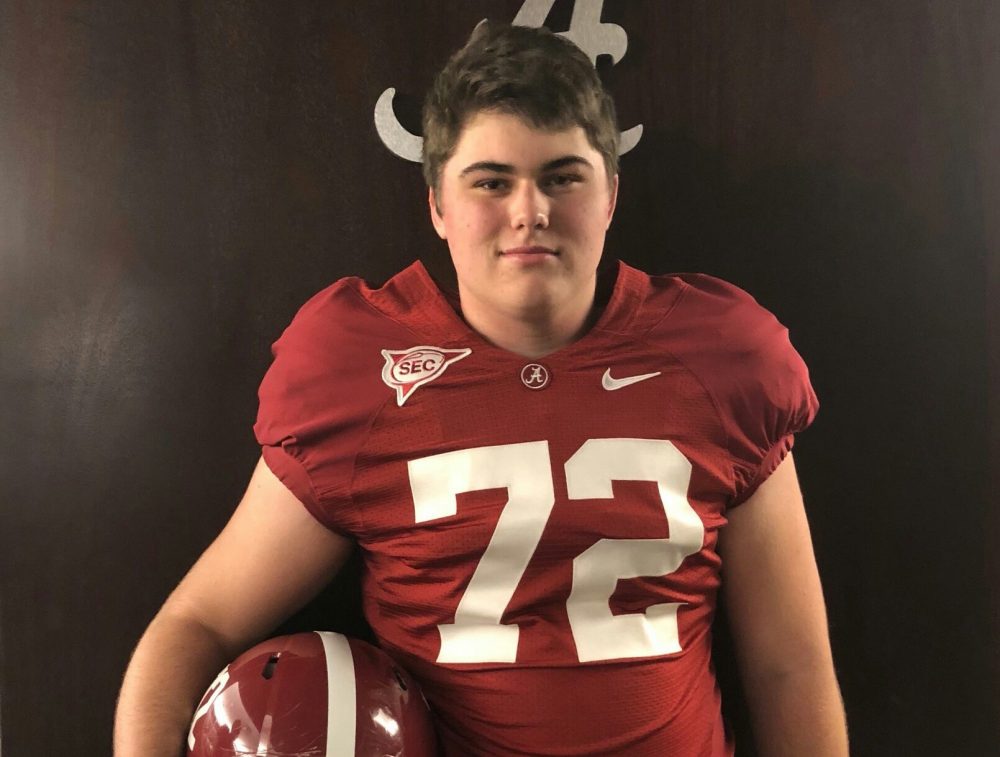 Alabama has been able to pull in a total of 43 5-Star prospects during Nick Saban's tenure. The record number of 5-Star's pulled in under Saban is six. The Tide landed six 5-Star recruits in 2013, 2015 and 2017. Their 2019 recruiting class is shaping up to be a great one and could end up breaking Saban's personal record.
Pierce Quick is currently the only 5-Star, that Alabama has a verbal commitment from at the moment, but they are in a position to land plenty more. Here is a breakdown of each 5-Star Alabama is recruiting very hard:
Clay Webb
Webb is the top center in the nation. He is arguably Alabama's top Target at the moment. The Tide are currently in a good position with him and currently holds a verbal commitment from one of his best friends, Pierce Quick.
Kayvon Thibideaux
Thibideaux is the No.1 recruit in the nation. He is a complete freak of nature. He is one of the few guys in this talented class that has a chance to play early and often no matter where he goes. He has expressed that Alabama will receive an official visit this Fall.
Nakobe Dean
Dean has been on Alabama's radar for quite some time. He is a 5-Star linebacker that has the ability to play both inside and outside. He has expressed to yours truly Alabama is still one of his top schools and he plans to visit June 15-16.
Faatui Tuitele
Tuitele released a top 5 that included the Tide. He currently attends the former high school of Alabama quarterback, Tua Tagovailoa, and Alabama commit, Taulia Tagovailoa. Alabama has used that connection to appeal to Faatui. Another plus is the Tuitele family has a good relationship with the Tagovailoas.
Darnel Wright
Wright is the top offensive tackle in this class. He along with Webb could help the Tide pull in the best offensive lineman class Saban has ever pull in according to recruiting rankings. Alabama's coaching staff has recruited this guy heavily and have shown him they want him in Tuscaloosa. He even rode in the car with Saban on A-Day.
Daxton Hill 
Alabama is in a good position to land Hill as of now, but they are going to have to battle it out with some top notch teams to pull him in. He released a top 5 late last month, which included the Tide, Oklahoma, Oklahoma State, Michigan, Clemson and Ohio State. Hill has not provided a favorite, but it is believed that he will make a decision this Summer.  He does plan on taking a visit to each school before making his decision, which gives Alabama a chance to lay out the red carpet. Something to pay attention to though is his brother, Justice Hill, is actually a running back for Oklahoma State. This one is going to basically come down to whatever program makes Hill feel the most at home.
Ishmael Sopsher
This is another Bama Vs LSU recruitment battle that is up in the air. LSU is recruiting him very heavily, making sure he will not leave the state of Louisiana. The Tide did get him to campus on A-Day and should get some more visits out of him. He is definitely interested in the Tide and it all comes down if they can make him feel like Tuscaloosa is the best place for him.
Trey Sanders
Sanders has had an interesting recruitment thus far. He was once committed to Alabama, but decided to de-commit to open up his options. He did say Alabama would remain as one of his top schools. Many teams have made up ground since Sander's de-commitment, especially Florida. They have become a huge player in the battle for the top running back in the nation. Sanders has the whole package. He is explosive and very elusive. He can make juke moves on the dime, which enables him to take advantage of his great vision. The fact that he goes to IMG Academy will only help his game developed more as he gets the chance to travel around the nation and battle it out against the best. The Tide has gotten a commitment from him once. It'll be interesting to see if they could do it again.
Quavarius Crouch
Crouch is the top athlete in this class. The Tide does have the advantage of the fact that they offered Crouch over a year ago and have been able to build a connection with him. Crouch is a bit of a taller back at 6-feet-2-inches, but knows how to use his height to stride and makeup ground quickly. There is no secret that this kid is one of the most highly recruited backs in this class. He has not released a top school list yet, but have been visiting many different places. Alabama's wide receiver coach, Josh Gattis, took a visit to see him on April, 28. This could be a huge get for the Tide if they can land Crouch.
Justin Smith is a Scouting/Recruiting analyst for Touchdown Alabama Magazine. You can follow him on Twitter, via @Jdsmith31Smith