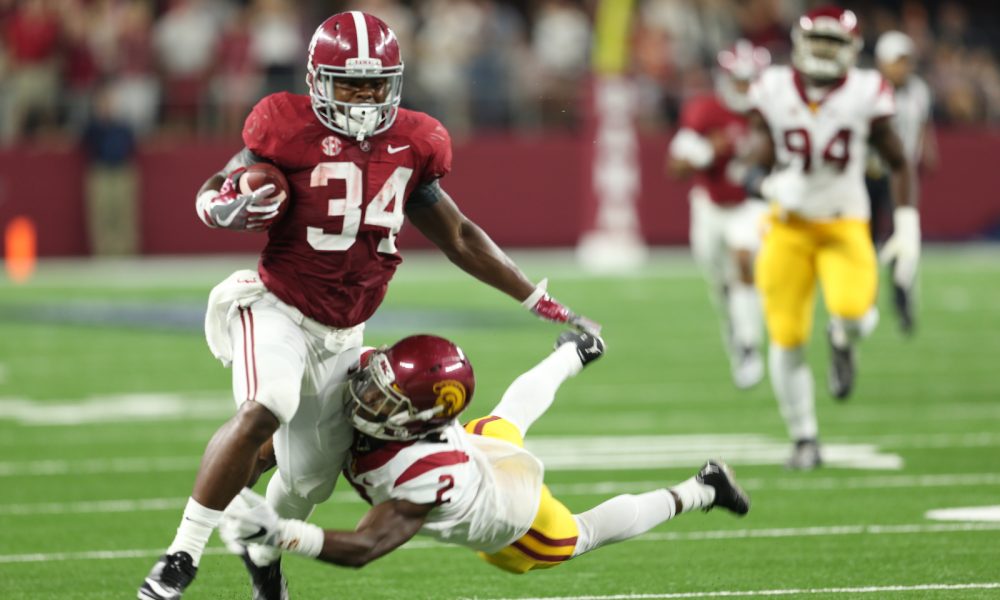 Each year for the last two years, Damien Harris has been the workhorse for the Crimson Tide. Can they finally show some love for all that hard work?
Damien Harris Deserves Better Press and More Recognition
By: Larry Burton
Damien Harris is an Alabama man through and through. He stayed for his senior year to help the team go back to back despite the fact that many NFL teams were salivating over the prospects of him leaving early for the NFL draft as did other juniors with a skill set close to his. He has led the team in rushing yardage each of the last two years he's been a starter.
As for his freshman year, he was not a real star that some freshmen were. He played a backup role to that season's Heisman Trophy winner, Derrick Henry, but showed glimpses of the greatness that was to follow.
In his sophomore year, he made the starting job, but it was Bo Scarbrough that got all the preseason hype, who had all the fans high expectations and was the that the media talked about being the big running threat. However, when 2016's season was over, it was Damien Harris who led the team in total rushing, Damien Harris who led the team in yards per carry average and Damien Harris who kept himself in shape, was unselfish in sharing the runs and who was always the man the team could count on.
Here are those rushing stats from CFBStats for the 2016 season:
Last season, once again, it was supposed to be Bo Scarbrough's year. All the hype was on Scarbrough, despite the fact that Harris was better in every measurable way just the year before. Yet when the dust settled on the 2017 season, it was once again Damien Harris who led the team in total rushing, once again it was Damien Harris that led the team in yards per carry average and once again it was Damien Harris who kept himself in shape, unselfishly shared the running back chores and was one of the main reasons that Alabama won another national title.
When the season was over, once again it Bo Scarbrough who got all the attention, leaving early for the NFL draft and garnering all the praise.
Now comes the 2018 season and who has all the preseason hype and early Heisman candacy talk, Tua Tagovailoa, a person that's never started a college football game.
This should be the year that Alabama celebrates Damien Harris, builds him up for a Heisman run and lavishes all the preseason hype on him that they can. Not just because he's genuinely worthy of it, but because he's earned it. And if these aren't reasons enough, then why not just because he's such an unselfish and really nice guy that has paid his dues?
In reality though, it may be hard for Harris to make a legitimate Heisman run. The reason is that he's going to share a lot of the load with not one, but three talented running backs, any one of which might be a starter on most other teams in the nation. Those men are Josh Jacobs, Najee Harris and Brian Robinson. There are even more good men behind them all waiting their turn to try and make a name for themselves.
Take a look at the yards per carry averages from 2017 and you'll see what I mean.
Harris is all a student athlete should be to a school and should be the face of the Alabama football program this season. He should be basking in the glow of all the attention the school, media and fans can give him. He should get all the hype they can put on him. Why? Because Damien Harris has earned it with his work, attitude and loyalty and he deserves it.
Larry has been published in almost every media outlet for college sports and now primarily writes here for Touchdown Alabama. Follow Larry on Twitter for inside thoughts and game time comments at https://twitter.com/LBSportswriter
THANKS FOR SHARING THE LINK TO THIS STORY ON YOUR FACEBOOK PAGE OR A FACEBOOK GROUP YOU BELONG TO, FACEBOOK RESTRICTS HOW MANY PLACES WE CAN POST IT ON, SO PLEASE SHARE!