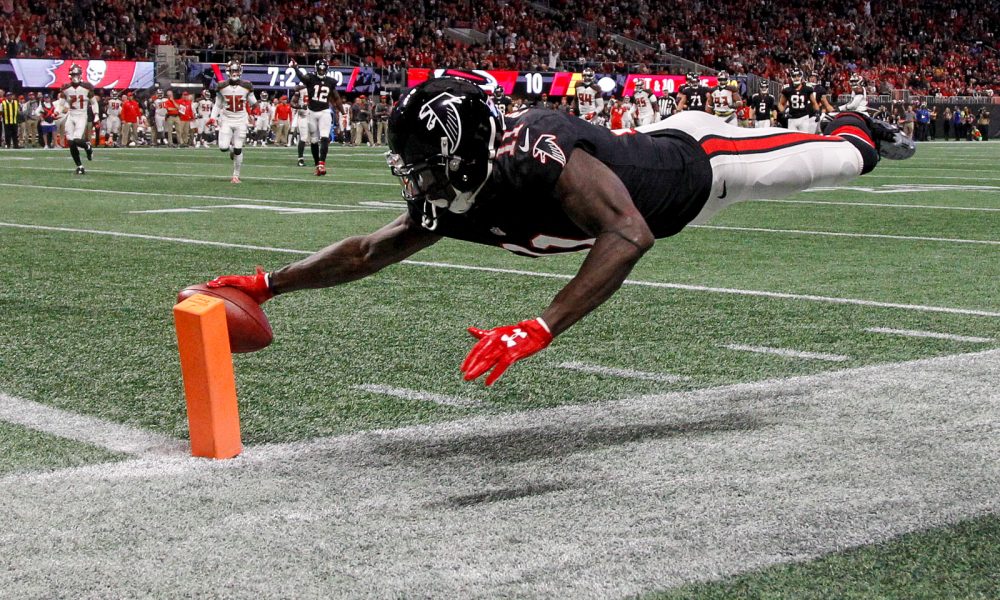 This upcoming NFL season I'll be doing weekly NFL fantasy updates on former Alabama players who qualify. I'll give match up breakdowns in each feature, providing data and information that should prove helpful in winning your league. Remember, when playing fantasy football, its always important to start and bench players based on opposing match-ups and not personal fandom. For instance, if a player has a history of not producing against a particular team, it wouldn't wise to start them. However, if a player has a history of playing well against a team it would be in your best interest to have them on your roster for that week. Let's see how former Alabama players did fantasy wise in 2017 and what to expect in 2018.
Running Back
Mark Ingram, Saints  2017 Fantasy Average: 12.8 points
Ingram had a great 2017, arguably the best of his career. Ingram had 258 carries for 1,124 yards and 58 receptions for 416 yards. His 12 rushing touchdowns were second in the league among running backs. He did all of this while sharing the backfield with Alvin Kamara. He won't have this type of production due to a four-game suspension but  when he comes back he will be a key member of the Saints offense. Kamara needs a back like Ingram for his skill set to flourish. Ingram wears down defenses and is a true three-down running back that makes the Saints less predictable on offense. Fun fact: Mark Ingram has averaged 48 receptions in the past three seasons.
2018 Projections: 192 carries for 843 yards and 8 touchdowns. 37 receptions for 310 yards.
Derrick Henry, Titans  2017 Fantasy Average: 6.75 points
Derrick finished 2017 with 176 carries for 744 yards and 5 touchdowns. He also had 11 receptions for 136 yards and a touchdown. Henry will start but free agent addition Dion Lewis will serve as the primary back on third downs. Don't expect Henry to light up the receiving column in 2018. He's averaged just 136.5 yards receiving in his first two seasons. Instead, expect for Henry to produce his first career 1,000 yard and double-digit touchdown season.
2018 Projections: 304 carries for 1,276 and 13 touchdowns.  12 receptions for 128 yards and 1 touchdown.
Kenyan Drake, Dolphins  2017 Fantasy Average: 5.87 points
In 2017, the former Tide runner finished with 133 carries for 644 yards and 3 touchdowns. Drake had a great three week stretch in 2017 (weeks 13-15), averaging 149 yards from scrimmage in those contests. He's had a great 2018 training camp and looks primed for a larger role. Out of all the former Alabama running backs, Drake may be the best fantasy option because of his pass catching ability. Don't be shocked if you see Drake lined up outside and in the slot.  He will share carries with veteran Frank Gore but Drake's will get plenty of work for Miami.  Drake is a good, second running back option in any fantasy league.
2018 Projections: 198 carries for 871 yards and 6 touchdowns. 65 receptions for 520 yards and 3 touchdowns.
T.J. Yeldon, Jaguars  2017 Fantasy Average: 4.2 points
In 2017 ,Yeldon had 30 receptions and looks to have found his role as a third down back for Jacksonville. He could be a solid back up option in a league that places high value on receptions. In his first three seasons, Yeldon has had at least 30 receptions, with a high of 50 in 2016.  Blake Bortles isn't afraid to check it down and that could mean a lot of catches for Yeldon on third down. After splitting time for back up reps in 2017 with Chris Ivory, Yeldon is the clear cut replacement behind Leonard Fournette. Fun Fact: Although Yeldon only had 49 rushes in 2018, he still averaged 5.1 yards per carry.
2018 Projections: 83 carries for 348 yards and 2 touchdowns.  42 receptions for 294 yards and 1 touchdown.
Tight End
OJ Howard, Buccaneers  2017 Fantasy Average: 4.78 points
Howard played in 14 games in 2017 but had one of the better seasons among NFL rookie tight ends. He was targeted 39 times and had 26 catches for 432 yards and 6 touchdowns.  The offensive unit features Mike Evans, Desean Jackson, and fellow tight end Cameron Brate, all talented options who will command the football. Despite all of the that, expect for Howard to have a key role within the Bucs offense. Head coach Dirk Koetter likes to utilize the tight end and Howard is the most physically gifted one on the roster. In 2018, he will provide major match-up problems in the NFC South.
2018 Projections: 42 receptions for 589 yards and 8 touchdowns.
Wide Receiver
Julio Jones, Falcons  2017 Fantasy Average: 9.68 points
Jones had another All-Pro season after catching 88 balls for 1,444 yards and 3 touchdowns. He was targeted 149  times and hauled in 59 percent of those targets. That was down from 65 percent in 2016. I blame that on offensive coordinator Steve Sarkisian, as he failed to find creative ways to get the ball in his hands like previous coordinator Kyle Shannahan. It also shows the lack of reliable targets other than Jones on the Falcons roster in 2017. Calvin Ridley should help in that regard and it could lead to even more production for him 2018. Fun Fact: In the past four seasons Jones has accounted for 411 receptions, an average of 102.75 per season.
Projected Stats: 91 receptions for 1,388 and 5 touchdowns.
Amari Cooper, Raiders  2017 Fantasy Average: 7.2 points
Cooper is coming of  a down year where he missed two games and had only 680 yards receiving. However, he did have 7 touchdowns in 2017. In his first two seasons he averaged 77.5 receptions and went for over 1,000 yards twice, increasing his yardage total in each year. He'll bounce back because Derek Carr is fully healthy after missing time in 2017. He and Cooper have great chemistry, creating explosive plays when the pair are on the field together. The additions of Martavis Bryant and Jordy Nelson won't hurt his production. If anything, it will open things up for him and allow more favorable coverage's from the defense.
Projected Stats: 79 Receptions for 1,212 yards and 8 touchdowns.
In my next feature, I will analyze players from the 2018 Alabama rookie class and preview their fantasy potential for this upcoming 2018 NFL season.