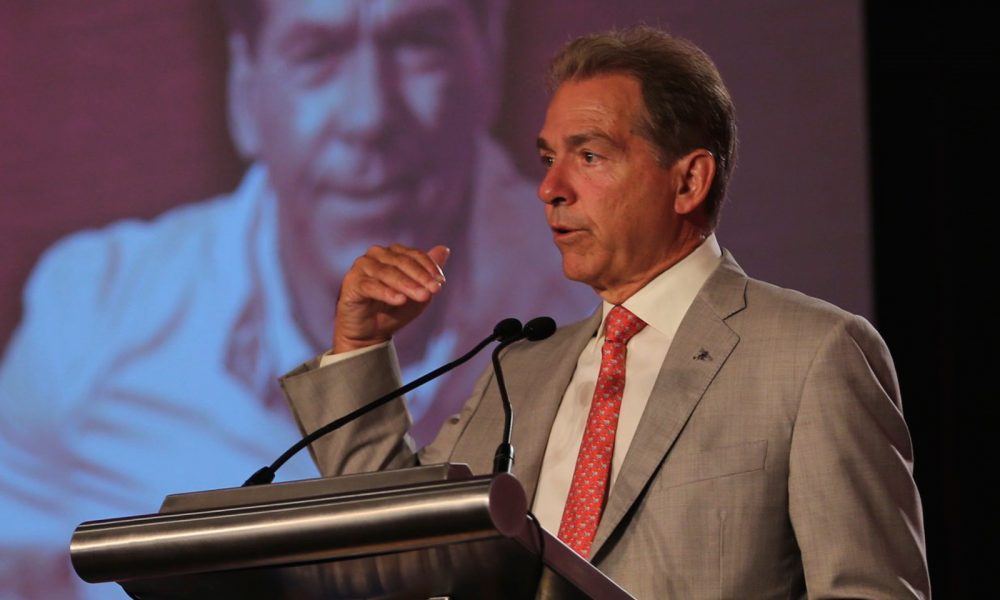 Nick Saban had some lofty praise for Louisville quarterback Jawon Pass during today's SEC teleconference. He even went so far as to compare him to a former Alabama football arch nemesis and heisman trophy winning quarterback from Auburn University.
Prior to playing almost any opponent, head coaches, including Alabama football coach Nick Saban, often give praise to the players and coaches of the team they are soon to face off against. Whether the compliments are completely genuine or not, they often serve as great motivation and as a heads up for their own team's players and coaches. On today's SEC Teleconference, Nick Saban had some mighty high praise for Louisville quarterback Jawon "Puma" Pass.
Their are a few games throughout the history of Alabama's storied football program that Bama fans would like to be able to forget all together. The final game of the 2010 season would surely qualify as one of those. After leading big at halftime and completely dominating the Auburn Tigers for the first two quarters of play, Alabama was handed one of it's toughest losses in recent memory. Auburn, led by heisman winning quarterback Cam Newton, went on to finish off what was one of the greatest comebacks in Tiger football history. Newton was able to run and throw the ball at will, and a beat up Alabama defense simply wasn't able to slow them down that day.
Fast forward to today, and Nick Saban has said he sees that same level of talent in Jawon Pass. Here is what Coach Saban had to say via AL.com "I think he is an outstanding, talented player. Very, very good in high school. Has got great size. Very good arm talent, very good athlete. He's kind of a Cam Newton-looking type of guy out there." Whether or not Puma Pass has the same type of athleticism that has proven to be the kryptonite of a Superman Alabama football team remains to be seen. His predecessor, Lamar Jackson, spent nearly his entire career at Louisville running for his life. If the Cardinals' offensive line isn't leaps and bounds better this season, expect much of the same fleeing and alluding from Jawon Pass. It has been an incredibly long off-season, and Coach Saban has put his Bama defense on notice. The good news for everyone involved, is that we are only three days away from finding out what is to come of all this talk.
Stay tuned to TDAlabamaMag.com for all your Alabama football and recruiting news. We will have loads of outstanding content rolling out for you all between now and game time.