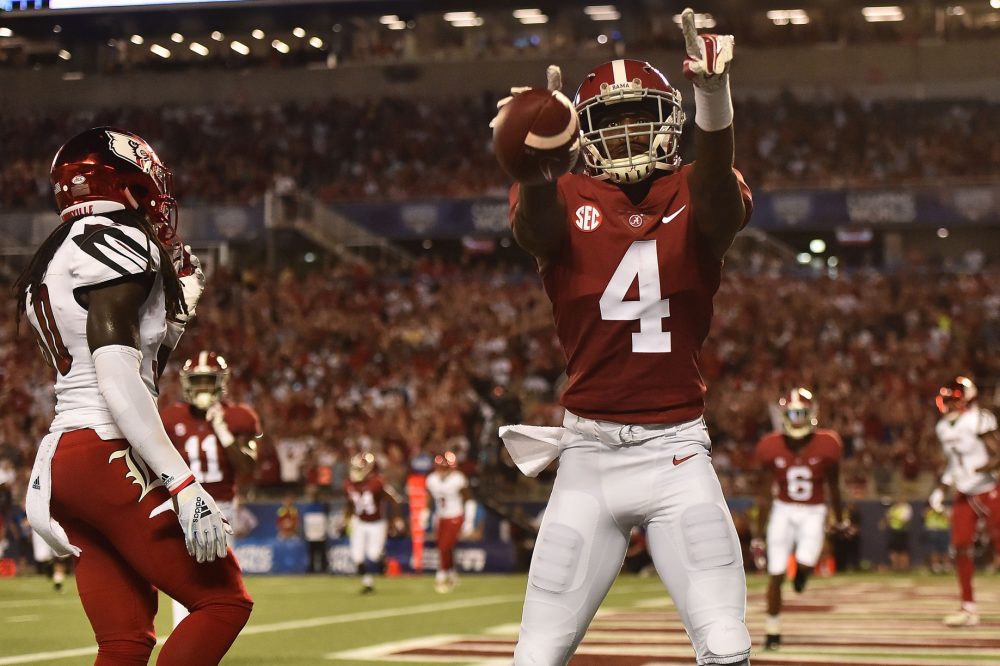 The Alabama Crimson Tide is now two games into the 2018 season. Yet again, the team has started the year 2-0 for the twelfth consecutive year after beating Arkansas State 57-7 on Saturday.
Overall, it's been a great start to the season. Tua Tagovailoa is living up to the preseason hype while the starting defense is showing that there's not going to be much of a drop off from last year's squad. The depth on the defensive side of the football is a little concerning at spots, but there's no doubt that this is the top team in college football right now.
With two games in the books, we now have a better idea of the emerging talent on the roster. There's plenty of players to choose from, but we decided to take a look at three players who have impressed us. Now, it should be noted that Tagovailoa would've been the obvious choice, so we decided to leave him off.
In addition, we'll also be looking at three players who have struggled to some degree. It doesn't mean that they're playing terrible or that we don't like their future outlook. It's simply an observation based off the first two games.
3 players who have impressed …
Quinnen Williams, Defensive Line
One of the biggest question marks heading into the season was whether or not the Tide could replace former star nose tackle Da'Ron Payne. The 2018 first-round pick (Washington Redskins) played all along Alabama's defensive front during his career. But it was his ability as a 0-technique in the base defense that figured to be the hardest to replace.
If the first two weeks were any indication, finding a suitable replacement is not going to be an issue.
Third-year defensive lineman Quinnen Williams is already making a major impact during his third year on campus. After arriving in Tuscaloosa weighing 265 pounds back in 2015, the Birmingham (Ala.) native is up to 289 this season. The added weight has made a significant difference in Williams' ability to play further inside.
He held up extremely well against the run, but it's his ability to make impact opposing quarterbacks that has been the most impressive. Williams finished as the SEC's co-defensive lineman of the week in Week 1 after he posted six tackles (3.5 tackles for loss), one QB hurry and one pass deflection.
Williams didn't have that sort of impact on the stat sheet against Arkansas State, but he still showed that he's a long-term answer at nose tackle.
Jerry Jeudy, Wide Receiver
Calvin Ridley has now moved on to the NFL after being drafted by the Atlanta Falcons in the first-round of the 2018 NFL Draft. As a result, there were some who questioned whether or not the Crimson Tide needed another go-to receiver to emerge.
From all early indications, they don't. There are multiple players on the roster who are capable of stepping up and taking over games.
DeVonta Smith has been that guy between the 20's. He's racked up 176 yards on seven receptions, which makes for an eye-popping 25.1-yard average. Henry Ruggs III has also shown big-play ability. The sophomore receiver followed a down performance (two receptions, 15 yards) against Louisville with a three-catch, 56-yard game against Arkansas State that included a 31-yard touchdown.
So far, the most complete receiver has been former five-star Jerry Jeudy. The 6-foot-1, 192-pound receiver out of Deerfield Beach (Fla.) currently leads the team in receptions (8) and touchdowns (4) through the first two games. No other player has more than one receiving touchdown.
Jeudy is one of the most polished route-runners on the team now that Ridley is catching passes on Sundays. If he can keep up this chemistry with Tua Tagovailoa, he will be in for a huge year.
Deionte Thompson, Safety
There was concern for the back half of the defense when Alabama lost its top six starters in the secondary. To further prove the amount of talent that was lost, five of them are now either on an active NFL roster or practice squad.
Like most years, the Tide has seen several players emerge to alleviate the pain from those losses. None of them have been as important as Deionte Thompson, though. The redshirt junior is proving to be one of the most complete safeties that Alabama has had in the last several years.
#Alabama safety Deionte Thompson with a nice play against #Louisville. QB cannot move him, stays disciplined and show excellent range to cover ground and make the interception. Could play his way into first round consideration #RollTide #GoCards pic.twitter.com/0DfA7XqJPc

— Joel (@JoelBishopFB) September 5, 2018
He's been a force against the run (11 tackles, 1.5 tackles for loss). But it's been his range in coverage that has made the biggest impact. Thompson's ability to cover so much ground has made it difficult for opposing offenses to test the Alabama secondary deep. Not only does his 11 tackles lead the team, but he's also tied for the most interceptions (1).
At 6-2, 196 pounds, Thompson possesses the complementary size needed to eventually make him a first-round pick.
… and 3 players who haven't
Alex Leatherwood, Offensive Line
The transition to right guard is still a work in progress for Alex Leatherwood. The former five-star offensive lineman hasn't been terrible or anything, but there's been some noticeable growing pains after spending his entire career at offensive tackle.
To be fair, Leatherwood seems more suited to play tackle than guard. He's listed at 6-6, 304 pounds, and there's obvious athleticism with the Pensacola (Fla.) native. He made the most of his opportunity after taking over for Jonah Williams at left tackle in the national championship game back in January.
Heading into this season, it had looked like Jedrick Wills would be the more likely of the two to kick inside. But he's looked phenomenal at right tackle, so moving him to guard wouldn't make sense at this point. He did see significant reps there during the offseason, but it looks like the coaching staff thought he was a better fit at right tackle.
Going back to Leatherwood, he's certainly capable of making an impact at right guard. But he's going to need to show some noticeable improvement if he wants to remain in the starting lineup over Deonte Brown.
Mack Wilson/Dylan Moses, Inside Linebacker
Mack Wilson and Dylan Moses were expected to be one of the best inside linebacker duos in the country. When it comes to defending the run, they haven't disappointed. Despite sitting for most of the second half in both games, the two have combined for 15 tackles, two tackles for loss, two sacks, two QB hurries and two pass break ups.
https://twitter.com/lextootall/status/1036292650272546816
It's been their struggle against the opposing team's passing game that has led to their spot on this list. That confusion has led to the Tide being vulnerable in the middle of the field, and both opponents have exploited that vulnerability.
More than likely, this is going to be an issue that gets worked out as the season progresses. Trevon Diggs' occasional move to Star has contributed to the miscommunications. But as his comfort level grows, this should become less of a concern.
Wilson, in particular, was fantastic in coverage last season. Despite missing several games with an injury, the 6-2, 239-pound junior was tied for No. 3 in the SEC in interceptions last season (4).
Austin Jones, Kicker
Austin Jones has only attempted two field goals this season. That means that he's technically only missed one of them, but it was from only 27 yards out. To make matters worse, he's already missed three extra points (7-of-10).
That's simply unacceptable, which is why Nick Saban decided to make a change during Saturday's game against Arkansas State. The next man up was redshirt freshman Joseph Bulovas, the former No. 6 kicker in the 2017 recruiting class.
So far, Bulovas hasn't had many opportunities to show what he's capable of — at least not in a live game setting. He has, however, made all five of his extra point attempts while also converting his only field goal attempt (from 39 yards out). To say that performance has won him the job would be premature, but there's no denying that he's in a much better position than Jones.