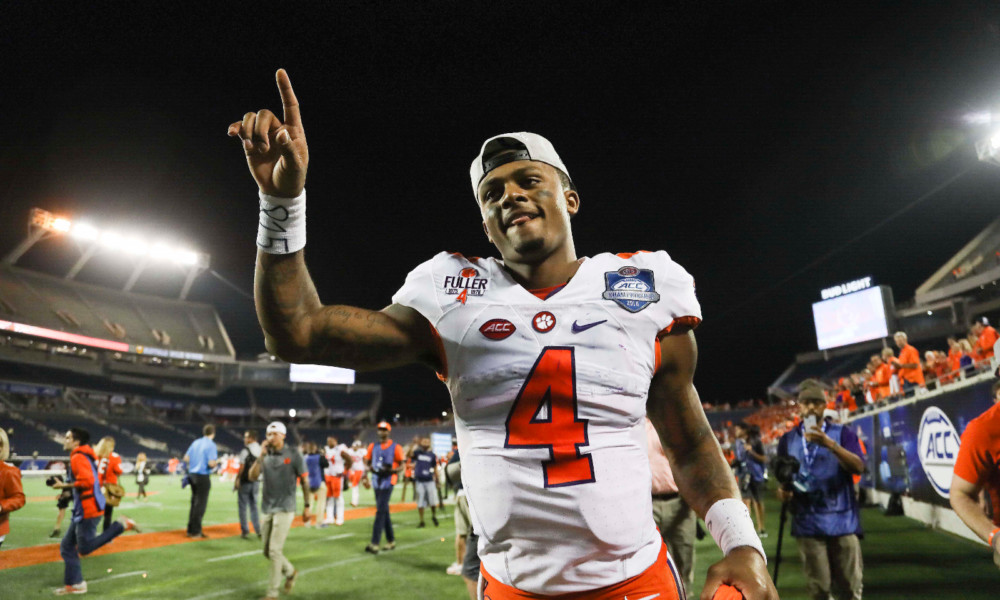 The Alabama Crimson Tide is set to get things underway against the Oklahoma Sooners at 7:00 p.m. CT on Saturday night. After watching Tua Tagovailoa lose out on the Heisman Trophy to fellow quarterback Kyler Murray, the Tide's defense will be looking to prove the voters wrong come kickoff.
The question is whether that will to avenge Tagovailoa's loss will result in success against the soon-to-be major league baseball player. Murray has put up eye-popping numbers against some less-than-stellar opponents this season. But will those sort of numbers translate against a defense as good as Alabama's?
Maybe. Maybe not.
Below is a list of five other former Heisman finalist quarterbacks who faced off against the Crimson Tide during the Saban era. It should be noted that players such as Jake Browning, who finished fifth in 2015, weren't included since he wasn't invited to the ceremony in New York.
1. Colt McCoy, Texas, 2009
It was tough including Colt McCoy on this list, but he did finish as a Heisman finalist on two separate occasions. In 2008, he was named runner-up and in 2009, he finished third. That 2009 season was the year he faced off against Alabama's defense in the 2010 BCS National Championship Game.
The reason for not wanting to add McCoy to the list is due to him only making it through one drive during that game, which resulted in three of Texas's 21 points. McCoy suffered a shoulder injury after being tackled by former defensive lineman Marcell Dareus, and Texas wasn't the same after his early exit. On the night, he only attempted two passes. He did complete both of them but only for 9 yards.
McCoy finished his Longhorns career with 14,824 total yards (No. 8 all time) and 132 touchdowns (No. 16). When taking all that success into account, it's a valid question to ask if things would have turned out differently had he stayed healthy in that title game.
Considering we'll never know for sure, it's sort of pointless to debate the issue, though.
2. Tim Tebow, Florida, 2008-09
Alabama's defense got two opportunities against Tebow, who is considered one of the greatest college quarterbacks of all time. Those two opportunities yielded very different results.
As Alabama was emerging as a college football powerhouse, they faced off against the Florida Gators in the 2008 SEC Championship Game. Tebow, a former five-star prospect who had once considered joining the Tide, had just been named the runner-up for the Heisman Trophy only a year after winning it in 2007.
On the field, Florida proved to be the better team that day, as the Gators handed the Tide their first loss of the season with a 31-20 final score. Tebow was a major factor in the game too, as he accounted for 273 yards and three scores while completing 63.4 percent of his passes. In addition, Florida converted a whopping 53.9 percent of its attempts on third down.
The situation could not have been more different in 2009, however. In fact, Alabama beat Florida soundly (32-13). While Tebow did improve his total yardage output in that game (310 yards), he was only responsible for one touchdown while also tossing a crucial interception.
Alabama's defense was clearly more effective the second time around. Florida came into the game ranked No. 6 in total offense (457.9 yards per game), No. 10 in scoring offense (35.9 points per game) and No. 7 in third-down conversion rate (49.15 percent). The Tide, however, held Florida well below each of those marks. The Gators only converted 4-of-11 third down attempts (36.4%) while also putting up 335 yards of total offense and 13 points.
3. Cam Newton, Auburn, 2010
As good as Tebow was during his time at Florida, his former backup would eventually put up one of the best statistical seasons for a quarterback in the history of college football.
Cam Newton left Florida for Blinn College following the 2008 season. The reason for his departure was an off-the-field issue surrounding stolen laptops, but like in many cases, Newton was given a second chance when he enrolled at Auburn prior to the start of the 2010 season.
The decision to heavily pursue Newton paid off in a major way for former Auburn head coach Gene Chizik. The Tigers went undefeated only a year after watching in-state rival Alabama do the same.
Newton was only on The Plains for that one year. Yet, he still managed to put up 4,369 total yards of offense (2,854 passing, 1,473 rushing, 42 receiving) and 51 touchdowns (30 passing, 20 rushing, 1 receiving). That success led to a Heisman Trophy for the 6-foot-5, 245-pound specimen.
The 2010 Iron Bowl was one of the more interesting game that season.
It was a tale of two halves, as both teams decided to assert their dominance for only 30 minutes instead of for the full 60. To open up the game, Alabama's defense held Auburn to three consecutive three-and-outs. In fact, if you exclude the one 8-play, 78-yard touchdown drive in the second quarter, the Tigers were held to only 19 yards on five series.
The result was a 24-7 halftime lead for the Tide.
That second half was a much different story, however. Auburn outscored Alabama 21-3 while racking up 227 yards of total offense. A 7-yard touchdown pass from Newton (his third of the day) to tight end Phillip Lutzenkirchen with 11:55 remaining in the fourth quarter allowed the Tigers to take a 28-27 lead, which ended up being the final score.
4. Johnny Manziel, Texas A&M, 2012-13
There was something about watching Johnny Manziel take on the Crimson Tide. To say it was magic may not do it justice, as he was able to do things that very few people have pulled off against a Nick Saban-led defense.
In two games, Manziel put up 907 total yards (717 passing, 190 rushing) and 7 touchdowns versus only 2 interceptions. The eventual first-round pick also completed 74.3 percent of his passes (52-of-70) during that stretch as well.
As far as team success, Alabama saw mixed results. A shocking 24-29 loss in 2012 meant that things would be a lot more difficult for Texas A&M the second time around. Sure, the Aggies were able to jump out to a 14-0 lead early in the first quarter, but Alabama quickly took control of the game and outscored A&M 49-28 from that point forward.
By watching his performances against Alabama's defense, it's not a surprise that Manziel had consecutive top 5 finishes for the Heisman. He won it outright in 2012 (5,116 total yards and 47 touchdowns) while also finishing fifth in 2013 (4,873 yards and 43 touchdowns).
It was unfortunate to see that magic run out in the NFL, however.
5. Deshaun Watson, Clemson, 2015-16
The fact that Deshaun Watson never actually won the Heisman is almost criminal. The former Clemson standout finished third in 2015, and he followed it by being named the runner-up in 2016.
To make matters worse, Watson's performance against Alabama in both national championship games proved the voters had made the wrong decision in at least one of those games — how can you argue against Derrick Henry's 2015 season, after all?
Much like the previous three players on this list, Watson finished with a .500 record (1-1) against the Tide. His production was a lot more impressive than that, however.
The now Houston Texans quarterback had back-to-back 400-plus yard performances against Alabama's formidable defense. Granted, he averaged 51.5 passing attempts and 20.5 carries in those two games. Still, being able to rack up 825 yards and 7 touchdowns through the air while also adding 116 yards and a score on the ground is extremely impressive — especially against the Tide.
Both match ups against Alabama went down to the wire, too. First, it was the Tide prevailing in a 45-40 shootout in 2015. Then, Watson and Co. responded with a 35-31 victory in 2016 that included a game-winning, 2-yard touchdown pass from Watson to wide receiver Hunter Renfrow with one second remaining.
All-in-all, Watson will go down as one of the most successful quarterbacks against Nick Saban and Alabama.
Clint Lamb is a football analyst for Touchdown Alabama Magazine. You can "follow" him  on Twitter @ClintRLamb.