Alabama Football News
Opposing teams can no longer focus on just one Alabama receiver says Tide analyst Stephen M. Smith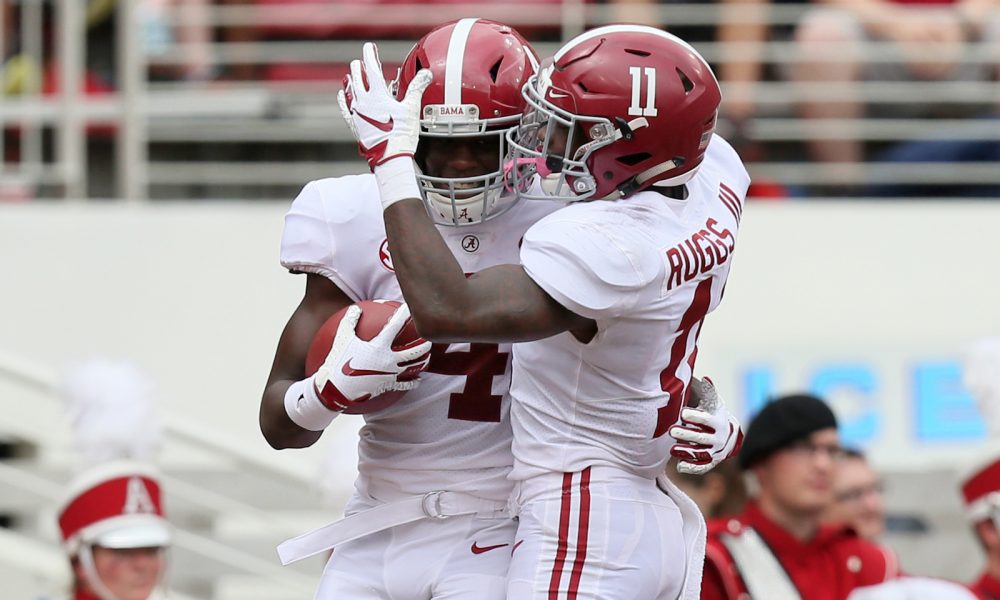 The Alabama football season is just 50 days away from kickoff, and with SEC Media Days beginning next week, college football fans will get their wish as their favorite pastime will officially be back.
For Alabama fans, they are patiently waiting for the matchup against the Duke Blue Devils in Mercedes Benz Stadium, but their ultimate goal is to be back in the College Football Playoff Championship Game.
In order for that to transpire, the Crimson Tide must go through the rigors of a challenging regular season and take down arguably the toughest opponents weekly for a potential rematch with their opponent of choice, the Clemson Tigers.
The task will be difficult as always, but Touchdown Alabama Magazine Senior Analyst, Stephen M. Smith believes the Tide has something up their sleeve not typical of a Nick Saban coached team.
While speaking on the Dr. SEC radio show recently, Smith explained how the Alabama receiving corp is the most dangerous group and deepest group — talent wise — in the Saban era.
"In year's past, Alabama's always had that one name. Julio Jones… Amari Cooper… Calvin Ridley. You had supporting cast members around those [players], but defensive coordinators and defensive backs, they weren't concerned about the supporting cast."
While not knocking the overall talent of said supporting cast, Smith made a point to reinforce just how important this year's group compares to how opposing coaches and players felt with locking down the primary Alabama receiver.
"If I can lock down Julio Jones, I got Alabama," Smith says in referencing opposing coaches' mindset. "If I can lock down Amari Cooper, Calvin Ridley, then I got Alabama, because the supporting cast really doesn't matter. Now, it's more than just Jerry Jeudy. I may lock down Jerry Jeudy, but I gotta worry about DeVonta Smith, I gotta worry about Henry Ruggs, I gotta worry about Jaylen Waddle."
Those three other receivers mentioned tallied a combined 133 receptions, 2,282 yards, and 24 touchdowns. For context, that is almost more than the combined for all three categories of the last three seasons for Alabama supporting cast members.
Smith further went on to explain the depth that has yet to emerge for the Tide. "You also have a fifth receiver, that could possibly be on the rise. Whether it's John Metchie… Xavier Williams…Slade Bolden, or Tyrell Shavers — this is possibly the deepest, most talented, wide receiving unit that Saban has had in his tenure, and it's a group that anybody can beat you, on any given day."
However the season shapes out, the Tide will have opposing teams on notice as it relates to their receivers.