Alabama Football News
Former Tide great Rashad Johnson stands with UA students and faculty altering Confederate monuments on campus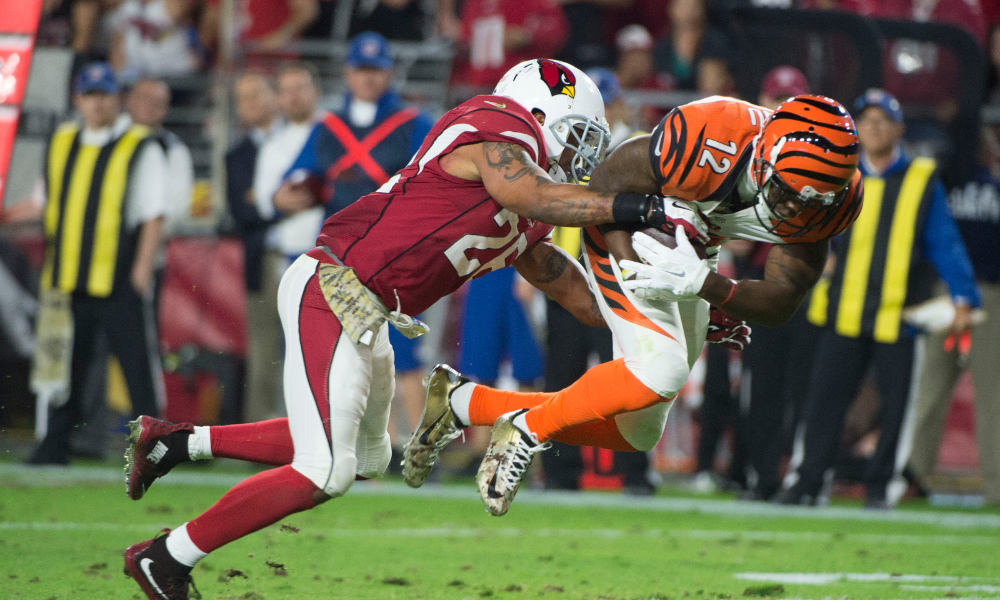 Change is on the horizon in America, and men and women all across the country are standing up to try and rid the nation of hateful and offensive properties.
One of the many from the University of Alabama is former safety Rashad Johnson, who took to Twitter on Monday urging his alma mater to remove a number of Confederate monuments and to rename buildings across the campus.
The time is now @UofAlabama!!!. We can't honor these people or anything that stood with this movement, it's over y'all lost and we don't need any reminders of the pain we have endured til this day! We are living in a new day!!! A change will and is coming!! ✊🏾🖤✊🏾🙏🏾 pic.twitter.com/mh0y7LJDNw

— Rashad Johnson (@rashadjohnson) June 8, 2020
This comes on the heels of the university President Dr. Stuart R. Bell's statement to the student body condemning racism and other acts of hate and stating that the school will do better.
"As president, I pledge to continue promoting a safe and respectful environment for every member of our campus community, and to support those who are particular targets of hate and racism," said Bell. At UA, we will continue to do more and be better because of the efforts and kindness of our incredible students, faculty and staff. Remember, we are Still Tide Together."
The statement caught the attention of many UA faculty and students, and has inspired some to hold Dr. Bell accountable and push for bigger changes across campus.
Last Saturday, is where the social media post Johnson shared above originally began as it contained petitions and links with the intent to move the confederate mementos. The links and petitions were created by UA students along with the help of faculty members.
"So another student named Mackenzi Dugan started the petition to change the racist buildings names on campus," said University of Alabama rising senior Anna Beth Peters. "Seeing that, I was inspired to start one to remove Confederate monuments. Whenever I did that, a grad student, Liz Foshe reached out to me about going further than just petitions and actually trying to start something that would lead to direct action from the UA admin.
"So basically, Liz and I collaborated to write an email that could easily be sent to President Bell and administration demanding action to be taken on removing the monuments and changing the buildings names."
Peters also made it clear that none of what has already been accomplished, could have happened without the aid of other UA faculty who have researched and worked with these issues for years.
"I would also like to say that none, us the petition starters or those who created the email, started this idea," said Peters. "Certain faculty and staff have been working towards these goals for years, and many of them have actually pioneered the research that allowed students to learn about UA's forgotten history of slavery. I took a class with Dr. Hilary N. Green, which allowed me to learn about all of this information first hand from her."
Green, is an Associate Professor of History in the Department of Gender and Race Studies as well as the co-program director of African American Studies program. She has published a myriad of articles, books, encyclopedia entries etc., covering race, war and disability.
Other UA faculty that Peters highlighted was Dr. Utz McKnight, Dr. Andre Denham and Dr. Cassandra Simon, who have all completed research and work in the area for years.
Across the country there are many who are calling for the destruction of these types of monuments, this particular movement has plans that are brought up in the tinyurl email link to respectfully move the confederate monuments to more appropriate areas on campus.
"A lot of people in the past, including the university, have tried to argue that removing the monuments would be erasing history," said Peters. "In moving them to a museum (or) cemetery where they can be appreciated as part of history and contextualized, there is almost no way way anyone can argue that we're attempting to erase history.
"We honestly just want these monuments to be removed in the most respectful way possible, and moving them seems to be the best way to achieve that goal. Also, the monuments have been moved before, which showcases that they can be moved again."
The petitions are asking that the university agrees to move the UDC Boulder to Greenwood cemetery with intention to honor the confederate dead.
Move the plaques on the front of Gorgas library to the inside of the library or to the archives in Hoole library so that they may be in a place where the plaques can be contextualized.
The most profound alterations to UA's campus that are brought up in the email pertain to the renaming of Morgan Hall, Nott Hall and B.B Comer.
The reasoning behind the removal of these names is due to each man's ties to white supremacy and racism during their lives.
John Tyler Morgan (Morgan Hall), was a confederate general and one of the most out spoken white supremacists of the Jim Crow era. Morgan has ties with the KKK, and also advocated to legalize lynching.
Josiah Nott (Nott Hall), was a physician who wrote books and articles surrounding racial difference. His biggest argument was that there were separate creations for different races, and used his platform to share the idea that African Americans were inferior to white people, saying that slavery was justified.
B.B Comer (B.B. Comer Hall), was a plantation owner who exploited the labor of enslaved people. He also participated in convict leasing programs where he took convicted African American men in to work on his plantation. It should also be noted that African American men could find themselves in this program for being rude to white people and failing to pay bills. The men were also subject to horrible living conditions.
Between the two separate petitions to move the monuments and to rename the buildings, they have already generated 21,289 signatures with more coming in every minute.
Update** The University of Alabama Board of Trustees along with President Stuart Bell have announced the removal of three plaques with Confederate ties on and out front of Gorgas Library. The plaques will be moved to a more historical setting.
It will also review and study the names of buildings across UA's campuses and report to the Board on any recommended changes.
*Get the BEST Alabama football insider information, message board access, and recruiting coverage today! SIGN UP HERE to unlock our subscriber only content!*
Patrick Dowd is a Reporter for Touchdown Alabama Magazine. You can follow him on Twitter, via Pat_Dowd77