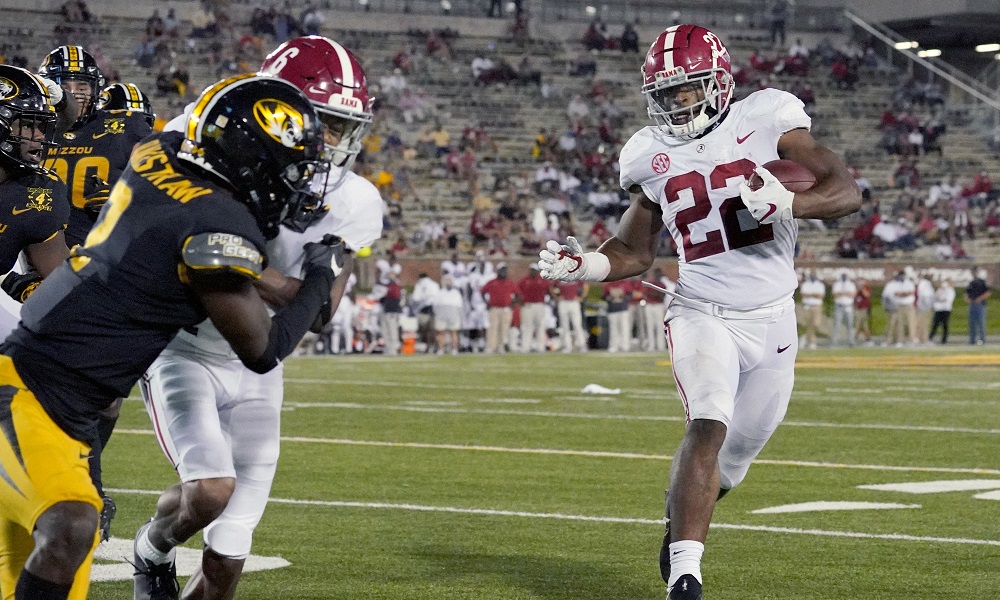 Alabama football is looking to create some explosive plays on the ground against the Ole Miss Rebels Saturday and not just because rain is expected.
Through two games, Alabama's leading rushers are Najee Harris and Brian Robinson. Harris has accounted for 141 rushing yards on 12 attempts while Robinson has rushed for 78 yards on 14 carries through two games. Between the two, neither has rush for more than 20 yards on a single play.
The Crimson Tide have done just fine without making explosive run plays so far this season with Mac Jones having extraordinary games at quarterback. But as the season moves forward, the Tide will most likely need an effective run presence, especially late in tight games. During Fall Camp, Alabama's offensive coordinator Steve Sarkisian expressed they wanted to build on the way Harris and the run game looked towards the end of last season.
"It is something we definitely want to build upon as we head into this year and maybe the pendulum switches a little," Sarkisian said. "Maybe people are so focused on our offensive line, maybe our backs are that good that maybe we will get some singled-up coverage on the outside so the run game can set up some of the pass game stuff."
Alabama's Saturday matchup against the Ole Miss Rebels presents a perfect opportunity for the Tide to make some strides in the run game. The Rebels have struggled against the run this season. They gave up 408 total rushing yards against the Kentucky Wildcats last week as the Wildcats had three players to rush for more than 100 yards.
Four of Kentucky's longest runs were more than 20 yards.
With rain expected throughout the game, running the ball could help the Tide with ball security as a wet field tends to create some sloppy and some time unexpected conditions. An effective run game against the Rebels will also keep Ole Miss dangerous offense on the side line and help Alabama control the pace of the game. With kickoff set for 6:30 p.m. CDT, Alabama will look to trust in its run game in a wet environment in Oxford, Mississippi.