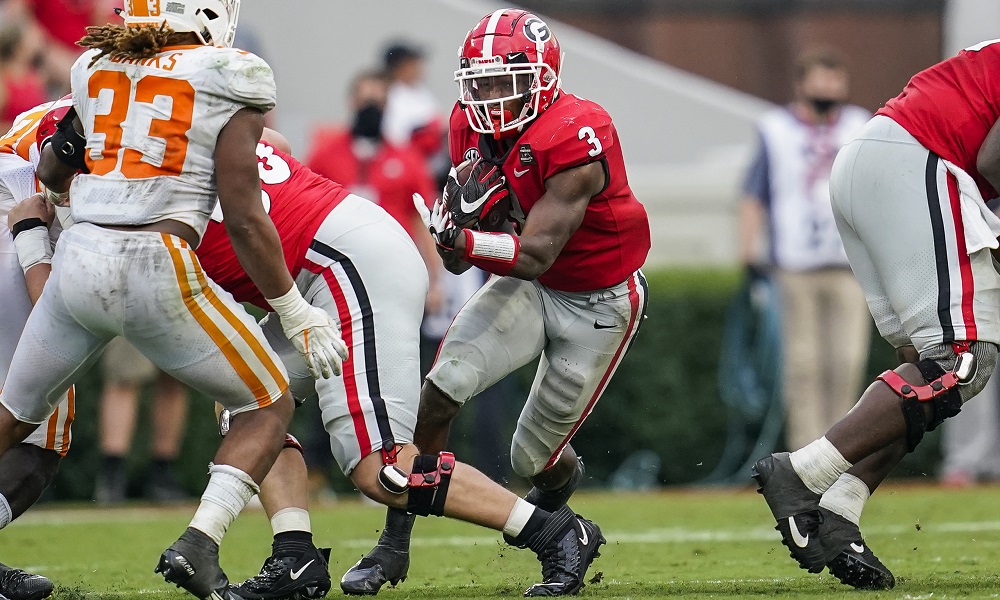 Alabama football's defense will be tasked with stopping the Georgia Bulldogs' loaded backfield Saturday, which could play a huge role in the outcome of this highly-anticipated matchup.
Through three games, the Bulldogs have had five running backs to record more than 12 rushing attempts. Sophomore running back, Zamir White leads all of Georgia's rushers with 209 rushing yards and four rushing touchdowns on the season. With an under experienced quarterback under center, Kirby Smart has leaned on his deep backfield to take some of the pressure off of Stetson Bennett.
Overall, the Bulldogs' offense has been pretty balanced with approximately 57 percent of their plays resulting in rushing yards. Nick Saban said he feels the Bulldogs have been able to control the pace of the game thanks to their success on the ground in his Monday Press Conference.
"Offensively, they have been able to control the ball," Saban said. "They are one of the leading teams in the country in time of possession. They do a good job of running it, show really good balance. They got some good backs. Zamir White is an outstanding player, but they have several other outstanding backs."
The Crimson Tide are coming off a win over Ole Miss, where they gave up a total of 268 rushing yards. Due to a combination of missed tackles and defensive miscues, Jerrion Ealy and Snoop Cooper were both able to rush for over 100 yards. If Alabama wants to pick up its fourth win of the season, its defense will have to defend the run better.
Saban expressed on Monday, there would be a focus on execution for the Tide's defense heading into this game.
"I do not think the call is necessarily the issue," Saban said. "I think the execution of the call has been the issue. Sometimes we coach players for what we want them to be. But we really need to coach them for what they are. So, if the players are miss-executing, that is not a good thing from a coaching standpoint because that means we have to do a better job of teaching them or make sure we are not trying to teach them too much so they go out there and they can't perform well with confidence and make plays we would like for them to make."
One of the players, who will have to play a big role in Alabama stopping the Bulldogs is Christian Harris. The starting sophomore linebacker said he felt confident Alabama would be ready for Saturday in Monday's round of player interviews.
"Honestly, I feel like  as long as we execute the plan and make tackles, I think we will be fine," Harris said. "That just one thing we kind of messed up on last week. Of course, we are going to work on that and improve on that this week even more. So, we will have all good by Saturday."
Kickoff is set for 7 p.m. for No. 2 Alabama and No. 3 Georgia.