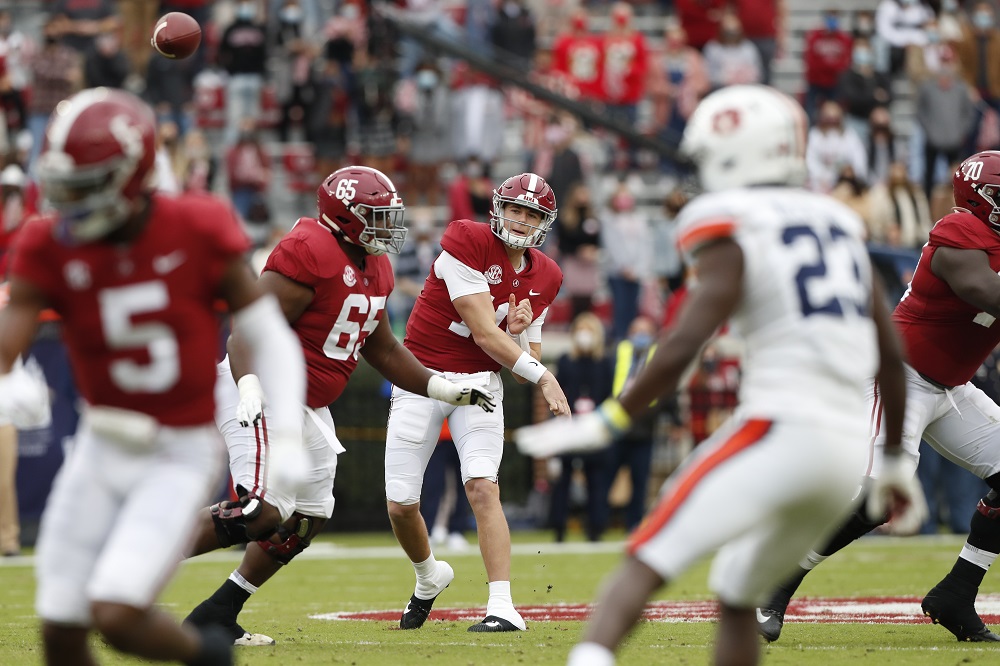 Alabama defeated the Auburn Tigers 42-13 in the 85th Iron Bowl Saturday in Bryant-Denny Stadium.
The Crimson Tide's defense put together another solid performance in the win by limiting the Tigers to 13 points. Alabama football has limited its opponents to an average of 5.3 points in its last three games. They have only gave up one touchdown during that span.
On the offensive side of the football, Mac Jones went 18-of-26 for 302 yards and five touchdowns. DeVonta Smith added to his amazing career stat line with a two-touchdown performance en route to racking up 171 receiving yards. Najee Harris added 96 yards on the ground and one touchdown.
The Tide got on the board first at the 5:19 mark in the first quarter with a touchdown pass from Jones to Smith. Jones threw two more touchdowns in the first quarter with one going to John Metchie and with the other going to Jahleel Billingsley. Alabama's defense limited Auburn to three points in the first half.
Jones and Alabama's offense exploded in the second half. After Auburn nailed in a field goal to make the score 21-6, the Tide responded with three unanswered scores. Smith and Metchie pull in touchdown receptions, and Harris ran in a 39-yard score.
Bo Nix threw two interceptions in the game and both were intercepted by true freshman. Malachi Moore picked off Nix in the first half and Brian Branch reeled in the first interception of his career in the second half. Nix added a late touchdown run to give Auburn 13.
Alabama remains undefeated on the season with this win. They will travel to LSU next weekend.