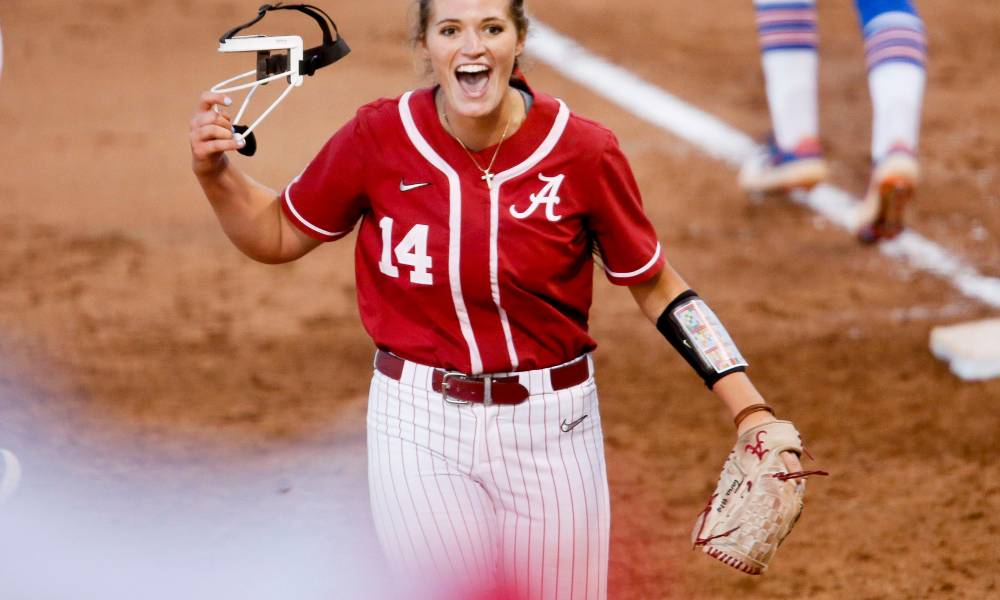 The University of Alabama is inching closer to another national championship.
On Friday, Crimson Tide fans were treated to the most mesmerizing performance in softball history.
Montana Fouts threw a perfect game on her 21st birthday to push the Tide into the semifinals of the Women's College World Series. In facing UCLA, Fouts silenced the bats of the Bruins as Alabama earned a 6-0 victory. The junior totaled 14 strikeouts — including two members of the U.S. Olympic team, Bubba Nickles and Rachel Garcia. She accounted for the first perfect game at the WCWS since Courtney Blades achieved the feat in 2000 for Southern Mississippi in a 1-0 win over Arizona. Fouts now has the fifth perfect game in the history of the World Series. Current players, former players, and supporters of Tide football were glued to ESPN2 to watch Fouts.
After her performance, congratulatory wishes came via Twitter from Malachi Moore, Greg McElroy, and Joe Namath.
2️⃣1️⃣ outs, her 2️⃣1️⃣st birthday, 2️⃣1️⃣ years since the last perfect game at the Women's College World Series.#WCWS x @AlabamaSB pic.twitter.com/8dlArTvEAk

— NCAA Softball (@NCAAsoftball) June 5, 2021
Pitch Perfect 👏#Team25 #RollTide pic.twitter.com/xD1kGWXnoh

— Alabama Softball (@AlabamaSB) June 5, 2021
ALABAMA'S MONTANA FOUTS THROWS A PERFECT GAME AT THE #WCWS! pic.twitter.com/TqJaKZAZ8t

— SportsCenter (@SportsCenter) June 5, 2021
Pete Golding and Matt Rhea both shared a video from Alabama softball's account of Fouts celebrating the moment.
Malachi Moore, Alabama cornerback
She going crazy no kizzy https://t.co/fFPr2doI9T

— Kinggchi👑 (@malachi_moore13) June 5, 2021
Greg McElroy, former Alabama quarterback
— Greg McElroy (@GregMcElroy) June 5, 2021
Joe Namath, former Alabama quarterback
"Montana Fouts!! WOW! I respect that she gave credit to her Bama teammates first and I just want to give credit to her because pitching a perfect game is, well, PERFECT! And I heard it was on her 21st birthday too! Nice goin, happy birthday and ROLL TIDE!!!" @AlabamaSB pic.twitter.com/PIGGVejaQe

— Joe Namath (@RealJoeNamath) June 5, 2021
Terrell Owens, former NFL WR and fan of Alabama athletics
Congrats @MontanaFouts on the SHUTOUT!!! @AlabamaSB #WCWS 🥎

— Terrell Owens (@terrellowens) June 5, 2021
Penny Moore, mother of Tide CB Malachi Moore
@AlabamaSB FYE‼️🔥🔥🔥🥎🥎

— Penny Moore, NBCT (@aka_pmoe) June 5, 2021
Fouts has totaled 30 strikeouts versus Arizona and UCLA in the WCWS. Alabama and James Madison are both undefeated in the winner's bracket. The two may face each other in the semifinal round.