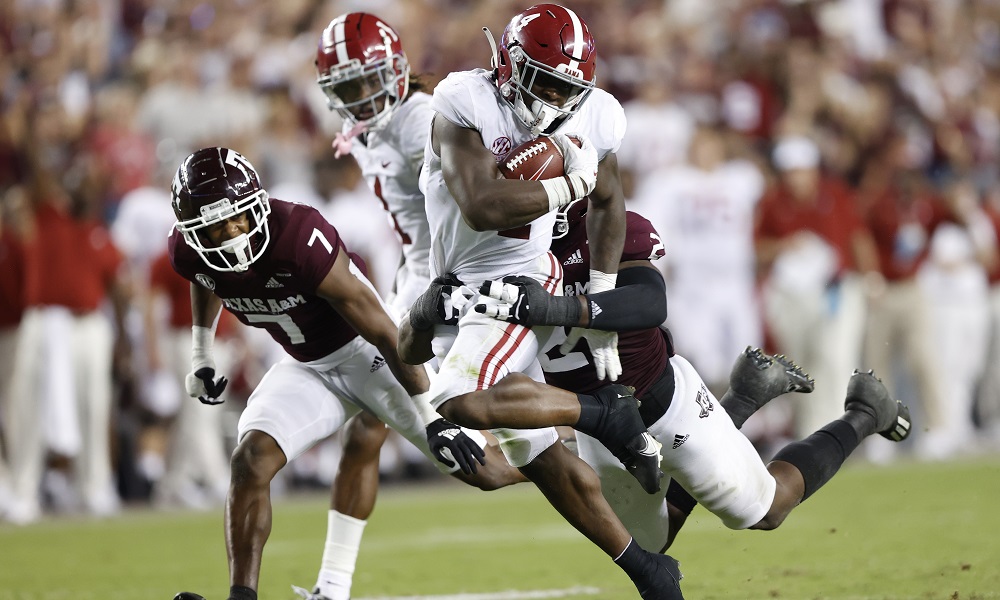 Texas A&M defeated Alabama football 41-38 to give the Crimson Tide their first loss of the season Saturday.
Bryce Young finished the night 28-of-48 for 369 yards and three touchdowns. Brian Robinson put up an impressive performance on the ground with 147 yards on 24 carries.
The Crimson Tide entered the second half down 24-10 to the Aggies. Alabama got off to a slow start in the third and was forced to punt on its opening drive after getting behind the sticks. On the following drive, Pete Golding and the Tide's defense was able to stand up against the Aggies' hot offense and force a punt, which was blocked by Ja'Corey Brooks and recovered by King MwiKuta for a touchdown to make the score 24-17.
However, it did not take long for the Aggies to strike back. Devone Achene returned the following kickoff 98 yards for a touchdown to put the Aggies back up by 14. Bryce Young answered back to cut the Aggies' lead to seven again by hitting Jameson Williams for a 29-yard touchdown pass. Alabama's defense made a huge stop on Texas A&M's next drive.
Alabama's offense was force to kick a field goal on the next drive and trailed the Aggies 31-27 with 14:09 left in the fourth quarter. A Texas A&M punt led to another Reichard field goal to cut Texas A&M's lead to one.
The Tide snatched the lead from Texas A&M in the fourth thanks to a 8-yard receiving hookup between Young and Williamson. Jimbo Fisher and Texas A&M refuse to roll over and answered back with a 37-yard touchdown pass from Zach Calzada to Ainias Smith tie the game.
After an Alabama punt, Seth Small nailed a field goal to defeat Alabama 41-38.