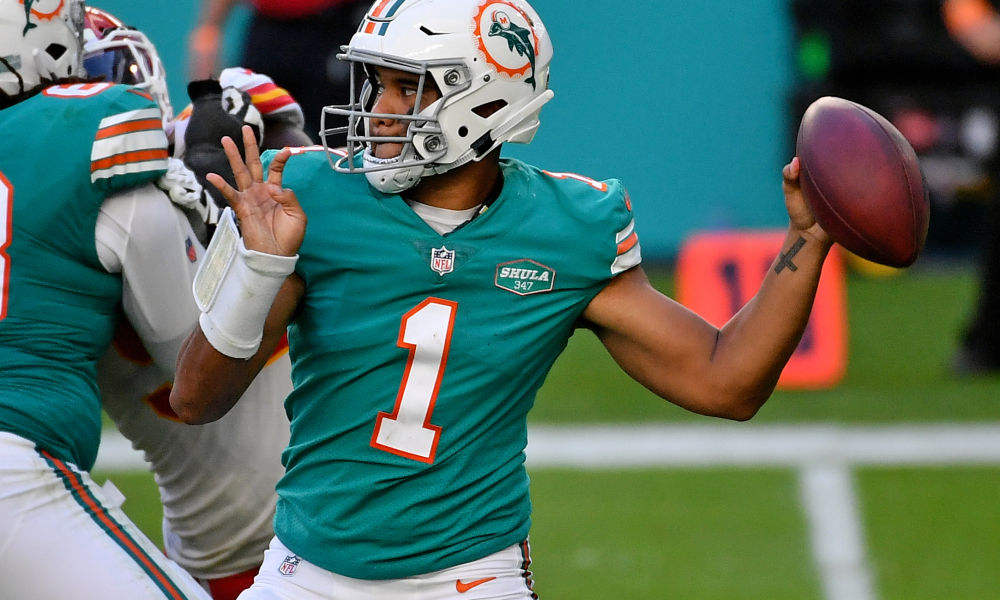 The Miami Dolphins will not reunite Tua Tagovailoa with Brian Daboll.
After turning Josh Allen into a superstar quarterback, Daboll leaves the Bills for the New York Giants. He takes over for Joe Judge as head coach of the Giants. Daboll is excited to be in New York, but Dolphins fans and Tagovailoa supporters are not happy it missed on a coach to help Tagovailoa. Daboll coached the native Hawaiian at Alabama during his freshman year in 2017.
He wanted Tagovailoa over Jalen Hurts, and it became special in the second half of the 2018 CFP National Championship Game.
Tagovailoa came off the bench, tossed three touchdowns, and helped the Crimson Tide to a 26-23 overtime victory. Daboll will focus on Daniel Jones over Tagovailoa. Miami fans and Tagovailoa supporters are showing their displeasure on Twitter.
The Dolphins really like Brian Daboll. With that said, they're willing to risk losing him to the Giants just to meet with Mike McDaniel again.

— Neal Driscoll (@NealDriscoll) January 28, 2022
In Sum

Per sources & due diligence

Brian Daboll was "for sure offered" the MIA HC job

I was told, "the room was sold on developing Tua & that is what Ross wants"

Staffing was also discussed

"QB Coach"
MIA DEF staff in this potential case would REMAIN

The choice is Daboll's

— Jason Sarney (@Jason_Sarney) January 28, 2022
Daboll coached Tua at bama and still chose turn da ball over Jones over Tua, wild.

Is it because of tua or the dolphins organization?

I say both

— Smoke (@nickysmokess) January 29, 2022
"Brian Daboll doesn't want to coach Tua."

Or maybe he wanted to coach the Giants. Or maybe they offered more money. Or maybe he didn't like the way Flores was treated. Or maybe he hates palm trees. Or maybe the Dolphins didn't even offer him the job.

Nah, must be Tua. Must be.

— Tim Reynolds (@ByTimReynolds) January 28, 2022
So tired of all the Tua haters , he's the QB of OUR team , whoever the QB is that's who I support. Go find another team if you don't like it . Geesh

— JFN (@JohnFNally) January 29, 2022
More like he didn't want to be forced to coach Tua. Tua may be the guy, but forcing an incoming coach to commit to starting the guy is just another Dolphinism. The incompetency of Ross, & Grier is a marriage made in Hell. @ByTimReynolds https://t.co/UmeewAjI3F

— Island Canes (@Island__Canes) January 29, 2022
Maybe he didn't want to face Josh Allen twice a year. https://t.co/IjCw49OPkd

— Dolphins History (@DolphinsHistory) January 29, 2022
Simple people blame tua https://t.co/gq4CFm0TJ9

— Ram (@Ramfin831) January 29, 2022
He literally was NEVER offered the job in Miami. He had a choice. Accept the Giants position or wait it out until next week for a 2nd Miami interview & hope that Miami makes an offer or that the Giants don't already fill the vacancy & the Giants offer is still on the table.

— Tua The Turtle (@TuaTurtle) January 29, 2022
Miami fans would have enjoyed Daboll reuniting with Tagovailoa, but it will not happen.
The Dolphins are hopeful to land a coach that can develop him into a star quarterback.
*Get the BEST Alabama football insider information, message board access, and recruiting coverage today! SIGN UP HERE to unlock our subscriber-only content!*