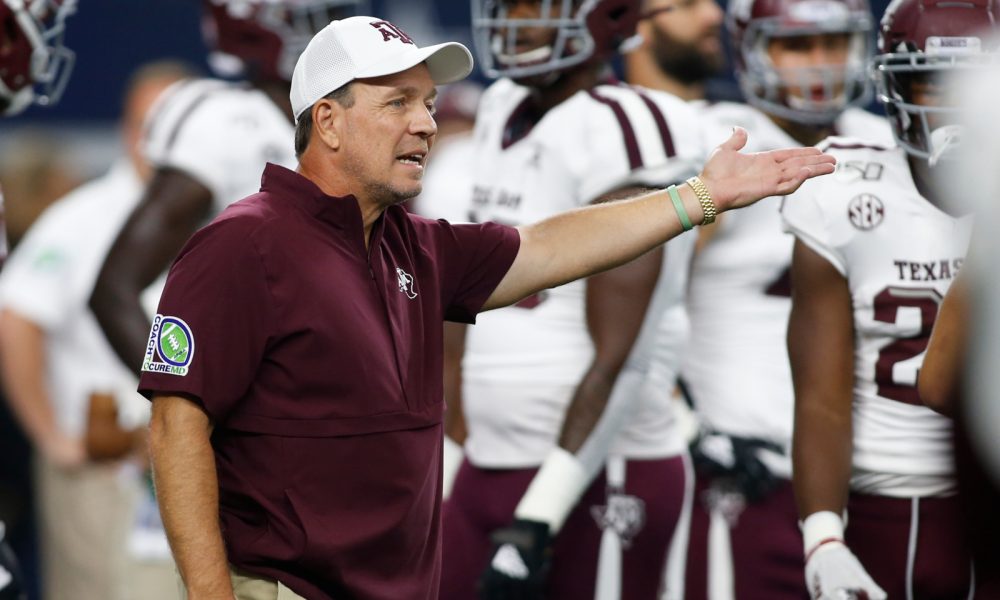 Hours after Nick Saban's comments stating that Texas A&M had bought their recruiting class this past season, Aggies head coach Jimbo Fisher called a press conference to respond to Saban's statements.
"It's a shame that we have to do this. It's really despicable," Fisher said. "It's despicable that somebody can say things about somebody and more importantly 17-year-old kids. You're taking shots at 17-year-old kids and their families that they broke state laws, that we bought every player on this group. We never bought anybody. No rules were broken. Nothing was done wrong. The way we do things the ethics in which we do things and these families it's despicable that a reparable head coach can come out and say this when he doesn't get his way or things don't go his way.
"The narcissist in him doesn't allow those things to happen and it's ridiculous. The parity in college football that he's talking about, go talk to coaches who coached for him. You'll find out all the parity. Go dig into wherever he's been you can find out anything. And it's shame that you gotta sit here and defend 17-year-old kids and families and Texas A&M because we do things right. We're always gonna do things right, but we're always gonna be here. We're doing a heck of a job. These coaches have done a great job, our players have done a great job, the whole organization of recruiting people. It's despicable that we've gotta sit here at this level of ball and say these things to defend the people of this organization, the kids, 17-year-old kids, and their families. It's amazing.
"Some people think they're God. Go dig into how God did his deal, you may find out about a guy that a lot of things you don't wanna know. We build him up to be this czar of football. Go dig into his past of anybody that's ever coached with him. You can find out anything you wanna find out, what he does and how he does it. And it's despicable, it really is. And it's a shame we have to sit up here and have this conversation about things we do.
Is it personal to us? Yes, it is. It's personal to A&M, it's personal to our players, it's personal to our coaches and everybody involved. And I know the guy, know him really well. It's amazing that we're allowed to do those things. It's really despicable. And I hate it. For our players who are coming here, who did things the right way, have done things the right way and will continue to do things the right way, I apologize to you that people insult you publicly the way they're doing it. And out fans, I apologize to you guys for people saying those things about A&M.
"But I promise you this, there are no violations. There is nothing wrong. It's the second time we've had to do this with grown men who don't get their way and wanna pout and throw a fit and act up. Just go ask all the people that work for him. You'll know exactly what he's about.
"My dad always told me this, when people show you who they are, believe them. He's showing you who he is."
Fisher was asked whether Saban had reached out since his comments from Wednesday night and while he did confirm that Saban had called, Fisher refused to answer the phone.
"Oh, he's called," Fisher said. "Not going to (pick up). We're done. He showed you who he is. He's the greatest ever huh? When you've got all the advantages it's easy."
Alabama and Texas A&M will meet in Tuscaloosa, Ala., on Oct. 8 inside Bryant-Denny Stadium in what was already a highly anticipated matchup.
**This story will be updated.**
*Get the BEST Alabama football insider information, message board access, and recruiting coverage today! SIGN UP HERE to unlock our subscriber only content!*
Patrick Dowd is a Reporter for Touchdown Alabama Magazine. You can follow him on Twitter, via Pat_Dowd77