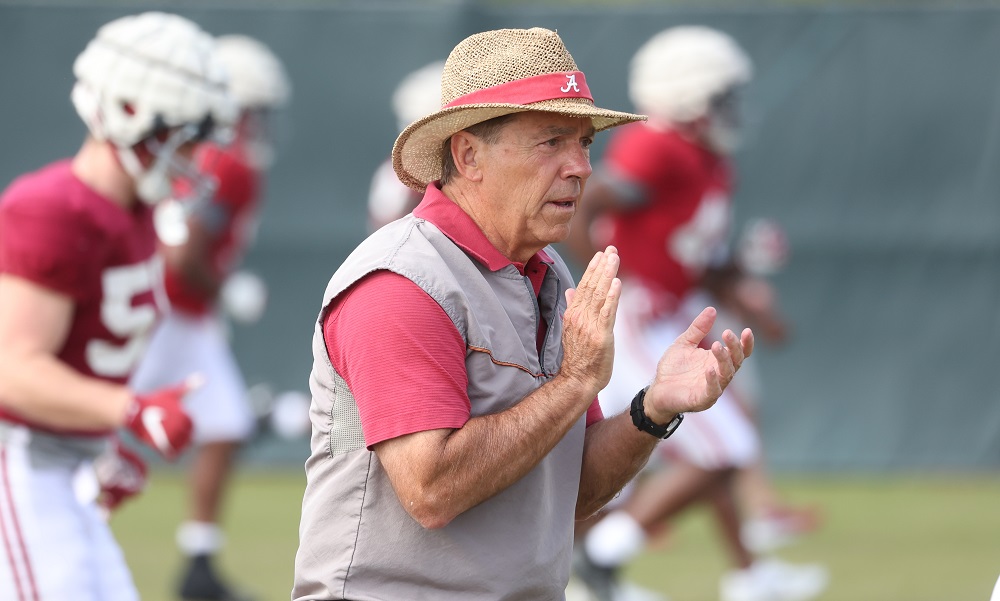 Just like name, image and likeness, conference realignment will likely be a term college football fans will need to get used to hearing for the foreseeable future. The option for universities to relocate has always existed but the emergence of "mega-conferences" has been a new trend that seemingly began this time last year when Texas and Oklahoma were announced to join the SEC in the near future.
The frequency of big program realignment has been kicked into overdrive this summer with USC and UCLA set to join the Big Ten which has ignited other conferences and programs belonging to the Pac-12, Big 12 and ACC to swiftly evaluate each's respective futures.
Prior to this week, Alabama head coach Nick Saban hadn't commented on the recent developments in the sport until his appearance on Always College Football with Greg McElroy on Monday where Saban brought up to his former quarterback that the realignment will eliminate a lot of traditions between programs.
"There's a lot of tradition in conferences that will no longer exist," Saban said. "I think we've gone through that to some degree in the past, the Oklahoma/Nebraska game used to be a big game and they've not been in the same conference for some time now. But I think we're going to deal with in a greater capacity than ever before because I think mega-conferences are probably here to stay."
Outside of losing traditions and rivalries from realignment, Saban detailed that his biggest concern stemming from these changes is the aspect of competitive balance in the sport. Saban in the past has brought up the term when speaking about NIL and he also believes conference realignment will affect the balance of college football.
"My biggest concern is competitive balance," Saban said. "The NFL which I was involved in for eight years, every rule they have is to create competitive balance and if they could have every team go eight and eight so at the end of a season so that every team was playing their last game to get in the playoffs they would be ecstatic. Because how much fan interest does that create? How much TV ratings does that create?
"We don't have any guardrails on what we're doing right now. We have no restrictions on who can do what. Some people are gonna be capable of doing certain things other people aren't going to be capable. But the bottom line is we'll lose competitive balance which everything we've always done in college football is to maintain competitive balance. Same scholarship, everyone had to play by the same rules whether it was recruiting or whatever. Right now that's not how it is."
When asked what a possible solution could be, Saban stated that there needs to be widespread regulation from the NCAA. His idea of NCAA regulation remains consistent with prior comments made back in May where Saban sparked controversy when speaking about NIL and Texas A&M.
"I don't know that I totally have all the answers but I think there has to be some sort of cohesive rules across the board which we've always had that the NCAA has been able to provide," Saban said," and a lot of people criticize the NCAA for the situation we're in but if they don't have protection from litigation they can't even enforce their own rules.
"We have laws now that make it relatively impossible to have this competitive balance so if that's the case then there's gotta be some kind of, I don't know what you wanna call it, laws, antitrust, I don't know what the legal term would be, that sort of creates guardrails where you will create competitive balance because things are going to be the same."
*Get the BEST Alabama football insider information, message board access, and recruiting coverage today! SIGN UP HERE to unlock our subscriber only content!*
Patrick Dowd is a Reporter for Touchdown Alabama Magazine. You can follow him on Twitter, via Pat_Dowd77