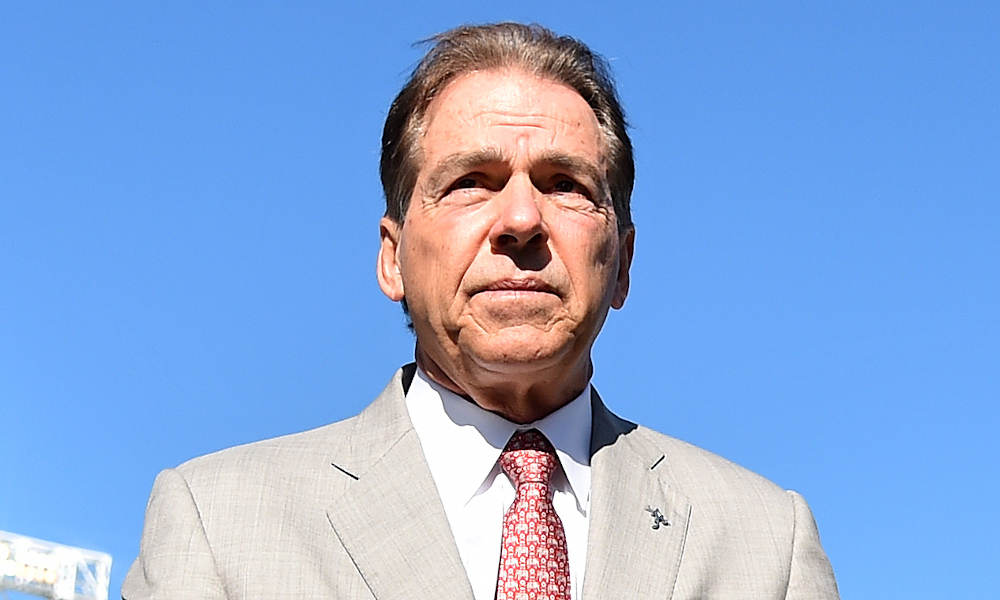 Nick Saban discussed a variety of important topics for college football, including college football's play review process and potential clock changes.
Saban revealed he was not a fan of the NFL's  process, where coaches throw challenge flags.
"I didn't like it in the NFL, because you never had a legitimate chance to review the play," said Saban to Sports Illustrated. "The way they do it now, if they are reviewing the play or if they think it needs to be reviewed, they hit the buzzer and stop the play. In the NFL, you don't have a chance to do that. Somebody in the press box has to say right now, "That is a fumble!" You're not going to get it right doing it that way. When I was coach of the Dolphins, if we were playing on the road and there was a controversial play and they didn't show it on the big screen, I'd throw the flag out there because I knew, if it was in their favor, they'd be showing it. [Coaches] in the press box, it's hard. You don't have all the views. Maybe you have one view. You wouldn't get it right doing it that way."
Saban also gave his thoughts on the potential of a running clock even after a team converts a first down, and the clock running after an incomplete pass once the ball is spotted.
"I'm kind of for the first down thing, but I'm an old NFL guy", said Saban. "I'm not quite as in favor of the incomplete pass. You throw a pass 50 yards down the field, it takes people time to get back, and now the clock is running? If you talk to the fans, they think the game stoppages for [replay] review are too long. What the NFL has done, where the guy doesn't go over and always has to look in the thing and that decision gets made by video review quickly, I think that would help it. I lived in the NFL where you had to throw the flag out there [to challenge]. You don't have time. Unless it's an obvious mistake, you really don't have time between plays. And if the other team knows there's a controversy, they are going to go fast so you have less time."
GET THE BEST ALABAMA FOOTBALL INSIDER INFORMATION, MESSAGE BOARD ACCESS, AND RECRUITING COVERAGE TODAY! SIGN UP HERE TO UNLOCK OUR SUBSCRIBER-ONLY CONTENT!*