Alabama Football News
Kirby Smart said Nick Saban taught him to recruit a defensive lineman with a huge 'ass'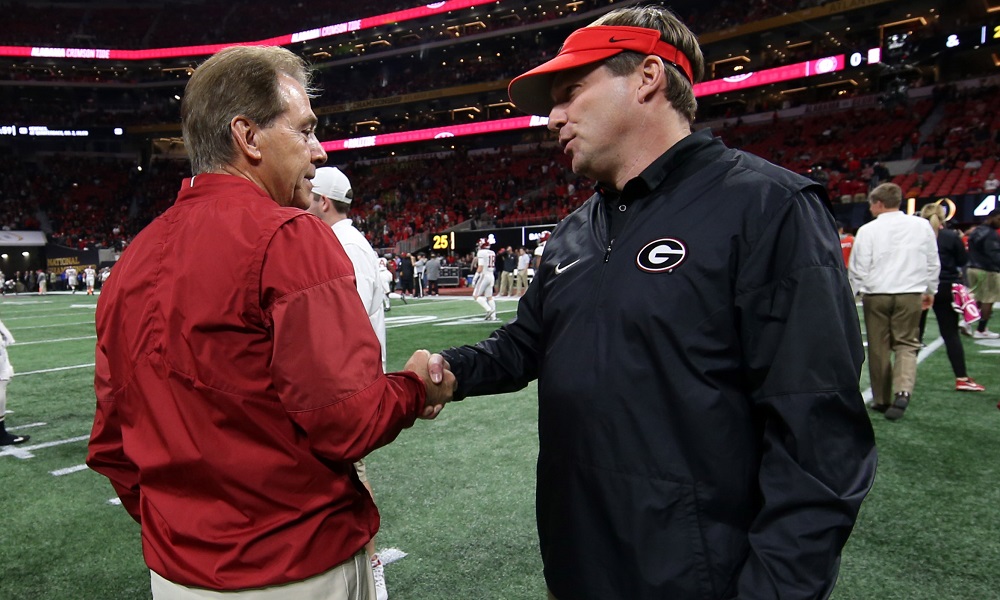 The Georgia Bulldogs head coach Kirby Smart recently credited Nick Saban for some critical defensive linemen evaluation advice during a coaching clinic.
Smart coached under Saban in 2006 as the Miami Dolphins' safeties coach. Saban gave Smart the advice at the NFL Combine.
"He (Saban) said, 'Come over here with me. I want you to come over and sit by Bill.' I'm like, 'Bill who?' He's like, 'Bill Belichick. I want you to sit by him and listen to him during the combine as they talk about players,'" Smart said in a video posted by the Ringer's Kevin Clark. "They get where the 40-yard dash, Yall have all seen those guys with the tights on? They are stretching? They got behind them. I was like, 'Why are we here? We can't time the finish.' He (Saban) said, 'nall, Bill likes to look and see how big their ass is when they (get) into their 40-yard stance, because he wants to sign the biggest ass defensive lineman he can sign because those backers want to line up behind those guys and they want to be protected by them and they want to have anchor behind them ."
Smart went on to to explain how huge defensive linemen are able to cover up offensive linemen and give linebackers a better view into the backfield.
Kirby Smart said at a coaching clinic that Nick Saban taught him that Bill Belichick goes to the combine to scout players with huge asses. pic.twitter.com/JcmJY6zCxl

— Kevin Clark (@bykevinclark) March 15, 2023