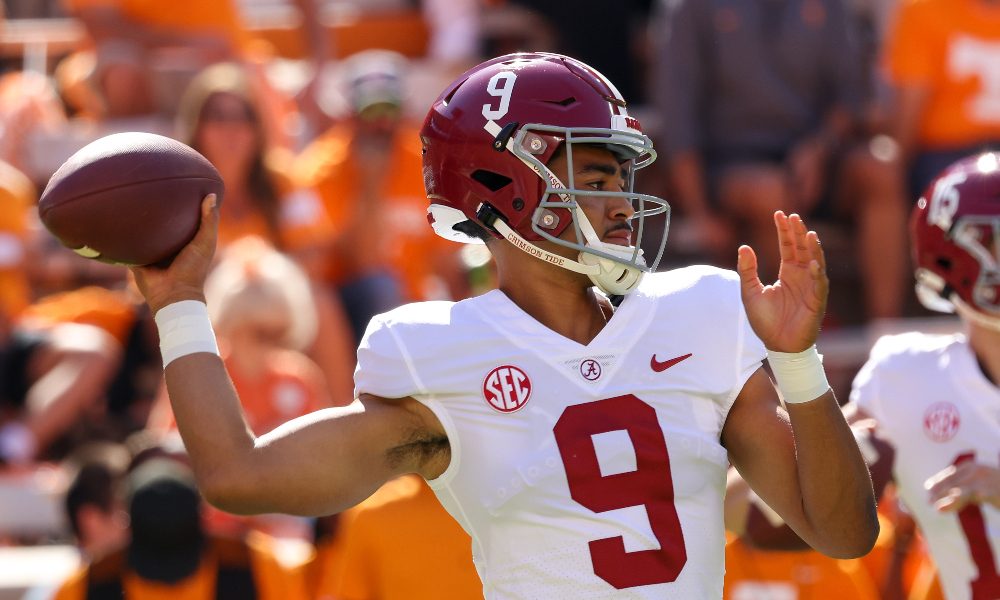 Alabama quarterback Bryce Young sat down with NFL Network's Mike Garafolo and Steve Smith Sr. to discuss his 2023 Pro Day performance.
Young is projected to be one of the first quarterbacks off the board in the NFL Draft next month. The California native, who did not participate in the Combine, got the throw in front of a long list of NFL personnel Thursday.
"I was happy to be out there throwing to my guys again," said Young. "This is a special process, me being able to have this opportunity is something that I never want to take for granted. "I was grateful for everyone who came and everyone who watched, and I'm happy to perform."
Smith Sr. referenced how impressed he was with the way Young was anticipating where his receivers were going and getting them the ball before they called for it.
"The way you threw the corner route was about a step and a half before the wide receiver gave the indicator and you threw the corner route and that wide receiver was able to catch it, so that's a plus," said Smith Sr.
Smith Sr. brought up the topic of height, which has been discussed ad nauseaum ahead of the 2023 NFL Draft. He mentioned that despite the height concerns that many have for Bryce Young, most of his completions came from throwing over the middle of the field.
"When you look at the stats you were the most accurate and had the most completion rate over the middle, so you understand the throwing lanes," said Smith Sr.
Smith Sr. joked that the way Bryce was throwing today, he could've gone out there and caught some balls despite being 44 years old.
"I could've gone out there and ran those routes just from the way you were guiding the ball, it was remarkable. What a wonderful display of why you deserve to be the first overall quarterback to be picked in this year's draft."
Despite all the high praise from a Hall of Fame semifinalist, Young knows that this is only the beginning and he needs to continue to perfect his game.
"I'm super grateful, from a legend hearing that means everything, also super humbling, but that means I have to keep perfecting my craft," Young said. "It's encouraging but I know that the jobs not done there's a lot more to improve at and get better at, and there's a long journey ahead"
Garafolo asked Young about his release point and how the ball flys out of his hand at a high angle, despite his size.
"For me, honestly I pride myself on being able to change my arm angle to throw with whatever it is that's necessary", said Young. "Sometimes it has to be more over the top, and sometimes if there's someone in your face you have to get around them and you have to find windows," said Young.
Young is grateful to be in the position that he's in and stresses the importance of focusing on what he can control, in reference to being selected first in the 2023 NFL Draft.
"For me honestly it's something that I file into the category of things I can't control," said Young. "I want to put my best foot forward I want to present myself in the best way and I'm grateful for all the teams that I've talked to and I've interviewed with", said Young. All I can do is try to put my best foot forward, try and do what I did today, let my play on the field do the talking, I can't control where I'm taken or who drafts me."
GET THE BEST ALABAMA FOOTBALL INSIDER INFORMATION, MESSAGE BOARD ACCESS, AND RECRUITING COVERAGE TODAY! SIGN UP HERE TO UNLOCK OUR SUBSCRIBER-ONLY CONTENT!*