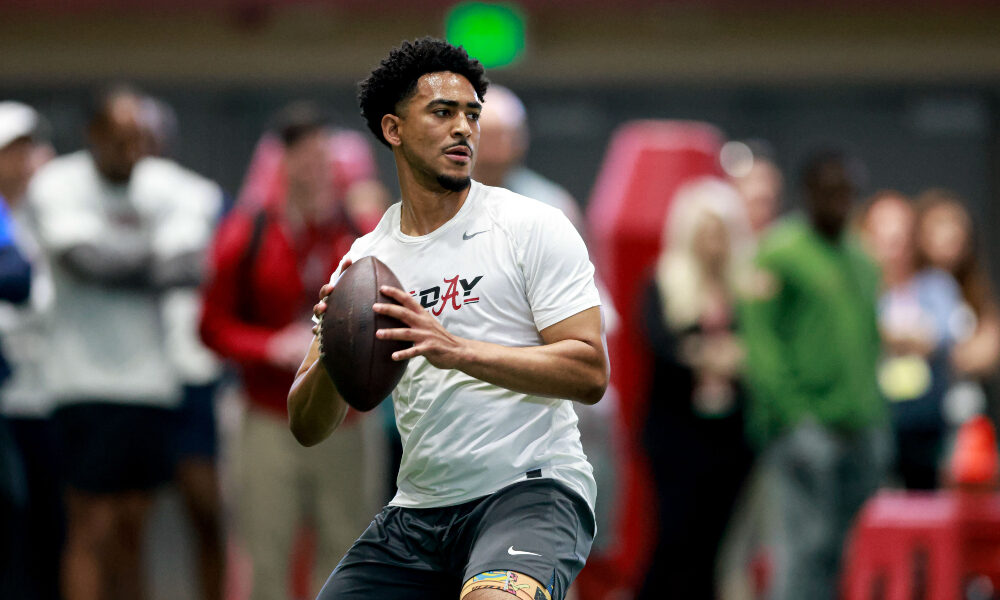 Over the course of the scouting process leading up to the NFL Draft, several media pundits and draft analysts have weighed in with their concerns regarding the height of Alabama quarterback Bryce Young.
Young is largely viewed as a top-five pick but his unique stature doesn't have an extensive history of translating to the NFL which has caused the discussion as to if he should be picked ahead of the likes of CJ Stroud or even Anthony Richardson.
Although the media has gotten to share their opinion on the matter, the head coach of one of the top picks in the draft hasn't shared his own view of Young's height until Tuesday.
Texans new head coach DeMeco Ryans was asked whether Young's height would prevent the team from selecting the Crimson Tide star and Ryans shared that it isn't a concern for them.
"I know there's a lot of talk about his size, but the guy's done it at the highest level of college football, and size doesn't seem to be a problem," Ryans said according to Gallery Sports. "I don't see it as an issue because I watch the tape. You put on the tape, and you see how smart he is – the anticipation, the accuracy, how this guy's calm in critical moments.
"When you see those things, size isn't one of the factors you look at and say, 'Oh, man, it's a problem.' You just look at the track record and see what he's done in the SEC and how successful he was, and I think he'll be successful in the NFL as well."
Ryans later shared that the main attribute the Texans are scouting in a quarterback is the player's ability to be a leader.
"The most important attribute I look for is how's his leadership style?" Ryans said. "Can those other 10 guys look at you in the huddle and know that, 'We can count on this guy to make a play. We believe in him.' And then you have to look at (your) defensive guys, and can they count on him? Is that quarterback the guy that can galvanize a locker room, rally the troops and get guys to believe in him? That's the trait, and it's easier said than done because so few guys can do that.
"They're special guys. And everyone's different. Some rookies can do it better than others. Some take time to develop. It's a unique position. It's not cookie-cutter where one size fits all. There are different styles that work."
Young's former head coach Nick Saban also made the point at the Crimson Tide's Pro Day that despite his quarterback's height he was still able to dominate the SEC, which contains a lot of the same type of players he'll be going against on Sundays this fall.
"I think you should ask the people that had to play against him in the last couple of years and see if they think it affected his performance," Saban said last Thursday. "I really don't, I think he's so instinctive, he processes so well, prepares well. He's got quickness in the pocket, he plays the position like a point guard in basketball. And his production and consistency and performance have been off the charts.
"Most of the time, those things will translate to the next level."
*Get the BEST Alabama football insider information, message board access, and recruiting coverage today! SIGN UP HERE to unlock our subscriber only content!*