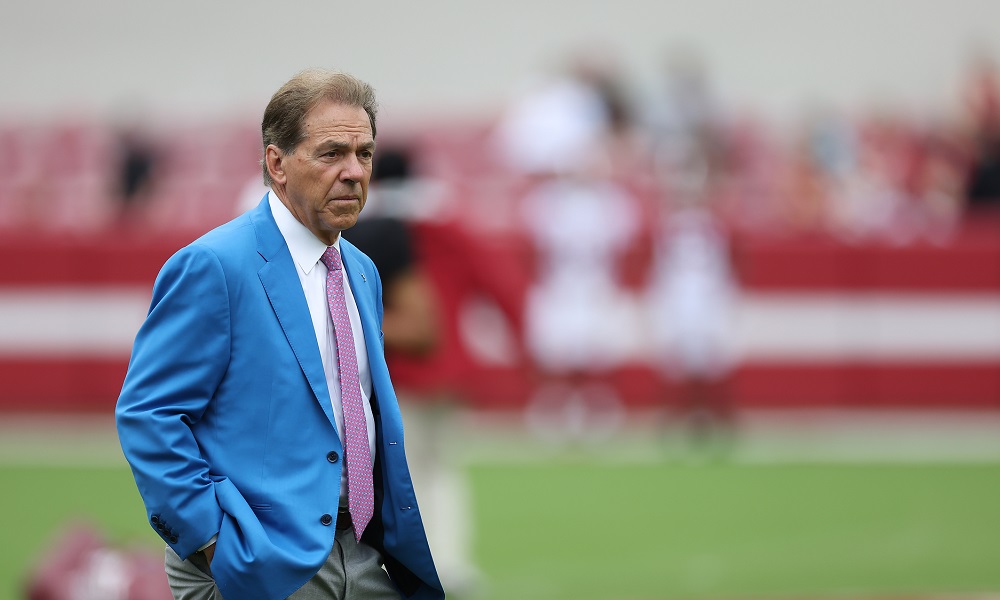 Alabama officially announced the Crimson and White rosters for A-Day this Saturday.
Not included in the roster breakdown were injured players such as Dallas Turner, Chris Braswell, Jah-Marien Latham, Robbie Ouzts, Deonta Lawson and DeVonta Smith.
Nick Saban discussed the roster splits during his final press conference ahead of A-Day sharing that the entire first team isn't necessarily on one team and that the team held a draft of the coaching staff as well.
"We split up the squads in A-Day so we get maximum reps for most of the players, which does not really mean the entire first team is on one team and the entire first team is on the other team," Saban said. "It means if we have certain guys at certain positions, we can manipulate them around to get reps for those guys by playing more of the game because we split the squads up that way, then that's the way we do it.
"We have where we try to play the first teams against the first teams and the second teams so it's a competitive game. We had a draft yesterday for all the staff. Coaching staff, support staff, recruiting staff, training staff, everybody got picked. You got your team for steak on Monday or you got your team for beans and paper plates and plastic forks and spoons. You want a tablecloth? You want a steak? You want a baked potato? You want a dessert? You've got to win. That's what's at stake here."
**The players are listed in numerical order**
Crimson Team
1 Kool-Aid McKinstry DB
2 Caleb Downs DB
3 Terrion Arnold DB
3 Jermain Burton WR
11 Kristian Story DB
12 Dylan Lonergan QB
13 Malachi Moore DB
14 Thaiu Jones-Bell WR
15 Ty Simpson QB
16 Jaren Hamilton WR
16 Will Reichard PK
17 Trezmen Marshall LB
18 Shazz Preston WR
19 Keanu Koht LB
22 Justice Haynes RB
26 Jam Miller RB
28 Michael Lorino III RB
30 Jihaad Campbell LB
34 Quandarrius Robinson LB
34 Coby McNeal TE
37 Ty Roper DB
38 Kameron King WR
38 Alijah May DB
39 KJ Fleming WR
41 Mister Hogue RB
42 MJ Chirgwin WR
43 Shawn Murphy LB
44 Charlie Skehan TE
45 Caleb McDougle DB
46 Chase Davis DB
47 James Smith DL
47 Adam Thorsland TE
48 Kneeland Hibbett SN
50 Tim Smith DL
54 Kyle Flood Jr. LB
54 Miles McVay OL
55 Roq Montgomery
55 Bennett Whisenhunt LB
57 Chase Quigley DL
58 James Brockermeyer OL
58 Jordan Smith LB
61 Graham Roten OL
63 Wilder Hines OL
69 Terrence Ferguson II OL
73 Olaus Alinen OL
74 Kadyn Proctor OL
80 Kobe Prentice
82 Jalen Hale WR
83 Elijah Parker WR
84 Amari Niblack TE
86 James Burnip P
88 Miles Kitselman TE
89 Ty Lockwood TE
91 Jaheim Oatis DL
92 Justin Eboigbe DL
95 Monkell Goodwine DL
Coaches: Joe Cox, Robert Gillespie, Holomon Wiggins | Robert Bala, Freddie Roach, Travaris Robinson
White Team
2 Jase McClellan RB
4 Jalen Milroe QB
5 Roydell Williams RB
7 Ja'Corey Brooks WR
10 Eli Holstein QB
11 Malik Benson WR
12 Antonio Kite DB
16 Cade Carruth QB
17 Isaiah Bond WR
18 Brayson Hubbard DB
19 Kendrick Law WR
20 Earl Little II DB
21 Jake Pope DB
24 Emmanuel Henderson WR
25 Jahlil Hurley DB
27 Jonathan Bennett RB
28 Justin Jefferson LB
29 Dez Ricks DB
32 Jay Loper Jr. WR
33 Hunter Osborne DL
33 Jack Standeffer WR
35 Jeremiah Alexander LB
35 Zarian Courtney WR
36 Ian Jackson LB
37 Sam Willoughby WR
39 Peyton Yates DB
40 Kendrick Blackshire LB
43 Robert Ellis TE
44 Damon Payne Jr. DL
46 Peyton Fox TE
48 Prince Butler DB
48 Hayden Neighbors WR
49 Qua Russaw LB
49 Jax Porter TE
51 Noland Asberry DL
52 Tyler Booker OL
52 Alex Rozier SN
53 Vito Perri LB
53 Kabe Wehby SN
56 Seth McLaughlin OL
56 JD Baird LB
57 Elijah Pritchett OL
59 Anquin Barnes DL
65 JC Latham OL
71 Darrian Dalcourt OL
75 Wilkin Formby OL
77 Jaedan Roberts OL
81 CJ Dippre TE
82 Chase Allen PK
87 Danny Lewis TE
90 Jordan Renaud DL
94 Edric Hill DL
96 Tim Keenan III DL
97 Khurtiss Perry DL
97 Reid Schuback PK
98 Jamil Burroughs DL
98 Upton Bellefant P
99 Isaiah Hastings DL
99 Nick Serpa P
Coaches: Tommy Rees, Eric Wolford | Kevin Steele, Coleman Hutzler
*Get the BEST Alabama football insider information, message board access, and recruiting coverage today! SIGN UP HERE to unlock our subscriber only content!*
Patrick Dowd is a Reporter for Touchdown Alabama Magazine. You can follow him on Twitter, via Pat_Dowd77