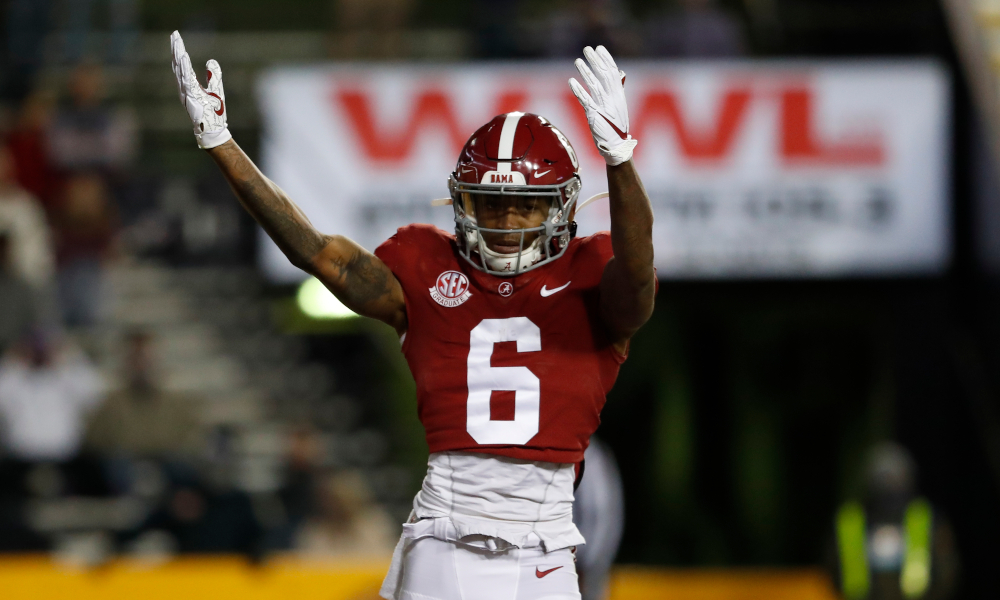 Former Alabama wide receiver DeVonta Smith laid out his top five Crimson Tide wide receivers of all time which sparked a great deal of debate on the internet.
Smith, who won the Heisman Trophy in 2020, ranked himself at the five spot on his list with many fans believing he's being a bit too humble.
Crimson Tide fans ultimately shared their reactions to Smith's rankings while providing some of their own.
A few reactions can be seen below:
A humble man

— Jim Mammina (@jmammina) May 5, 2023
Nah

1. Davonta Smith

2. Julio Jones

3. Amari Cooper

4. Tyrone Prothro(best catch in football history besides Beckham)

5. Jaylen Waddle

— Boogie (@Boogie11729240) May 5, 2023
Julio is my favorite player ever and only someone generational could tie him or top him.

1a Julio
1b Smitty
3. Coop
4. Ridley
5. Jeudy
6. Waddle https://t.co/IMVaPVwjE8

— J.D. Zasa (@jdzasa1010) May 5, 2023
1. Smitty
2. Julio
3. Coop
4. Ridley
5. Jeudy https://t.co/2J9BjEzxj2

— tyler maines 🥋 (@tyler27_m) May 5, 2023
Flip Calvin with Devonta and I agree https://t.co/EK0urX1Fz2

— Demarco (@demarco_82) May 5, 2023
This the best order Julio don't got that stats cuz of the era https://t.co/xCVpvQo3wJ

— Gaara of The Desert (@The_6th_Pierre) May 5, 2023
Do you know how humble you gotta be to win the Heisman and then rank yourself last? 😭 https://t.co/Wi7QAOg6EQ

— Christian (@christianc_16) May 5, 2023
Let me start by saying this, Waddle is the best slot receiver that came through. 2020, He was pound for pound the best player in the country before the injury. 1. Smitty
2. Coop
3. Julio
4. Jeudy
5. Ridley https://t.co/pIx1M07YDO

— MikeB (@Mike_Brown334) May 5, 2023
Valid list top to bottom. Julio nd Amari 1A/1B for me tho. https://t.co/W3RUBX8gZb

— Willie B. (@B_Miles15) May 5, 2023
*Get the BEST Alabama football insider information, message board access, and recruiting coverage today! SIGN UP HERE to unlock our subscriber only content!*