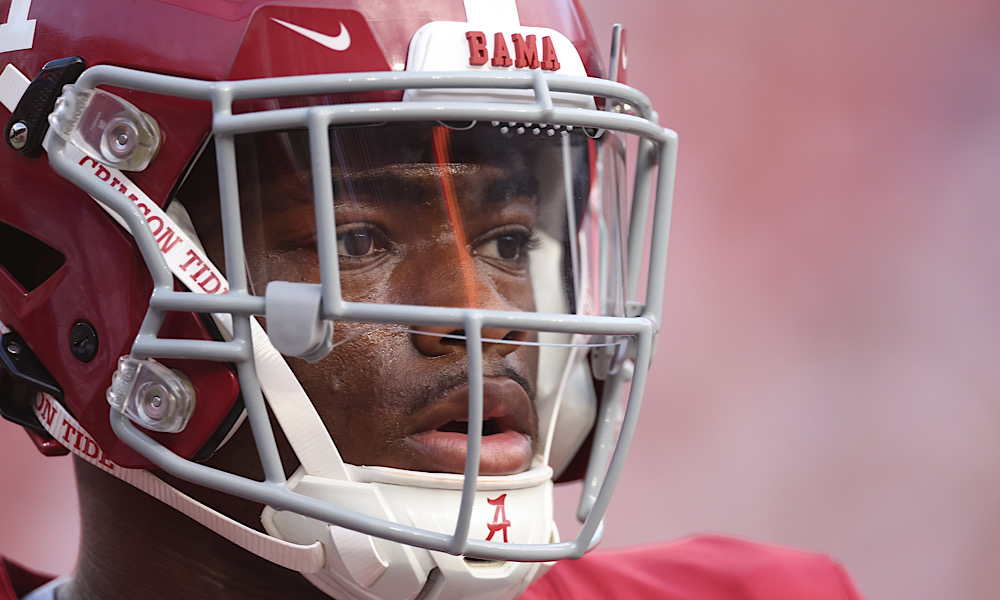 Jalen Milroe picked up his second win as the starting quarterback for Alabama on Saturday night when he led the Tide in their win over Middle Tennessee.
This what he had to say after the win and his five-touchdown performance:
Discussing How He Played In The Win:
"Overall it wasn't clean. There's a lot of things that we still need to improve on. We just want to get one percent better, so want to enjoy the win. They are a tough opponent, so we're gonna take this 24 hour rule like we say here, enjoy the win. No matter what, we got the win. So, want to enjoy it and move on."
Discussing His Performance:
"I need to get better. I need to be better as a leader. I need to be better overall at what I'm doing. I just want to continue to build and be the best version of myself when I take the field. So, there's some things that I'm going to look at with the coaching staff and my teammates to look at some things I need improve on. So for sure, I gotta get some things.
Discussing First Rushing Touchdown:
"Honestly, it was all set up with my team. I was fortunate to pick the ball up and make a play with it, but it was all with the other 10 guys on the field that helping me get into the end zone."
Jalen Milroe has a story to tell his grand kids one day. Sheesh. pic.twitter.com/QYe0crZOeR

— Touchdown Alabama (@TDAlabamaMag) September 2, 2023
Discussing Improvements On Deep Ball:
"Every element of my game I wanna improve on. It's not one specific thing that I wanna improve on, but that element of my game has to be there so we can push to be and succeed throughout the year."
Discussing Moment He Found Out He Was Starting:
"It was sometime during the week. I don't remember exactly when, but no matter what, if I was a back up, I still need to improve and build. So, honestly the whole room as a whole we push each other. We build our chemistry together, our relationship. I'm proud of every guy, that goes for Dylan (Lonergan), that goes for Eli (Holstein), that goes for Ty (Simpson), Tyler (Buchner). The whole room as a whole."
Discussing Taking Alabama QB Job:
Not necessarily. I was just worrying about getting 1% better each and every day. No matter who's on the field, they're QB one. Um, so I just wanna be the best teammate I can and root for every guy that was on the field. Um, no matter who it is, I just wanna be the best teammate I can.
Discussing On Growing As A Leader:
"Understanding my teammates. That's the key. When i'm on the field, I want the guys around me to trust me and know that when i'm at quarterback, they can trust me and believe in me, but honestly I believe that it comes down to chemistry with your teammates and knowing each each guy on the team."
Discussing Amari Niblack Development:
"I love him. Number one, how he approached practice. You can really see it in the guy. How he approached practices is just how he just grown. Overall with the time we had in the off season, just him being hungry, him hitting me up, hey let's go watch some film. Hey let's go run routes. I think that's key and it factors into what happened today."
Discussing Grading His Performance:
"I let my coaches do that for me. but I know that I'm not where I want to be at.
Discussing Biggest Improvement He Wants To Make:
"My whole game. Like I said, we want take 24 hour rule. Enjoy the win because that was a tough opponent. That was a tough opponent and it took a lot of preparation going into the week each and every day trying to build. So, I'm going to enjoy the win, but overall I want to improve my whole game.
Discussing The Thing He Did Best Today:
"Next next play mentality. No matter what happened, positive, negative, next play I was gonna get a next play. So, that was my key for every drive that we had."
Discussing Playing Against Texas:
"Honestly, just another opponent on the schedule, just day by day trying to improve and our success on that day is going to come from our preparation throughout the week. So, no matter what opponent it is, we're just going to take it one day at a time."
GET THE BEST ALABAMA FOOTBALL INSIDER INFORMATION, MESSAGE BOARD ACCESS, AND RECRUITING COVERAGE TODAY! SIGN UP HERE TO UNLOCK OUR SUBSCRIBER ONLY CONTENT!*