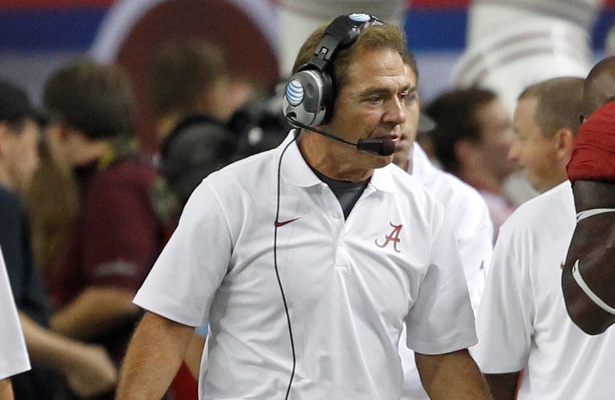 Rumors swirling about Saban this time around are indeed proven to be true. (photo TDA)
The Rumors are True: Saban is Indeed Looking for Something Different
By: Larry Burton
It seems every few years rumors of Saban looking for something different. Rumors were rampant a few years ago he would bolt to Texas and before that to somewhere else. Well I am here to put the rumors to rest. Nick Saban is indeed ready to try something new in his long and successful career.
You've heard rumors that Nick Saban is unhappy in Tuscaloosa this year, you heard rumors last year he felt under appreciated. You've read that he's ready for a new challenge and I'm here to tell you that all those things are true.
Nick Saban is unhappy. He wants the students to sit through the final minutes of every game. He wants the stands without an empty seat when Alabama entertains Podunk University and they don't. He's unhappy that some players still run afoul of team rules and just plain common sense. Nick Saban has been only truly happy in Tuscaloosa for short periods after lifting crystal in the air and then it's back to finding things to be unhappy about.
Let's face it folks, when you're a man who seeks something as close to perfection as Nick Saban, you're never going to be happy with anything less. So the rumors of him being upset is 100% correct.
Does Saban feel under appreciated? Of course he does. If his players, fans and the student body really appreciated him, they'd follow his commands without question and without fail, but they don't. There are so many reasons that he can truly feel under appreciated and most of them are valid.
Now you've also heard he's looking for a new challenge. And that is true. For Saban, him moving to an up tempo offense, rebuilding a defensive secondary and finally turning his front seven defensive linemen loose to rack up sack numbers and worry about containment less is also a challenge to him.
But the biggest thing is Saban wanting to do something different and that is also true as can be.
In Saban's career so far, he has done one thing over and over. Build up a program to a successful state and then leave to take on the next challenge. Before Alabama, Saban never spent more than seven years in one location. It's not that the grass was always greener on the other side, but the challenge of turning a program around, putting his stamp on a team and showing the difference a coach could make was reason enough to leave.
With age comes wisdom and Saban has learned, like many coaches, that it's always easier to climb to the top of the mountain than to keep a team there. And that is Saban's newest challenge, his latest  something new, his thing that is truly different in his career.
Saban wants this to be his legacy, his final hurrah and the thing that people remember about his career as a whole.
He could hardly go anywhere and make more money than than Alabama would be willing to pour upon him. While some want to compare him to Urban Meyer, the sad truth with Meyer was that while he got the Gators to great heights, he also allowed the program to sink back to mediocrity and have player problems that would take years to undo and still haven't been done yet.
On the other hand, Alabama has been in the national title talk every year since his first title in Tuscaloosa. Maintaining that status is something that Meyer could not do and Saban seems to have in hand. Continuing to hold a team at level is something that puts him in elite coaching status that only a few have ever achieved. Leaving on his own accord with his team still on top with almost 20 years in one place would be the way Saban wants to end his career.
His name will forever be linked to Alabama legacy in the same breath as Bear Bryant, I could see the field being named in his honor.
He will retire and spend his golden years on golf courses in Alabama gear and be the beloved father figure to the program and live out his days with the love and respect of a huge Alabama nation. This too will something new and different for Nick Saban. They won't have statues of him at Miami, LSU, Michigan State or Kent State, there won't be buildings and streets names after him there. He has finally found a final home. And for Nick Saban, this is something new and different for Nick and Terry Saban.
Larry has been published in almost every media outlet for college sports and now primarily writes here for Touchdown Alabama. Follow Larry on Twitter for inside thoughts and game time comments at  https://twitter.com/LBSportswriter
Thanks for sharing the link to this story on your Facebook page
Come to the "Points After" Forum on the Touchdown Alabama site and discuss your feelings on this article.