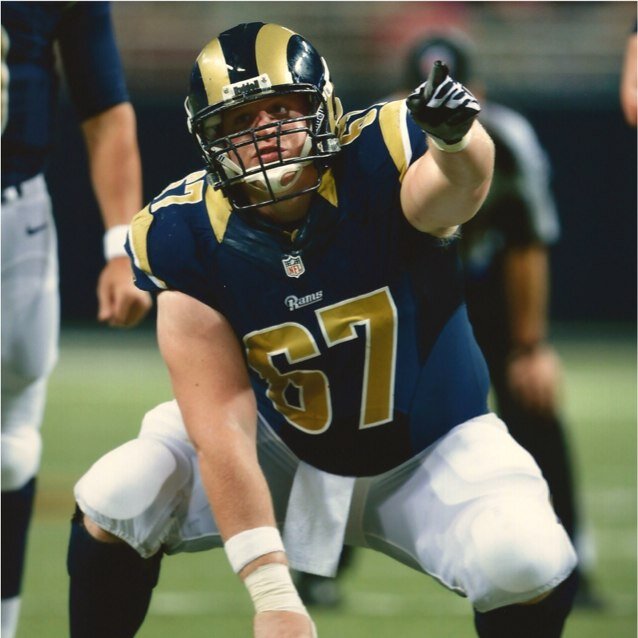 Jones may be unemployed today, but it's likely he'll catch on with someone. (Photo Barrett Jones Twitter)
Barrett Jones, Former Alabama Great, Cut by Rams
By: Larry Burton
Barrett Jones journey in the NFL has taken a back step when the Rams announced that they were cutting the offensive lineman from their roster following two years of injury plagued play.
Jones who may be the second most decorated offensive lineman in Alabama history just didn't have the health the first two years to get himself entrenched on the team and the Rams are now unwilling to take a chance that things will change.
In 2012, Jones was just the third Alabama player to become a two-time consensus All-American and also won the Rimington Trophy as the nation's best center. No slouch in the classroom, he also earned the William C. Campbell Trophy winner, an award often referred to as  the "Academic Heisman."
In 2011, Jones won the Outland Trophy as the nation's best interior lineman while playing guard and was also one of four Tide players named on the Football Writers Association of America's 75th anniversary All-American team as well as a recent list of the best players in all of college football for the last century.
Jones was a fourth-round selection by the Rams in 2013 after playing center, guard and left tackle at Alabama. He was thought to be an NFL lock, but injuries plagued him his first two years.
He is thought to be healthy at this point, but unsure of Jones ability to stay health, they moved on Saturday night when the roster had to be cut to a 53 man limit. With quality NFL linemen being in short supply and given Jones versatility, the chances are great the he could still land on an NFL roster again this season.
In his time with the rams, Jones had 44 special team plays and only 23 offensive snaps for the team. This was in stark contrast to his time at Alabama where he was a virtual iron man.
Larry has been published in almost every media outlet for college sports and now primarily writes here for Touchdown Alabama. Follow Larry on Twitter for inside thoughts and game time comments at  https://twitter.com/LBSportswriter
Thanks for sharing the link to this story on your Facebook page