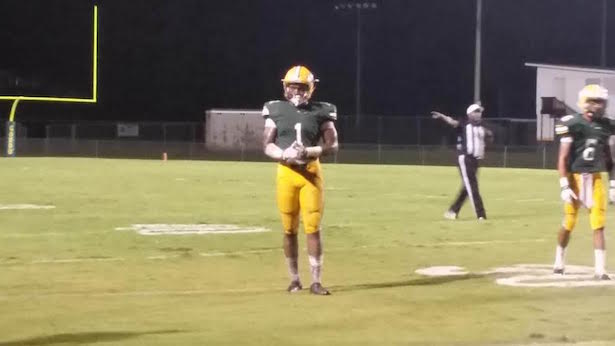 Rain and lightning caused a late start to Gordo's matchup against Billingsley on Friday night, but when play started, it went from the first to the last whistle for Gordo, literally.
The Greenwave came out firing on all cylinders on both sides of the ball, going up 21-0 in the first quarter on the play of running back Mark Davis and wide receiver Tyler Davis. Mark Davis was electric on just 9 carries, going for 122 yards (13.5 YPC) and 2 TDs, the first coming on the first play of the game from 37 yards out. He displayed his lateral quickness as well as vision to find the hole while leading the way for Gordo. Tyler Davis was also an essential part of the offense displaying his strong hands and athleticism on a number of fantastic grabs.
#1 player in Alabama, Ben Davis had a good showing for his limited playing time with 4 assisted tackles on defense and 3 catches for 40 yards on offense. Gordo's coaches kept him on the sidelines for the second half in the blowout.
Gordo was in control on the defensive side of the ball, only allowing 3 yards in the first half and 87 total on the day. When the second team came in, the scoring on offense was unstoppable. Backup quarterback, sophomore Essi Davis broke off two big runs for touchdowns, showing that the Gordo's offense is in good hands in the future. Both of Gordo's backup running backs scored as well, one coming with no time left in the game on a 73 yard burst.
The final score was 61-7 in Gordo as the Greenwave racked up 533 yards of total offense after 670 yards the week before. Gordo will be on the road next week against Greensboro East and be on the lookout for Ben Davis' announcement about his official visits within the next few weeks. Stay tuned with us.
Justin Wagner is the Scouting Coordinator and Lead Recruiting Analyst for Touchdown Alabama Magazine,  Follow him on Twitter, at @jwag718