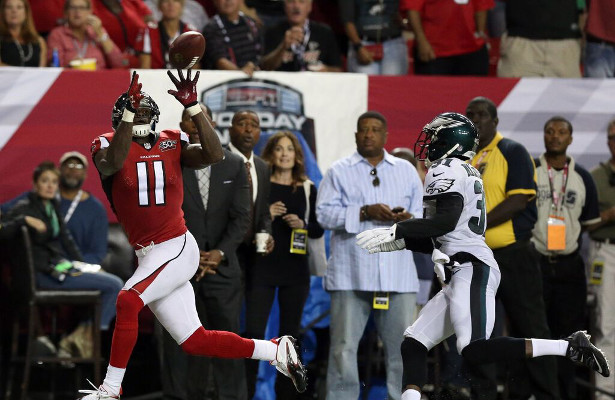 I love me some fantasy football. I got to sit and watch football for nine hours on Sunday and keep up with my fantasy team as we rolled to victory. Lead by strong performances by Travis Kelce and Danny Woodhead, Lord Have Percy got off to a solid 1-0 start. I don't have any Alabama players on my team and that was very unfortunate for me – although I did beat a team with Eddie Lacy.
Julio Jones was the top receiver and the fourth overall player on ESPN (standard scoring) after a massive performance against the Eagles on Monday night. Lacy had a solid afternoon against the Bears and got a late touchdown to help seal the win for Green Bay. Ingram had a big day against Arizona but it mostly came through the air, including a 59-yard catch and run on a screen pass.
The big nights didn't carry over for the rookie debuts. T.J. Yeldon couldn't get going, like most of the Jacksonville offense, and Amari Cooper was too busy getting his head smashed into his own helmet to be much help to anyone. Jalston Fowler actually got a look in the redzone but was covered up in the flat and Marcus Mariota ended up throwing another touchdown pass to Delanie Walker instead. But enough with the past, let's get started with this week's predictions.
We'll start at the very top with Julio Jones. I projected Julio to just have 16 points in my article last week but apparently under sold him. He ended with 26 fantasy points on just nine receptions for 140 yards and two touchdowns. Jones may be facing a few questions on a hamstring injury but is expected to suit up next Sunday against the Giants. Last season, Jones got 16 targets in the game against New York but only finished with 9.6 yards per catch and no touchdowns. Last Sunday night, the Cowboys couldn't get Dez Bryant going and often relied on their tight ends and running backs in the passing game. Jones may face a little bit of a tougher test this week but he is still a must start in any league. ESPN and Yahoo both currently project Jones for 12 points but I have him sitting slightly lower. I think Jones gets 11 targets but finishes without a touchdown. I have Jones sitting at 9 points this week but could see another double digit performance if the Falcons offense can get going.
Eddie Lacy had the second biggest day among former Alabama stars last week. Lacy helped lead the Packers to a win behind 97 yards from scrimmage and a rushing touchdown. The day ended with 15 fantasy points for Lacy which is where I had him projected last Thursday, just off by three total yards. This week, Lacy must face a tough Seattle defense that is looking to bounce back after a poor performance in St. Louis. Lacy had 118 total yards of offense but no touchdowns in last season's two games at Seattle. I don't believe Seattle's defense is questionable after one poor performance and Lacy may struggle this week. ESPN and Yahoo both agree on Lacy's projection too and have him sitting at 12 points. I think Lacy gets about 16 carries on Sunday night but could see most of his points in the passing game. I think Lacy tops the 100 yard mark, half of them coming through the air. Lacy is once again a must start and I believe he gets a touchdown to top it off at 16 points.
I also didn't give enough credit to Mark Ingram, who finished week one against Arizona with 11 fantasy points. I projected him to only get 7 points but I did not predict the impact he would have in the passing game. CJ Spiller was out for the Saints and he will likely be back to fill in for Ingram on passing downs. Ingram only ran the ball nine times, as the Saints trailed most of the game, for 24 yards. This week, Ingram will play the first home game of the season against Tampa Bay. Last season, this game was the regular season finale and Ingram finished the day with a touchdown and 11 fantasy points. Ingram was impressive enough this week and he should take some passing downs from Khiry Robinson even if Spiller returns. New Orleans should win this game and could get up big early in the game, meaning more carries for Ingram. ESPN projects 10 points for the former Tide star while Yahoo has him sitting at 12 points. He is easily a number one back this week and could have his first breakout performance of 2015. I have him with 20 carries and 6 targets for 110 total yards of offense and a touchdown. So Ingram is my number one Alabama player for this week with 17 fantasy points.
Amari Cooper had a rough debut in Oakland, as did most of his teammates. Only one Raider had double digits last weekend and that was Marcel Reese who may not get those numbers again all year. Cooper only had five catches on nine target last weekend ad could only manage 4 fantasy points. I had him sitting at 8 points on 15 targets but I could not predict an injury to Derek Carr. The quarterback should be back for the week two matchup against Baltimore and that will give Cooper a boost. However, he is still facing another strong defense and targets may not lead to yards. I think Cooper once again leads the team in targets, this time in double digits, but I believe he sits right at 80 yards for the day without a touchdown. So ESPN, Yahoo and I all have Cooper with just eight fantasy points in week two.
T.J. Yeldon was another rookie that couldn't get things going in the opening week. I only had him projected at five points last week and he got to six because of a late swing pass. He averaged 4.3 yards per carry and will get to go up against a Miami defense that gave up 160 rushing yards to Washington last week. Yeldon should see the majority of the carries but will need the Jaguars' offense to improve to have a chance at the endzone. I think Yeldon gets 16 carries this Sunday and totals up to 70 yards but I don't see him getting a touchdown in his second NFL game. Yahoo has Yeldon with 8 fantasy points while I am sitting with ESPN, projecting just 7 points for the rookie.
Kevin Norwood and DeAndrew White were inactive for their season openers and aren't yet in a good spot to make any sort of fantasy projection. Andy Dalton did well enough to kick any hopes of A.J. McCarron starting soon but the 16-game season is still young and Andy Dalton is still Andy Dalton. Jalston Fowler had a play drawn up for him to score a touchdown it was just defended well. So if you are in a really deep league, a receiving touchdown for Fowler against the Browns this Sunday isn't extremely far-fetched.
Caleb Turrentine is a contributor at Touchdown Alabama Magazine. Follow him on Twitter, @CalebTurrentine.