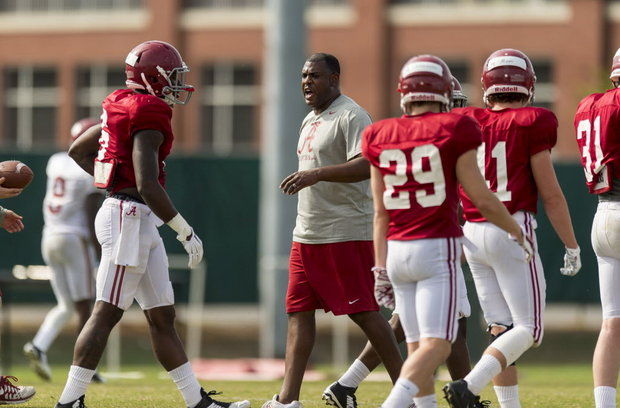 First year Alabama secondary coach Mel Tucker has worked hard to get his boys ready for this game. Did he succeed? (Photo Vasha Hunt)
Time For Alabama's Young Secondary to Grow up and Show Out
By: Larry Burton
So far this season, you've seen Alabama play a lot of base 3-4 and 4-3 defenses. In the secondary, they've played a lot of zone, some cover 2 and been mostly vanilla as they've played teams like Wisconsin who wants to run for the most part.
This week, with Ole Miss Scoring 70+points a game and racking up yardage numbers like a pinball machine, expect something different from the Tide.
You'll find that the Tide's "Basic" package this week will be the nickel defense. Here's how that lines up. It brings an extra cornerback into the game.
FS            SS
    CB         ML    SL
CB      E    T     T      E     CB

 SE      T  G  C  G  T  TE
     SR        Q                  FL

               R


You may see the dime package being utilized a lot this weekend too

. 
That brings in a fourth cornerback and looks like this:
FS          SS
    CB         ML           CB
CB      E    T     T      E     CB

 SE      T  G  C  G  T  TE
     SR                           FL
               Q            R


And on third and long, you may see a quarter package

. That puts seven, 
(yes seven) defensive backs on the field and just four up front to harass
 the quarterback. It looks like this:
FS          SS
    CB         ML           CB
CB      E          T      E     CB  CB

 SE      T  G  C  G  T  TE
     SR                           FL
               Q            R
Defensive backs are not something that Alabama has in droves with any kind 
of experience. But they do have a lot of talent young men with lots of 
potential. This year Alabama went out got someone who could do something 
with all that young talent. Mel Tucker seems to be paying off already, 
but this week everyone will see if he has whipped these young men into 
shape and if they're ready to stand up and show out.

Early indications are looking good but young men with little experience are going 
to be put to the test this weekend. Especially so for young men who will see more 
playing time than ever, like Minkah Fitzpatrick who will come in and more than 
likely spend a lot of time at the star position, which is the extra back in the 
dime package. The sixth defensive back, who comes in with dime packages looks 
like it could be Tony Brown or Bradley Sylve.

This Ole Miss Rebel team may be as good a passing game as Alabama will see until 
bowl time and if the young players step up here, there's no reason to think they 
won't be rock solid by bowl season.

But this is the game where they either stand up and show off or fall down and get burned. 
This this game crucial to see how well the defensive backs go because quite frankly, how 
goes the defensive backs goes the Tide. They can't win this game without these youngsters 
stepping up. There's your game within the game.


Larry has been published in almost every media outlet for college sports and now primarily writes here for Touchdown Alabama. Follow Larry on Twitter for inside thoughts and game time comments at  https://twitter.com/LBSportswriter
Thanks for sharing the link to this story on your Facebook page
Come to the "Points After" Forum on the Touchdown Alabama site and discuss your feelings on this article.