Recruiting
Ben Davis, Gordo Impressive in Battle of Undefeateds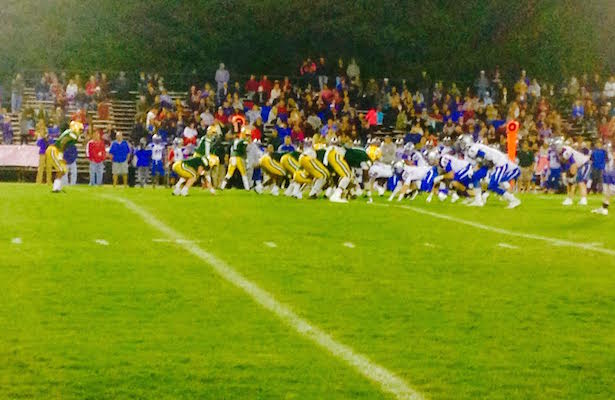 Two undefeated teams faced off in a 3A Region 4 battle on Friday night and Gordo, led by 5-star Ben Davis, came away with a 49-28 victory over American Christian Academy.
The two teams went back and forth in the first half, keeping it a one-score game throughout. One of the highlights of the half came with a 47-yard touchdown on a screen pass to Ben Davis.
"Coach told me that he was going to call it during the game, so I was ready for it," said Davis. "I was sitting there waiting on it to come to me. I'm just glad my lineman got downfield and blocked for me."
The Greenwave took a 28-21 lead into the halftime break and after American Christian scored on their second possession of the third quarter, Gordo responded with a drive of their own that ended with a two-yard touchdown run by Collin Herring. Herring consistently came up with big plays for the Greenwave and finished with eight tackles and a sack to go along with 94 yards and two touchdown rushing in addition to two receptions for 30 yards and a touchdown receiving.
"Collin, he's a great football player," Davis said of Herring. "He always comes to work every day. He's a great leader on our defense and offense. You've got to give it to that O-line, too, because they were the ones blocking for him, but I'm glad he's on my team."
On their first drive of the fourth quarter, Gordo ran the ball on every single play and took a 42-28 lead with 7:28 remaining. This was the drive of the game as the Greenwave asserted their will and could not be stopped.
"We just had faith in our scheme and our plays. We just knew that if we blocked well, our backs would do good work, so we just put our trust in the backs and did our job every play," said Davis.
Ben Davis came away with a big interception on the Patriots' next drive late in the game and ACA never recovered, losing by a final score of 49-28.
Said Davis of his clutch interception: "I've got to give it to my D-line for getting their hands up, and I was able to get it so I'm just glad I got to close it out for the team."
The Patriots fell to 5-1, 3-1 in region play. Gordo (7-0, 3-0) plays at Aliceville next week.
Ben finished with nine tackles, one for loss, a pass breakup and an interception on defense to go along with two receptions for 57 yards and a touchdown on offense. And his prediction for Alabama at Georgia on Saturday? "Bama 28, Georgia 17."
Derek J. Hooper is a Recruiting Analyst for Touchdown Alabama. You can follow him on Twitter @derekjhooper.