Recruiting
TDAM Top 10 This Week: Week of October 9-16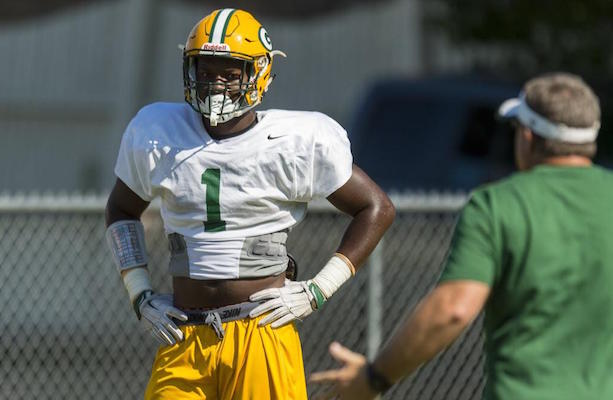 As the high school season progresses, Touchdown Alabama Magazine's Top Ten Most Wanted players are doing what they do for their respective programs and with the playoffs approaching, each week we will look ahead to what they are doing and what they are in for in the coming week.
1.) Ben Davis (Gordo High School) – vs. Lamar County
The Gordo Greenwave (8-0) went on the road to face Aliceville (5-3), and came out with a hard-fought 36-32 win. Davis had a monster game, probably his best of the year, finishing with 14 tackles on defense. And on the offensive side of the ball, he finished with 5 receptions for 111 yards and a TD. Gordo will look to keep their momentum going and remain undefeated this week at home against Lamar County. To follow that game, you can follow it on Twitter by searching #gordoscore
2.) Greg Little (Allen High School)- at Flower Mound
Last week, the #1 OL in the country, Little, anchored the Allen Eagle (7-0) offensive line to protect QB Seth Green, who went off for 422 total yards, 309 through the air and 113 on the ground against Hebron (1-5). The 45-13 win was a record-breaking 50th straight win for Allen. This week, Little will look to do the same against 1-6 Flower Mound for number 51.
3.) Lyndell "Mack" Wilson (Carver High School-Montgomery, AL) vs Dothan
#1 LB in America, Mack Wilson led the Carver Wolverines into battle against the Park Crossing Thunderbirds last week, but fell short in a 48-27 loss. No stats were provided from the game, but Wilson will look to bring his best game as the season closes out for Carver. They take on Dothan this week.
4.) Trevon Diggs (The Avalon School) at Riverdale Baptist
Avalon had a BYE week last week after pulling off a big OT win over Woodbury Forest the week before. Trevon Diggs had 5 catches for 89 yards in the win. They will face 4-3 Riverdale Baptist on Friday and this game has playoff implications. Diggs looks to pave the way at receiver and on special teams as the push for the playoffs continues.
5.) Jeffrey Simmons (Noxubee County High School) at Leake Central
Jeffrey Simmons has missed the last two games for the Tigers with an ankle injury, and is probable for this week. The Tigers dominated Leake Central 41-7 last week and will face a tough 6-2 Louisville team this week. Having Simmons back could be huge for that game.
6.) Rashan Gary (Paramus Catholic) at Friendship Collegiate Academy
Rashan Gary and the PC Paladins pulled a big win against Don Bosco on the road last week. 2018 QB Allan Walters, who received an offer from Alabama earlier this summer, threw a game winning 35-yard TD at the last second to get the win for the Paladins. No stats were provided for Gary, but did say the win
7.) Nate Craig-Myers (Tampa Catholic) vs. Ridge Community
Tampa Catholic had a dominant week against 2-4 Land O'Lakes getting a 47-7 win. This puts the Crusaders at 5-1 and in position to make a run in the playoffs. Craig-Myers had 4 receptions for 32 yards and a TD in the blowout win.
8.) Willie Allen (John Curtis Christian) vs. St. Augustine
Willie Allen, the top offensive lineman in the state of Louisiana, lead John Curtis, helping clear the way for 316 total yards, including 307 on the ground, most of which were ran behind Allen. They pulled out a big district win last week against Jesuit and look to take care of 2-4 St. Augustine this week running behind the 6'7″ Allen.
9.) Rashard Lawrence (Neville High School) vs Grant
Neville got a big win against Bastrop this week to keep their undefeated season alive. No stats were provided for the game or Rashard Lawrence. But Lawrence is the leader of this defense and looks to continue that as the season comes to a close soon.
10.) Mykel Jones (Patterson High School) at E.D. White
Patterson blew out Berwick last week in a 55-7 win. No stats were provided but Jones looks to keep his electric season, post-injury going for the Lumberjacks. This week they will face the 4-2 E.D. White Cardinals, which should be a good matchup to watch.
Tune in each week to find out what the TDAM Top 10 is doing and updates on their recruitment. Also tune in Friday to our podcast, The 5 Star Report, where we give you the latest on everything Alabama recruiting and high school football.
Justin Wagner, Derek Hooper and Maxwell Taylor are Touchdown Alabama's recruiting analysts. You can follow them on twitter at @jwag718, @derekjhooper and @alp2345