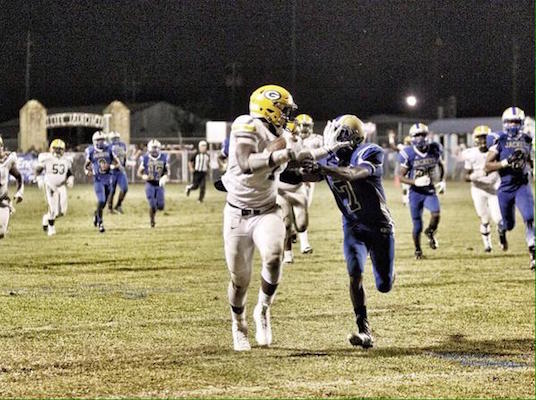 As the high school season progresses, Touchdown Alabama Magazine's Top Ten Most Wanted players are doing what they do for their respective programs and with the playoffs approaching, each week we will look ahead to what they are doing and what they are in for in the coming week.
1.) Ben Davis (Gordo High School) – vs. Hale County
Ben Davis once again had a huge week last week. He registered 14 tackles and a receiving touchdown on offense. Gordo remains undefeated, and Davis received his Under Armour All-American jersey on Tuesday to top off a great week. With the playoffs inching closer and closer, Gordo will be the team to watch in the 3A playoffs.
2.) Greg Little (Allen High School)- at Flower Mound
Allen had a BYE week last week but face a 1-7 Flower Mound team and should take care of them easily. Little just visited LSU last weekend, saying it was "A perfect weekend" and that LSU is "A special place". He is expected to visit Alabama when the Crimson Tide face LSU on November 7th.
3.) Lyndell "Mack" Wilson (Carver High School-Montgomery, AL) vs Wetumpka
Carver suffered a devastating loss to Dothan last week 38-36, putting them at 3-5 on the season and 3-3 in the district with the playoffs approaching. No stats were recorded for that game but Wilson did make a highlight play in which he threw a dime of a pass on a fake punt to the receiver and got the Wolverines the first down, showing his athleticism. Lyndell Wilson has come out recently and stated that the Florida Gators are currently the leader in his commitment.
4.) Trevon Diggs (The Avalon School) vs Eastern Christian Academy
Avalon took a 49-34 loss from the hands of Riverdale Baptist last week. No stats were recorded for Diggs, but as far as his recruitment goes, LSU has made it's way towards the top as Diggs states that he "likes what the receivers are doing this year and how they are being used". He has set an official visit to Baton Rouge on November 14th, but no other dates have been set yet. This week, Avalon will face 1-4 Eastern Christian Academy.
5.) Jeffrey Simmons (Noxubee County High School) vs Caledonia
Noxubee County got a solid 33-7 win over Louisville (MS) last week. Simmons did not play for the third straight week with an ankle injury, but is being evaluated this week to see if he can come back tonight against Caledonia. On the up side, Simmons did receive his U.S. Army All-American jersey this week.
6.) Rashan Gary (Paramus Catholic) at IMG Academy
Paramus Catholic dominated Friendship Academy 55-22 last week. No stats for Gary were recorded, except for a forced fumble. This week will be the biggest game of the year for the Paladins as they travel south to Bradenton, FL to take on national powerhouse IMG Academy. In this game alone there are six ESPN 300 players. #1 overall player, Gary for Paramus, while #1 TE Isaac Nauta, #3 DE Shavar Manuel, #2 QB Shea Patterson, #2 OLB Rahshaun Smith, and #6 CB Saivion Smith will represent IMG. Michigan head coach Jim Harbaugh will be attendance to watch Gary and Nauta, two of his biggest recruits. The game will be televised on ESPN.
7.) Nate Craig-Myers (Tampa Catholic) vs. Gibbs
Craig-Myers caught two touchdowns in a 50-25 win over Davenport Ridge putting the Crusaders at 6-1 as they get ready to face 5-2 Gibbs on Friday. Myers also received his Under Armour All American jersey this week and will be one of the recruits making his decision at the game. He took a visit to Florida State last weekend and is looking to visit Florida as well soon. North Carolina has come into play for Myers and he also received an offer from Maryland.
8.) Willie Allen (John Curtis Christian) at Holy Cross
John Curtis pulled out a 21-14 win against Leonard Fournette's alumni, St. Augustine. No stats were recorded for this game. There have not been any updates on Allen's recruitment except for that he was very impressed by Georgia's support for Southern football player Devon Gales, who suffered a horrific spine injury against Georgia. This week John Curtis faces 4-3 Holy Cross, who is led by Arizona State running back commit Tre Turner and FSU CB commit Kyle Meyers.
9.) Rashard Lawrence (Neville High School) vs Tioga
Neville shut out Grant last week 50-0, looking like a dominant force. No stats were recorded in the blowout. Lawrence recently visited Ohio State for the Penn State game last week and announced that he plans to commit in December after a few more visits. Neville takes on 2-4 Tioga this week.
10.) Mykel Jones (Patterson High School) vs. Erath
No stats were recorded for Jones in Patterson's 40-14 win over E.D White. This week they face the 5-2 Erath Bobcats. Jones did update the media on his recruiting process and he has said that Alabama leads in the race for his talents ahead of LSU, Ole Miss, and Tennessee.
Justin Wagner is the Scouting Coordinator for Touchdown Alabama Magazine, you can follow him on Twitter, at @jwag718
Touchdown Alabama has changed its Top 10 Most Wanted and the new list will be released later this week. Stay tuned for that.
Tune in each week to find out what the TDAM Top 10 is doing and updates on their recruitment. Also tune in Friday to our podcast,The 5 Star Report, where we give you the latest on everything Alabama recruiting and high school football.
Justin Wagner, Derek Hooper and Maxwell Taylor are Touchdown Alabama's recruiting analysts. You can follow them on twitter at@jwag718,