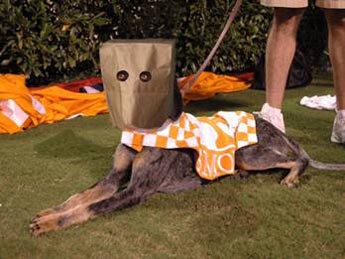 This game used to be something special, lately it hasn't been. Here's to making it great again.
Tennessee Smack Talk – In Honor of What Was A Great Rivalry
By: Larry Burton
There was a time when this was a rivalry game of epic proportions. There was a time when the third Saturday in October was a date that was circled a year in advance. Tennessee coaches kept or lost their jobs depending upon how their records stacked up in this single game.
But no more and it's sad, very sad.
So in honor of hoping to revive the rivalry and hope to get some action from the Northern border of the state, let's let the trash talk fly!
Tennessee: You are the Vanderbilt on Alabama's Schedule each year!
Our freshmen were 10 years old and not even in Jr. High School the last time you won a game in this series!
The Only Time You Came Close to Beating Alabama Lately was With Alabama's Offensive Coordinator, Lane Kiffin and He Couldn't Get Out of There Fast Enough!
Since Firing Phillip Fulmer, Tennessee Has Been Cursed. To Lift the Curse You Must Burn 1200 Boxes of Krispy Kremes on the 50 Yard Line of Neyland Stadium.
You Did Win 3 of the Last 13 games Though, But Those Three Wins Were an Overtime Win, a 3 Point Win and a 4 Point Win. In Those Same 13 Games, Alabama Has Won By 31 Points Four Times and by an Average Winning Margin of Over 22 Point Per Game!
Maybe the Only Chance Tennessee has of Winning is by Having Alabama Players Die of Cancer From Smoking So Many Victory Cigars After the Tennessee Game, An Alabama Tradition.
Now maybe this will help ignite the fires in both fan bases and get this rivalry going once again. This has always been a game where funny smack talk was a big part of the game. I'd like to see it started again. And remember….
Larry has been published in almost every media outlet for college sports and now primarily writes here for Touchdown Alabama. Follow Larry on Twitter for inside thoughts and game time comments at  https://twitter.com/LBSportswriter
Thanks for sharing the link to this story on your Facebook page
Come to the "Points After" Forum on the Touchdown Alabama site and discuss your feelings on this article