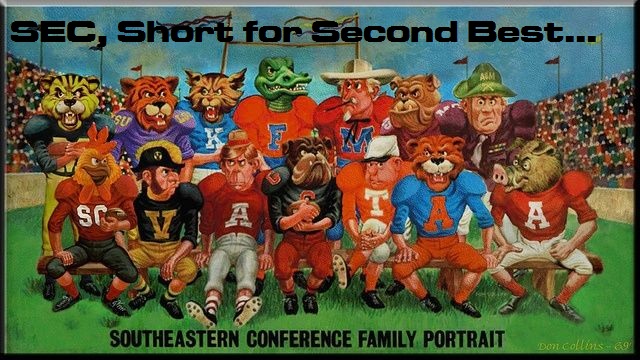 Larry's Losers in the SEC – Week 9 – 2015
By: Larry Burton
Well we're back from the South Sea Islands and the pigskin pickin' pooch and I have both been scratching our heads wondering why we aren't perfect each week. Of course he may just have fleas, but the upset bug has biting hard this season on my noggin and I think we've finally got the patterns down pat.
So without further ado, let's jump right in and see how it goes…
Ole Miss at Auburn – Hugh Freeze is bringing the Ole Miss Rebels down the plains for plain old fashioned football fight and he thinks he has his hiccups halted and can once again start down the road to Hotlanta and the SEC Championship Game again.
But Gus Malzahn has a taught his tabbies a new trick or two and plans on his Pussycats greeting these Rebel Black Bears to a biting and scratching session they won't soon forget.
Both these teams have a chip on their shoulder and want to prove something with this game but since Auburn rates so low in pass defense, it's obvious who's getting the chip knocked off their shoulder. Larry's loser – Auburn
South Carolina at Texas A&M – The SEC's spurred Gamecocks are now Spurrierless at a time when they could really use him, but the folks from Clucker country figure they can catch these Tipsy from their recent troubles and fly in and fly out leaving egg on the faces of the Aggies.
But these Aggies aren't about to be caught napping in this one and these feathered footballers are about to get their necks wrung and plucked thoroughly. Fans are just waiting for this Chicken dinner.
And that's just what they'll get this week when the feathers stop flying. In a rout – Larry's loser – South Carolina
Florida at Georgia – When the season started Georgia was supposed to be the Cadillac of the SEC East and Florida was the rattle trap hoping for a new engine. Nowadays the Caddy got side swiped by an orange car and crashed by a crimson one, meanwhile the old rattle trap started running pretty good when McElwain the mechanic got things tuned up a little.
Both those accidents happened while Chubb was driving the canine car and now that they're Chubbless, both Bacardi the Wonder Dog and I feel that they are clueless too when it comes to finding a way to a championship in the East this season.
So the Dogs better call Triple A and beg for a tow after this one because the Caddy's got more problems after this one. Larry's loser – Georgia
Tennessee Martin at Arkansas – These Tennessee Skyhawks come swooping in the Hogtown and are hoping that the big check they're getting is going to be worth getting down and dirty in the mud with the sultans of Swine.
After a few tough games that included some losses, these Hogs will be happy to take a breather and pick off these pecker heads promptly.
With all the other worthwhile warfare being waged this weekend  it would be downright woeful to waste time watching this weak excuse for a football contest. Larry's loser – Tennessee Martin
Vanderbilt at Houston – Derek Mason's mess of a team figures it'll be smoother sailing to chart a course outside of the SEC waters.
But hauling down to Houston is just as big a mistake as these Cougars are hunched and waiting for these Song City Sailors to swagger down the gangplank and try and capture these Kitty's prize.
Same result, different surroundings, Larry's loser –  Vanderbilt
Tennessee at Kentucky – Things started out well this season for the Bluegrass boys in those Kentucky Kitty costumes, but reality and losing is setting back in and their coach will Stoop to anything to get them back in the win column.
But Coach Butch's boys don't plan on Volunteering for a loss just to get the Mildcats wild again. They've got some ground to make up of their own in the win column and a bowl game could be in their future now.
So it won't matter who the home team is in this one, one just has too much firepower and it ain't the boys in blue. Larry's loser – Kentucky
Folks, we hope you appreciate the hard work that's gone into this site and this week we were under construction, so I didn't have time to get the funny pictures I wanted in. In 10 years, this is the first and hopefully only time that will happen, so till this Thursday when the next list of losers come out, we'll just have to wait along with you.