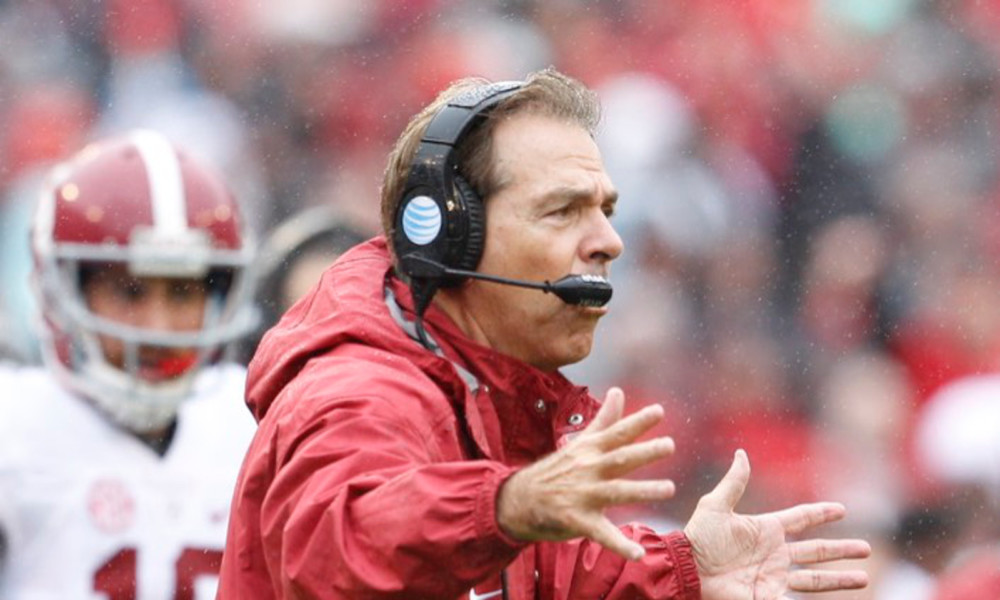 A marriage between rain and football will occur Saturday at Bryant-Denny Stadium between Alabama and Louisiana State University. Crimson Tide head coach Nick Saban updated the media on a few things during his final game week presser Wednesday inside the Mal Moore Athletic facility.
Yours truly of Touchdown Alabama Magazine providing all observations.
Coach Saban on this week against LSU
"I think the message to our team is everybody needs to focus on playing their best football in a game like this. Take it one play at a time, stay focused on things that are going to help you execute. Games like these usually come down to who can execute the best."
Saban on injuries this week
"Everybody practiced today, so there is really no new injuries to report. We have to see how guys respond sometimes to the work that they did and we will do that tomorrow. All the guys that are in here have done more and more each day and have gotten better and better."
Saban added with "hopefully they can continue to improve."
Saban on playing LSU at Bryant-Denny Stadium
"We know that this is going to be a great atmosphere.  Two good football teams, we have a great venue here at Bryant-Denny Stadium with great fans, so if you are a competitor these are the opportunities and games that you look forward to and ones that you remember."
Saban on Alabama's third down struggles (offense)
"It's a combination of things. I think that we need to protect better, I think the quarterback's had too much pressure on him at times and we need to a better job of throwing and catching the ball. People need to do a better job of getting open and we need to have better timing in what we're doing. And obviously, if you can play with consistency you have a better chance of converting opportunities."
Saban on weather conditions for Saturday
"We always do wet ball, but when we played at Georgia, you can track, you can do whatever you want, you can pray and go to church every day, you can do whatever you want but at the end of the day if it rains it rains. I guarantee it. You have to play the hand that's dealt to you."
Saban on defending LSU running back Leonard Fournette
"I think that you have to mix it up a little because if you always put extra guys in the box they are probably going to hurt you with the pass. And obviously, the more guys you put in the box, if he breaks the line of scrimmage you will have fewer guys that could squeeze and tackle him."
Saban added with "it all goes back to discipline, eye control and leverage when playing Fournette."
Saban on Alabama's No. 4 spot in the College Football Playoff 
"I don't think the ranking means anything. It doesn't mean anything at all. All it means is that you have created an opportunity to finish the season and have an opportunity to play in some other big games. If you don't play well in every game here on out, you will not be ranked anymore."
Listed below is full footage of Saban's presser, courtesy of Touchdown Alabama Magazine.
Stephen's Report: Coach Saban presser on LSU (11/4/15)
Stephen M. Smith is a senior analyst and columnist for Touchdown Alabama Magazine. You can "like" him on Facebook or "follow" him on Twitter, via @ESPN_Future.