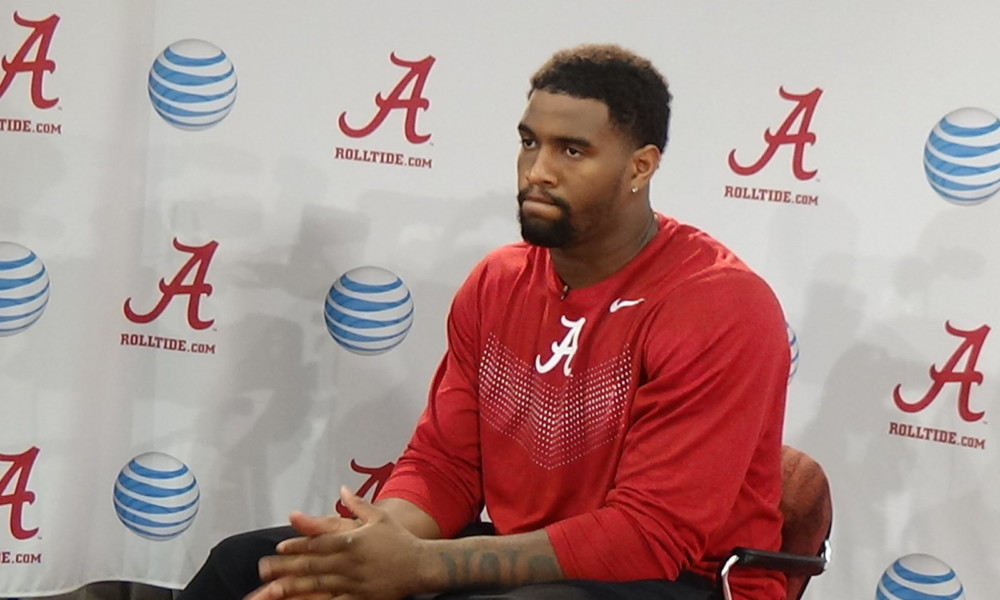 Alabama's defensive front is ready for action.
This was made clear Wednesday night during players interviews with defensive end Jonathan Allen and defensive tackle Jarran Reed.
Both players did not shy away from complimenting LSU running back Leonard Fournette on his monster season, but Allen and Reed said Alabama is up for the challenge this weekend.
Allen, 6-foot-3. 283 pounds, said it is always special when Alabama plays LSU.
"Like coach Saban says it's one game at a time," Allen said. "So this is our next opponent. We are excited and prepared for them."
When asked about Fournette, Allen said he's a "physical back and that Alabama's goal will be to wrap up and tackle." He added with "Fournette and Alabama tailback Derrick Henry both like to "engage in contact, rather than shy away from it,"
Alabama has been stingy this year against the run, allowing 78.5 yards per game. It stands third nationally in run defense but like his head coach, Allen said the Crimson Tide is not satisfied.
"We have been playing to our standard that coach Saban has set for us," Allen said. "We definitely have been playing a lot better this year, but aren't happy with what we've done."
Reed, 6-foot-4, 313 pounds, said Alabama has to play its game against LSU.
"LSU is a great team," Reed said. "They are very good at what they do, but we have to come in with our game and be ready to play. I think their season speaks for itself."
The senior said Alabama has standards that must be lived up to and that this year's team embraces every challenge it encounters. Reed said this week will represent "real football."
"It always goes down until the fourth quarter with LSU," Reed said. "Sometimes it even goes beyond the fourth quarter. It just all depends on who comes ready to play."
Reed decided to have some fun with the media, prior to being interviewed. He said the most uncomfortable time that someone asked him about this weekend's game occurred at Publix.
"I was trying to get my groceries," Reed said with a smirk. "I did not get mean or rude about it, but I'm tired of talking. I am ready to play."
Allen mentioned on SEC Inside that Alabama loves playing against "angry running backs."
The Crimson Tide will face the best of the bunch Saturday in Fournette.
Stephen M. Smith is a senior analyst and columnist for Touchdown Alabama Magazine. You can "like" him on Facebook or "follow" him on Twitter, via @ESPN_Future.