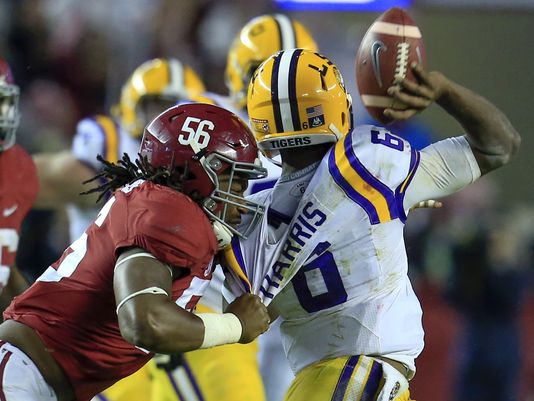 Alabama's Monster in the Making – Tim Williams
By: Larry Burton
Tim Williams always had potential, coming out of high school, every ranking service thought so. He was a four star defensive front man with size, speed and muscle and he was in Les Miles' back yard. Coach Burton Burns, Alabama's running back coach, relentlessly recruited the young man and he signed with Alabama in that sensational 2013 class.
He came to Alabama at 6'3" and 235 pounds. Now he's 6'4" and a rock solid 230 pounds. He's lost some fat, replaced it with muscle he's a step quicker than when he came on campus. Williams was the typical high school defensive demon. He was so good his coaches just let him go out be a wrecking ball, go get the quarterback, rush, rush, rush and so forth. There was no gap responsibilities there, just go get the guy. This was something that Saban has to patiently beat out of such players.
"Tim has always been a good pass rusher," coach Nick Saban said during a press statement back in October. "The biggest issue is getting him to play with the kind of discipline to do his job the way he needs to do it, and that's the one thing he's matured into during this year. We have a greater trust in playing him, and he has been more productive. He's been much more consistent as a player."
To break down that coach speak, what Saban said was that he knew Williams could be a real impact player, but he was lacking the mental discipline to maintain his gap coverage and was too hell bent on getting to the quarterback or running back by any means necessary. However this year, the light bulb came on and Williams is now a cog in that defensive machine and he understands his role and we are seeing him put pressure on offenses without abandoning his gap responsibilities. Because of that, he's getting more playing time and of course doing much better as a player and a member of this finely tuned  and disciplined defensive unit.
And boy, how that extra playing time is paying off for both Williams and the Crimson Tide. Denzel Duvall was quoted on Twitter with this: Denzel Devall says Tim Williams (@JaYbOi225) "has grown a lot" and "it's like fireworks when he comes off of the edge". Other players have all noted how Williams comes in turns on the beast mode.
He went from being an occasional situational pass rusher, to a steady substitute at inside linebacker. He's proven to good against the run and deadly when the coaches let him pin his ears back and go after the quarterback.
Since being used very sparingly in the first three games of the season, Williams came on and with a little more playing time went on to be second on the team with 7.5 tackles for loss for 45 yards, second on the team in sacks with 5.5 for 35 yards and all this while just being a part time and situational player. On any other team, Williams would be the defensive star, here however, with the talent level at NFL caliber, he's waiting his time to be a starter.
Next season will be his final and senior year and he's expected to be a full time starter or at least be one of the big contenders for a starting job. With Reggie Ragland, Jaran Reed, DJ Pettway, Denzel Duvall and Dillon Lee all graduating, there will plenty of opportunity for Williams to finally have his place in the limelight and rack up some really impressive numbers. You can be assured with all this talent leaving, many will question the ability of the defense next season. Now that you know that Alabama has players such as this just waiting their opportunity, you won't be one of those people.
So while you may not have heard much about Tim Williams yet, you should have and you will in the future. He's Alabama's next big monster in the making and he's going to scare opposing offenses for the remainder of this year and all next year for sure.
Larry has been published in almost every media outlet for college sports and now primarily writes here for Touchdown Alabama. Follow Larry on Twitter for inside thoughts and game time comments at https://twitter.com/LBSportswriter
THANKS FOR SHARING THE LINK TO THIS STORY ON YOUR FACEBOOK PAGE