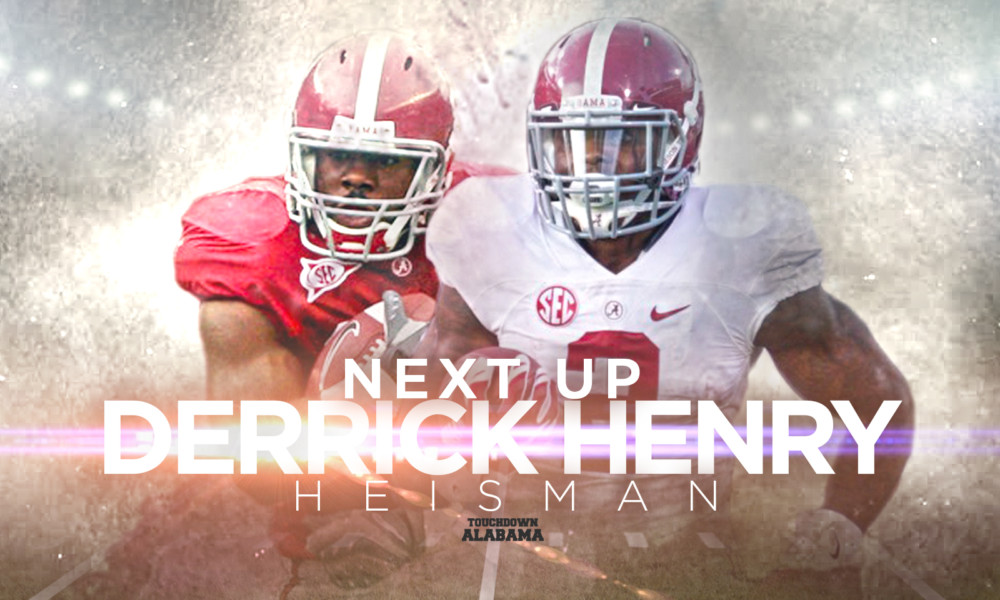 Ex-Alabama running back Mark Ingram gave Crimson Tide fans hope when he became the program's first Heisman Trophy winner in 2009, beating Tim Tebow and Toby Gerhart.
Ingram accomplished greatness in Nick Saban's third year as head coach, behind a stellar offensive line that blocked for 5.01 yards per carry and 5.96 yards per play in 2009.
Former players Trent Richardson (2011) and Amari Cooper (2014) both finished as finalist, but this year, Alabama may have a guy to bring the coveted bronze award home, Derrick Henry.
Henry, 6-foot-3, 243 pounds, is having a monster season.
The junior has totaled 1,458 rushing yards with 19 touchdowns on 6.1 yards per carry. He has been an honoree for offensive player of the week four times, courtesy of the Southeastern Conference and now holds the record for most consecutive games with a touchdown (15).
Henry's physical build is different from Ingram's, yet both backs have similar numbers during their Heisman run.
Yours truly of TDAM now compares the two.
Rushing yards after 10 games
Mark Ingram- 271 carries, 1,297 yards
Derrick Henry- 240 carries, 1,458 yards
Yards per carry average (10 games)
Mark Ingram- 6.83
Derrick Henry- 6.08 or 6.1
Rushing touchdowns (10 games)
Mark Ingram- 8
Derrick Henry- 19
Yards per game average (10 games)
Mark Ingram- 129.7
Derrick Henry- 145.8
100-yard rushing performances (10 games)
Mark Ingram- 6
Derrick Henry- 7
200-yard rushing performances (10 games)
Mark Ingram- 1
Derrick Henry-3
Behind the numbers
Ingram had 200 more rushing yards than Henry to end the year, 1,658, but Henry should surpass that mark with two regular season games left. Ingram had three things during his Heisman campaign that Henry does not have: a dominant offensive line, better quarterback play and help at the running back position.
Alabama had three All-Americans on its offensive line in 2009, Barrett Jones (right guard), Mike Johnson (left guard) and James Carpenter (left guard). All three guys plus others made it easy for Ingram to access running lanes and create huge plays. The Crimson Tide was eighth nationally in rushing and second in the Southeastern Conference, averaging 215.1 yards per game. Both statistics coming via ESPN.
This year's offensive line has been very inconsistent, with the exception of center Ryan Kelly. Sophomore left tackle Cameron Robinson has played through injuries, but he neither right tackle Dominick Jackson have excelled much. Offensive guards Alphonse Taylor and Ross Pierschbacher have shown flashes of productivity, yet it has merely been just flashes.
Derrick Henry has had to rely on vision, power and footwork to access holes and generate opportunities. When space is not available, he resorts to falling forward in order to gain yards.
No shade thrown to Jacob Coker, but Greg McElroy was a steady game manager from start to finish. McElroy had only four interceptions in 2009 to 17 touchdowns. He completed 60.9 percent of his throws for 2,508 passing yards.
Coker, on the other hand, did not become a leader until mid season. He has averaged more passing yards per game (195.1) and a higher completion percentage (64.5 percent) than McElroy, but his eight interceptions have come from pressure and indecisiveness.
Six games come to mind during Alabama's 2009 season: Kentucky, Ole Miss, South Carolina, Tennessee and LSU.
Ingram totaled 100-plus yards in five of the six match-ups. This happened because teammates like Trent Richardson and Roy Upchurch were productive, spelling Ingram in ball games.
Ingram had fresh legs for the latter part of the season, due to Richardson accounting for 748 rushing yards and Upchurch with 299 yards. The two combined had 10 touchdowns, Richardson with eight and Upchurch with two.
Henry does not have that type of help.
Kenyan Drake was tabbed to be the guy, but he will miss a couple of weeks with a fractured right arm. Prior to the injury, Drake was pressing to hard in trying to create big plays. Wisconsin and LSU were his two best games.
Freshmen running backs Bo Scarbrough and Damien Harris will now get an opportunity to assist Henry, but are they mentality ready is the question? Both backs are physical, weighing in at 200-plus pounds each.
In conclusion
Derrick Henry is the most important player on this year's Alabama team. The Crimson Tide would have no offensive insight, if something were to happen to him injury-wise.
Ingram, unlike Henry, at least had backups that were prepared both physically and mentally. Alabama fans are happy that the former Heisman winner stayed healthy in 2009, but if an injury did occur, the team had much trust in Richardson and Upchurch. It is not the same case for Henry.
Coach Saban and company will not know what it has in Scarbrough and Harris until both take the field Saturday against Charleston Southern at Bryant-Denny Stadium.
Henry has already tied former Tide running back Shaun Alexander for second in program history with 19 rushing scores in a season. He can capture the No. 1 spot this weekend, which would edge him past Richardson (21 touchdowns).
Ingram's run at the Heisman was special.
It showed how much Alabama returned a force in college football. Henry's campaign is more impressive because he is virtually pushing the offense on his own. The 81st Heisman winner will be revealed on Dec. 12 in New York City.
Stephen M. Smith is a senior analyst and columnist for Touchdown Alabama Magazine. You can "like" him on Facebook or "follow" him on Twitter, via @ESPN_Future.