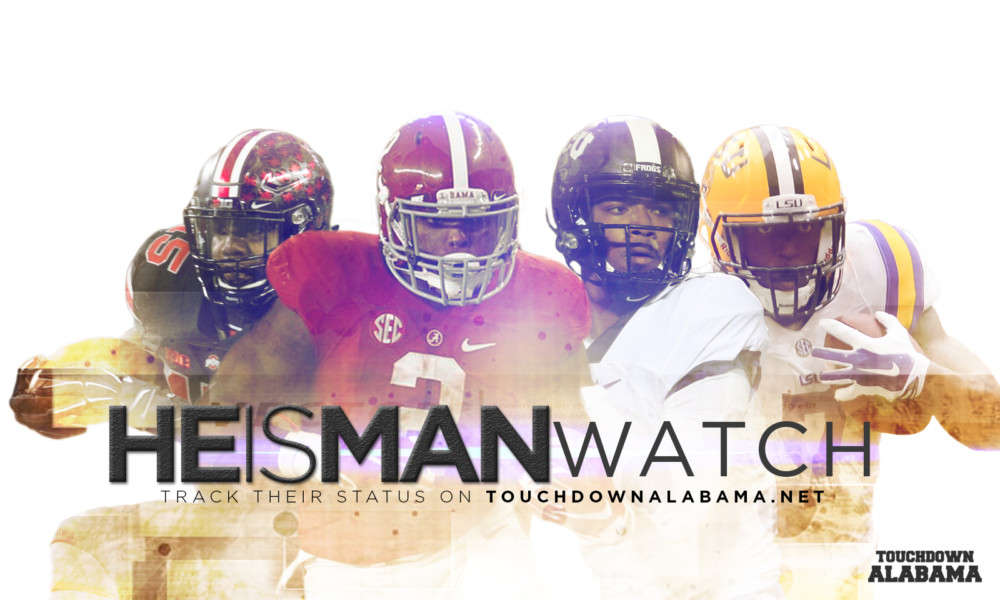 Four weeks separate us from seeing the 81st Heisman Trophy presented a new winner; however, competition is heating up as the college football season enters its final stretch.
LSU running back Leonard Fournette and TCU quarterback Trevone Boykin both seemed to have the award locked away early on, yet sub-par performances in the last two weeks might have doomed both of them.
Alabama tailback Derrick Henry has skyrocketed to the top of all conversations in the last few weeks. The junior recorded 200-plus rushing yards against Texas A&M, LSU and Mississippi State, all three teams were ranked and CBS Sports aired all three match-ups. Henry scored at least two rushing touchdowns in each of those games.
He currently stands at 1,458 rushing yards with 19 touchdowns. The Yulee, Fla., native averages 24 carries and 145.8 yards per game. His 74-yard touchdown run last week against Mississippi State earned him his 15th consecutive game with a rushing score, the most by any Southeastern Conference player in 10 seasons. The record was previously held by former SEC quarterback Tim Tebow (Florida).
Baker Mayfield, Ezekiel Elliot, Deshaun Watson, Dalvin Cook and Christian McCaffrey all are in the running for a chance to go to New York City on Dec. 12 for the Heisman presentation.
With a few games left in the regular season, yours truly of TDAM now breaks down ESPN's top five Heisman list.
1. Derrick Henry- RB, Alabama Crimson Tide
Henry already has more rushing yards through 10 games than former Alabama running back Mark Ingram, who became the program's first Heisman winner in 2009. Ingram totaled 1,297 yards with eight touchdowns, while Henry has 1,458 yards and 19 scores, a difference of 161 yards and 11 touchdowns. He is second to Leonard Fournette (1,474) in rush yards nationally.
Advantages for Henry
Prime time games: Wisconsin (ABC), Arkansas and Ole Miss (ESPN), five games aired by CBS (Georgia, Texas A&M, LSU, Tennessee and Mississippi State)
200-yard games vs. ranked teams: No. 9 TAMU (236), No. 4 LSU (210) and No. 17 MSU (204)
Rushing yards against SEC teams (average): 166.1 yards per game
100-yard games vs. Top 50-ranked rush defenses: Four. Wisconsin (No. 5), LSU (No. 17), Ole Miss (No. 26) and Georgia (No. 37)
2. Baker Mayfield, QB-Oklahoma
Mayfield commands an Oklahoma offense that is scoring 46.1 points per game under head coach Bob Stoops. The junior has been highly efficient, completing 70.2 percent of his throws for 3,082 yards with 31 touchdowns to five interceptions.
He has averaged 308.2 yards per game.
Mayfield put in a solid outing last week in the Sooners' 44-34 win over Baylor. He recorded 270 passing yards, 76 rushing yards and four total touchdowns (one rushing). Oklahoma is ranked No. 7 in both the Associated Press and Coaches' polls.
It stands as one of few one-loss teams that can get into the College Football Playoff with a strong finish. Oklahoma faces TCU this week.
Advantages for Mayfield
Key Wins: Baylor (8-1) and Tennessee (6-4)
300-yard passing games: West Virginia (320), Kansas (383) and Iowa State (342)
Wins over current AP top 10 teams: Two, Baylor (#10) and TCU (#11)
Oklahoma QBs that were Heisman winners: Sam Bradford (2008), Jason White (2003)
3. Ezekiel Elliott, RB- Ohio State Buckeyes
Elliott was a star for Ohio State down the stretch last season. Now a junior, he continues to put up solid numbers in the run game. The Buckeyes have yet to face quality competition, but Elliot's remains vigilant in pounding an opposition's defensive front. He has averaged 22 carries and 142.5 yards per game.
Elliott's collected 100 rushing yards in all 10 games, resulting in 1,425 yards with 16 touchdowns. His 6.48 yards per carry average is higher than Alabama's Derrick Henry, which is 6.1.
Ohio State has its prime time games on the horizon, starting this week against Michigan State. The Buckeyes will face Michigan next week, prior to the Big Ten Conference title game.
Strong performances from Elliot in all three match-ups should earn him a trip to New York City. To win would be a long shot, but he goes as a finalist if all things fall in line for the Buckeyes.
Advantages for Elliot
Number of 100-yard games: 10
Recent Ohio State RBs to win Heisman: Eddie George (1995), Archie Griffin (1974-75)
Last Buckeye to win Heisman in 2000 era: QB Troy Smith (2006)
4. Leonard Fournette, RB- LSU Tigers
ESPN may have been a little unfair with this one. Fournette still leads the nation in rushing with 163.8 yards per game, despite two rough outings against Alabama and Arkansas.
He has averaged 6.89 yards per carry, the highest of any other running back on the Heisman list.
Fournette, much like his counterpart Derrick Henry, has three 200-yard rushing performances. He's accounted for 150-plus rushing yards in seven of the last nine games for LSU (McNeese State- postponed). He put in three rushing touchdowns against Mississippi State and Auburn.
Overall, Fournette's body of work speaks for itself. Regardless of having just 122 yards combined in the last two weeks, he has rushed for 1,474 yards (leads nation) with 17 scores.
Advantages for Fournette
Solid outings vs. Top 50-ranked rush defenses: Two, Florida (180 yards, two touchdowns) and Arkansas (91 yards, touchdown). Florida is 11th nationally against the run (105.1 rush yards allowed), while Arkansas is 21st allowing 122.4 yards per game.
100-yard performances vs. Ranked opponents: Three. Mississippi State (159), Auburn (228) and Florida (180). MSU was ranked No. 25, Auburn was No. 18 and Florida was No.8 when all faced LSU.
Fournette vs. Henry: Fournette has 16 more rushing yards (1,474 to 1,458) and 26 less carries (214 to 240) carries than Henry, all in playing one less game.
Last LSU player to win the Heisman: Billy Cannon (1959)
5. Deshaun Watson, QB-Clemson Tigers
It will be very interesting to see where Watson stands in the eyes of voters if Clemson wins out and gets to the College Football Playoff. He is the second quarterback in the top five, opposite Oklahoma's Baker Mayfield. Watson has been a complete dual threat quarterback for the Tigers, connecting on 70.1 percent of his throws and totaling 28 touchdowns (five rushing).
He chimes in with 2,593 passing yards and 598 rushing yards. Clemson is ranked No. 19 in scoring offense, posting 38.5 points per game. Watson averages 259.3 yards a game passing.
Advantages for Watson
Wins against ranked teams: Two. Notre Dame (No. 6) and Florida State (No.16)
Number of quality wins: Four. Notre Dame, Florida State, Louisville and Miami
Position in the College Football Playoff: No. 1 seed (10-0)
Position within Atlantic Coast Conference: No. 1 in Atlantic Division
Players on the outside looking in: RB Dalvin Cook (Florida State), RB Christian McCaffrey (Stanford) and WR Corey Coleman (Baylor)
Stephen M. Smith is a senior analyst and columnist for Touchdown Alabama Magazine. You can "like" him on Facebook or "follow" him on Twitter, via @ESPN_Future.