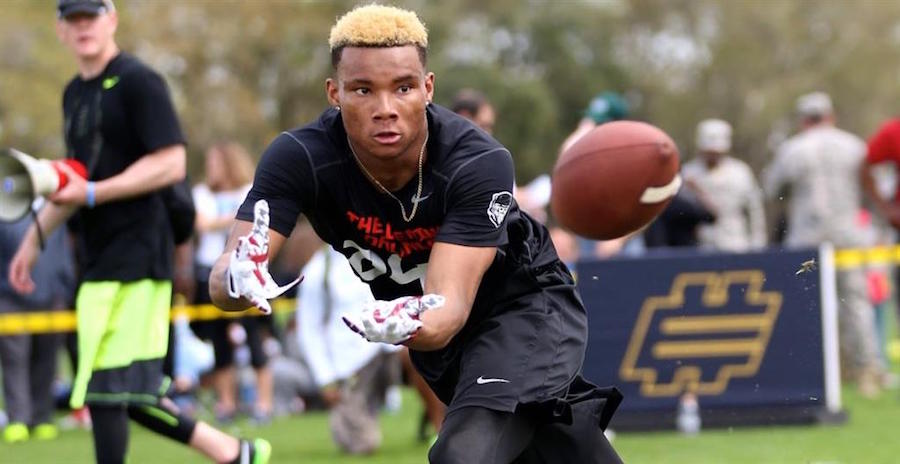 *This list is subject to change until National Signing Day on February 3rd*
Touchdown Alabama's team of recruiting analysts have compiled a list of ten high school prospects being recruited heavily by the Alabama Crimson Tide that would best fit in the system and make an immediate impact in Tuscaloosa. National rankings and star ratings are not factored into this list. Here is what the Top Ten is up to this week.
1.) Ben Davis – LB – Gordo, AL (Gordo)
The Greenwave's undefeated season came to a close as Gordo fell in the final seconds to Bayside Academy, 17-14. Davis had a TD reception in the game but no defensive stats were recorded. The 5-star linebacker is set to be in Auburn this weekend for the Iron Bowl followed by visits to Auburn again January 9th, Alabama during the last week of January, and Notre Dame is still to be determined.
2.) Gregory Little – OT – Allen, TX (Allen)
Allen extends its win streak to 55 games and the title run is still in tact, but it almost didn't happen. The Eagles pulled out a 41-40 victory after DeSoto missed an extra point that would have tied the game. The undefeated Eagles will take on the 10-2 Martin Warriors in Arlington this week. Little delayed his commitment decision recently, to focus on Allen's quest for a four-peat. There has been no news on his recruitment.
3.) Rashan Gary – DT – Paramus, NJ (Paramus Catholic)
Paramus Catholic was eliminated from the playoffs a few weeks ago, but the consensus number one player's recruiting process is in full swing. He took a visit to Ole Miss last week for their matchup against LSU, where he spent a lot of time with Rebels QB commit, Shea Patterson. He has a visit to USC set for January and other visits are TBD.
4.) Jeffrey Simmons – DT – Meridian, MS (Noxubee County)
The Tigers dominated Houston in a 56-26 blowout. Simmons blocked a punt that would be scooped up and taken for score. 10-4 Noxubee County will face 12-1 Greenwood in the North Half Final this week. There has not been much talk of Simmons' recruitment as he focuses on getting his Tigers a title.
5.) Isaac Nauta – TE – Bradenton, FL (IMG Academy)
The Ascenders are waiting to see if they will have one more game because they do not play for a state title. They will find out next week if they could play a Georgia high school on December 18th.  Nauta switched another OV by replacing his TCU visit on the 28th to an Oklahoma State visit and is making another trip to UGA. The Buford, GA native, who attend IMG in Bradenton, FL, will be announcing his decision at the U.S. Army All-American Bowl and plans to enroll early wherever he goes.
6.) Demetris Robertson – ATH – Savannah, GA (Savannah Christian)
Robertson was the catalyst for Savannah Christian in the Raiders' 24-14 win over Landmark Christian. Robertson finished with 166 yards on 21 carries (7.9 YPC) and scored on a 57-yard touchdown run. he also blocked a kick in the game. The Raiders move to 9-2 and will face undefeated Prince Avenue Christian out of Athens,GA. The former Alabama commit was at Georgia last weekend for the OT win over Georgia Southern. His top three is looking like Stanford, Alabama and Georgia.
7.) Lyndell Wilson – LB – Montgomery, AL (Carver)
Carver did not qualify for the playoffs this season but Wilson's recruitment has stirred up some news. He has listed Florida as his favorite, but Alabama is a close second after the great experience he had at the LSU game. His commitment is starting to look more and more towards Gainesville as his teammate Tony Nelson committed to Florida. He is not set to decide on any certain date yet but things are looking like they will come down to Florida and Alabama.
8.) Nigel Knott – CB – Madison, MS (Germantown)
The Mavericks were eliminated from the playoffs by Oxford who was led by Ole Miss commit, D.K. Metcalf, by a score of 40-33. Knott returned an interception 80 yards for a TD to take the lead in the fourth, but Metcalf won the game for Oxford in the end. Knott will now look forward to playing in the Alabama-Mississippi All-Star Game in December. He also recently took an unofficial visit to Ole Miss for the LSU matchup.
9.) Rashard Lawrence – DT – Monroe, LA (Neville)
Neville defeated Carencro last week by a score of 38-12 to move to 11-0 on the season. No stats were recorded for Lawrence. They will face DeSoto next week. In recruiting news, Lawrence will not be visiting Ohio State again and with the coaching change circulating at LSU, his recruitment is becoming tougher to follow.
10.) Mecole Hardman Jr. – ATH – Elberton, GA (Elbert County)
Hardman ran for 222 yards and 3 TDs in the Blue Devils' 23-8 win over Dodge County, gaining more yards on the ground than Dodge County as a team. He also had an INT on the defensive side of the ball in the win. Elbert County moves to 11-2 and is set to face undefeated Calhoun this weekend in the third round. Hardman was set to make a "silent commitment" when he decided but those plans have since been canceled. He is set to make the trip to Ann Arbor this weekend for the Wolverines' matchup with Ohio State.