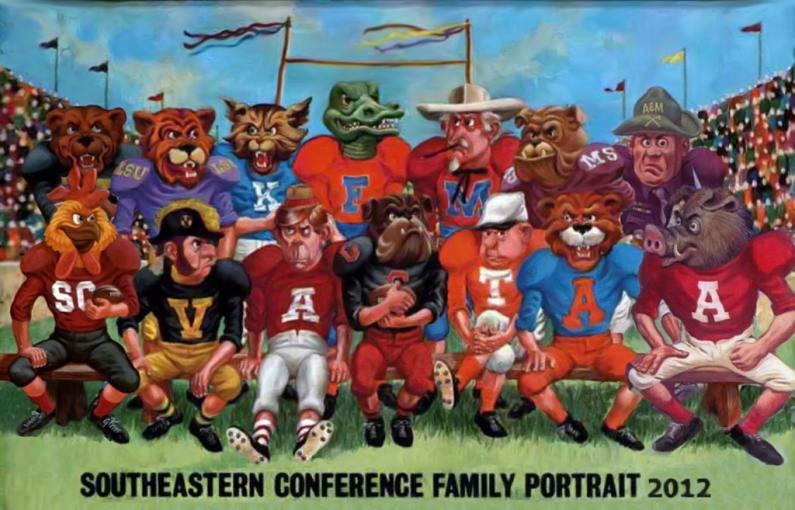 Larry's Losers in the SEC – Week 13 – 2015
By: Larry Burton
Well folks, last week had an upset we just didn't see coming. Those USC Gamecocks used to be some wiley pluckers, but this year they're the SEC suckers. We never envisioned them losing to the likes of Citadel, even in a bad year. The other loss was caused by a last second field goal being blocked by the Bulldogs that hung the Hogs out to dry. So that 8 for 10 outing made our season record 75-14 and that lowered our season average to just over 84%.
So with the upset bug sneaking up and biting us in the most unexpected places, we went back over this week's picks and looked to see where he might just pop up again this week and there are five games we think he could pop up, so while we always strive for perfection in prognostication, we'd smile if we just miss one.
So let's just jump right in and get this list going and see who's going to be sad to see their favorite team posted on the loser's list.
Missouri at Arkansas – Gary Pinkel plays ring master for the last time in an SEC contest with his trained Tigers and he knows a win here could get him one more round of ring master in a bowl and his players would surely love to see their coach get that prize.
But the head Hog Beliema ain't about to get to misty eyed over his opponent's coach in maybe his last game. He's got his eyes set on landing a big bowl of his own and he knows a win here might get him to New Year's weekend.
Coach Pinkel, we wish like heck here at picking paradise that we didn't have to have your team on the list this week, but know that we do so with the greatest of respect and admiration. God bless you coach on the rest of your travels. Larry's loser – Missouri
Georgia at Georgia Tech – Les Miles loses three games, won a national championship and is losing his job they say. Mark Richt lost three games, never won a championship and is sailing right along. But with all this firing talk in the air, he sure don't won't to lose his fourth game and get them all talking about his job.
And here come the Yellow Jackets, who despite only having won three games, did upset Florida State, so they know that even though they ain't going bowling, they can sure ruin another team's season and they'd rather do it more to anyone than to the cross state Bulldogs.
And though this one could be close, we think the Dogs pull this one out and Richt keeps his head down out of the firing fray for now. Larry's loser – Georgia Tech
Louisville at Kentucky – Bobby Petrino gets to bring his boys back to the SEC and it may seem like old times for Bobby, but instead of an SEC team, he's bringing a clan of Cardinals to swoop in and peck a pack of Tigers into submission.
But Mike Stoops' Kentucky Kitties are in some serious need of a win to get to that six win number and get a bowl invite, so he's going to have his felines in fighting physique for this contest and since these are cross conference rivals with no love for one another, you can bet that fur and feathers are gonna fly in this one.
I'd love for Mildcats to win this one and go bowling because they usually carry the SEC in the hoops sport, but both Bacardi and I are both seeing red in this one, as in the Cardinals. Larry's loser – Kentucky
Clemson at South Carolina – Dabo Swinney brings his band of Bengals down to Commonwealth because they've got a thing for Chicken and they figure they can fill up before they go to the ACC Championship.
Last week these Carolina Cluckers did a lot more sucking than clucking and got the biggest bite from the upset bug of the season. They'll lay another egg this week and the Tigers are going to feast on these feathered footballers.
This is usually a great game, but this one won't be worth a watch unless you like a good blowout. Larry's loser – South Carolina
Vanderbilt at Tennessee – The Captain Crunch bunch sail over to show the Vol Navy who's the winner in the waters by the Tennessee River next to Neyland Stadium.
But the Vols are so used to beating down little brother that they'll make their battleship look like a rubber duck in a two year old's tub. The Vols are needing another win to get to eight which puts them in a much better bowl so they aim to take no prisoners and sink the life boats too.
And that's just what will happen in this one and the Commodores catastrophic season finally comes to a crashing close. Larry's loser – Vanderbilt
Alabama at Auburn – Alabama's pachyderms go the plains of Auburn on a mission to stake their claim on another SEC West title and to drive a stake through the heart of the home crowd fans as they tear apart these Tigers on stripe at a time.
I'd like to say that Coach Gus has a plan to trip these tusked ones and make up for a sorry season that saw them go from first to worst in the SEC West, but he's just hoping to keep it from becoming a football fiasco.
But Bacardi says he smells a blowout in this one so if Les Miles is in hot water for losing three games, I'd hate to be Gus explaining how taking a team picked to be first winds up losing twice that many. Larry's loser – in a blowout – Auburn
Ole Miss at Mississippi State – Ole Miss travels down Highway Nine to show up in Starkville and stake their claim to the Egg Bowl and become the master of Mississippi one more time.
But Mullen's Mutts know how to defend the home yard and they plan on rousting these Rebels with a few well placed bites to the bottoms of the boys from Oxford.
Now the boys from Vegas see this as a one point game difference, but we both smell blood in the water and the blowout bug is going to be biting in this one and the Rebels get it going and keep it going all game long. Larry's loser – Mississippi State
Florida State at Florida – Jimbo Fisher and his pow wow pals take the war path down to Gainesville to wrestle a Gator and claim the crown of "best team in Florida".
And while the Seminoles have major holes in their dreams of a playoff dream, the Gators still have an outside shot and hope that wiping the warpaint from the cheeks of these not too pale faces will enhance their chances of a little bump up in the polls and get them close to the prize the prize they want so bad.
The boys in Vegas see this as a close game, but an Alligator has a short memory and these Gators have forgotten how to score, so the pigskin pickin' pooch and I both see a big win in this one, not a nail biter. Larry's loser – Florida
Texas A&M at LSU – Coach Kevin Sumlin brings his squad of soldier boys down to LSU to try a little Tiger taming trick he picked up down on the farm and collect his team's ninth win and maybe a big bowl game too.
But beating a Bengal in his home cage at night hasn't always been an easy thing to do and Les Miles figures if this is his last game in those confines, he's going to go out a winner.
The boys from Vegas see a real close game, but they forgot something, the Aggies forgot how to tackle and speaking of memory, Fournette is going to remember how to pile up yards again in this one and the Bayou Bengals end this SEC season on a high note. Larry's loser – Texas A&M
Folks, over all the years we've been listing these losers, we've seen coaches come and go. Some we've gotten to know through interviews and meetings at SEC media days and some we've just admired. When coaches get fired or retire it's just part of the world of college football, but when they have to step aside for medical reasons, we want to see them wind up on the winners list. Coach Gary Pinkel is one of the men we've gotten to know and admire and we wish him God's grace in his journey from coaching forward. He is a class personified and he will be missed as he guided a team that no one thought would ever be competitive in the SEC the Eastern Champions twice.
As for Les Miles, he's always been the straightest shooter in the world with me and I've enjoyed his playfulness and unpredictability. Les if they put you on the losers list, you'll be missed too even though you've caused us plenty of problems over the years in tabulating just what your Tigers would do. I think they're making a big mistake if they do list you a loser, but that's just one man and a fine dog's opinion and I'm sure the big heads at LSU could care less.
It's been a great season so far as this week, filled with so many rivalries, just makes it all a fitting end to a very unregular regular season. But don't stress folks, we've still got the SEC Championship Game to pick and then a bushel full of bowls to pick, so you won't have to worry about going through withdrawal anytime soon.
Till then, have a happy and joyous Thanksgiving and Bacardi says any good ham bones you have left over, send on down the headquarters down in Florida. Now, let's get out of here dog, we've got a turkey to smoke!
LARRY HAS BEEN PUBLISHED IN ALMOST EVERY MEDIA OUTLET FOR COLLEGE SPORTS AND NOW PRIMARILY WRITES HERE FOR TOUCHDOWN ALABAMA. HE WRITES IS A COLLOQUIAL AND IRREVERENT STYLE FOR THIS SERIES OF ARTICLES. LARRY'S VIEWS AND SENSE OF HUMOR MAY OFFEND, BUT HE AIMS TO OFFEND EVERYONE EQUALLY. IF HE HASN'T INSULTED YOUR FAVORITE TEAM WITH LARRY'S LOSERS, JUST WAIT. FOLLOW LARRY ON TWITTER FOR INSIDE THOUGHTS AND GAME TIME COMMENTS AT

 HTTPS://TWITTER.COM/LBSPORTSWRITER
THANKS FOR SHARING THE LINK TO THIS STORY ON YOUR FACEBOOK PAGE