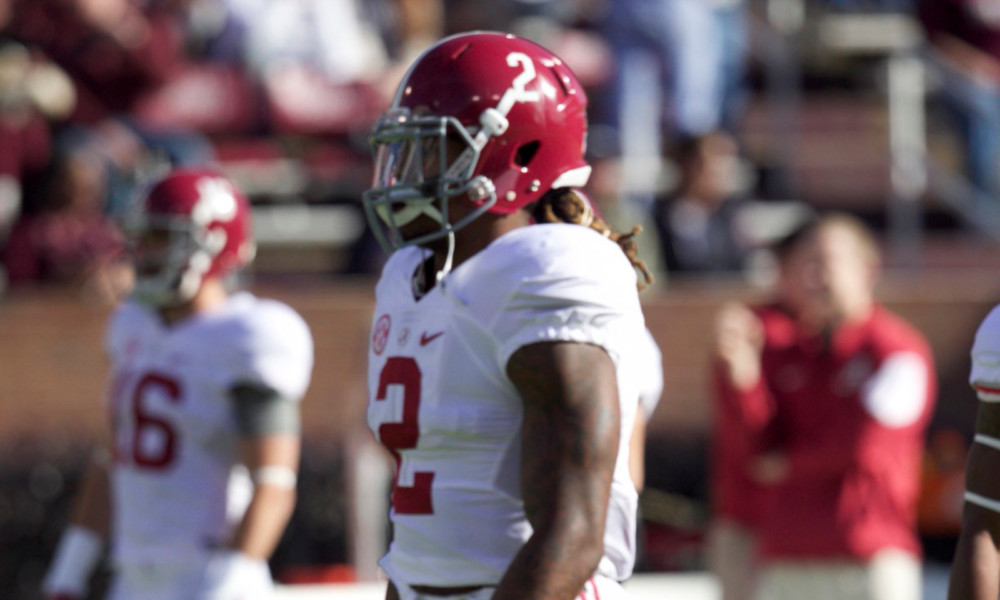 One thing remains after having a Thanksgiving meal and getting mobbed on Black Friday, watching a highly competitive Iron Bowl. For Auburn, Saturday becomes an opportunity to save its season. A victory ensures the Tigers a bowl game opportunity, while a loss may hang postseason action in the balance. Alabama needs a win to clinch its fourth SEC West crown under head coach Nick Saban. A Crimson Tide victory puts this year's group in Atlanta for a shot to secure its 25th conference title.
Prime time networks will make bank this week. Records and stats do not apply, as the lone that matters is embarrassing an arch-rival. Yours truly of Touchdown Alabama Magazine now looks into the five players to watch for in this year's Iron Bowl.
5. Ricardo Louis, WR-Auburn
Louis is Auburn's senior leader at wide receiver. He has caught 44 passes for 675 yards with three touchdowns. His 73-yard touchdown reception against Georgia with 25 seconds left in the fourth quarter gave Auburn every bit of hope for national title in 2013. Louis and teammates must bring the same consistency this week against Alabama at home. The Tigers have struggled with dropped passes all year.
Louis and others must bail out quarterback Jeremy Johnson by making plays in the passing game. Balance for Auburn against the Crimson Tide will start at receiver.
4. Calvin Ridley, WR-Alabama
Former Alabama wide outs Julio Jones and Amari Cooper both torched Auburn, and now it is Ridley's turn. He leads the team in receptions (61), receiving yards (701) and touchdowns with five. The freshman averages 11.5 yards per catch and 63.7 yards per game. Ridley chimes in with two 100-yard games, with both coming against Georgia (120) and Arkansas (140). His speed and route running abilities will be hard to cover.
3. Carl Lawson, DE-Auburn
It is something about having Lawson on the field that helps Auburn's defense play better. In his return from injury, Lawson has helped the Tigers improve. He stands at 12 tackles, 2.5 tackles for loss and a sack. The junior has to be a force against the run this week. Auburn's defensive front allows 186.7 rushing yards per game. Opponents have scored on the ground 23 times. Affecting Alabama quarterback Jacob Coker will also be imperative. Six of his eight interceptions have come from being hit, while he is releasing the ball. A combination of both from Lawson should make this game close. 
2. Jacob Coker, QB-Alabama
He said he was "living the dream" in coming to Alabama, but now Coker can secure his first Iron Bowl victory this week. He has earned the respect and trust of the team and coaching staff with his play. Targeting receivers early and often will be plan; however, Coker cannot afford bad sacks. He must be willing and ready to throw the ball away or check it down in pressure situations. Limiting mistakes and playing with poise are vital for him. He has 2,106 passing yards with 14 touchdowns to eight interceptions.
1. Derrick Henry, RB-Alabama
A list of this caliber should not be created if Henry is not on it.
He is the most important player to watch for Saturday. The junior has an opportunity to lock up the Heisman Trophy even more with a strong outing against Auburn.
Henry eyes a chance at two records, Alabama's single season touchdown mark and the Southeastern Conference's rushing touchdown mark (season). Henry has rushed for 1,526 yards and 21 touchdowns on 249 carries. He averages 138.73 yards per game, while pounding SEC competition for 166.1 yards per game and 12 touchdowns.
Stephen M. Smith is a senior analyst and columnist for Touchdown Alabama Magazine. You can "like" him on Facebook or "follow" him on Twitter, via @ESPN_Future.