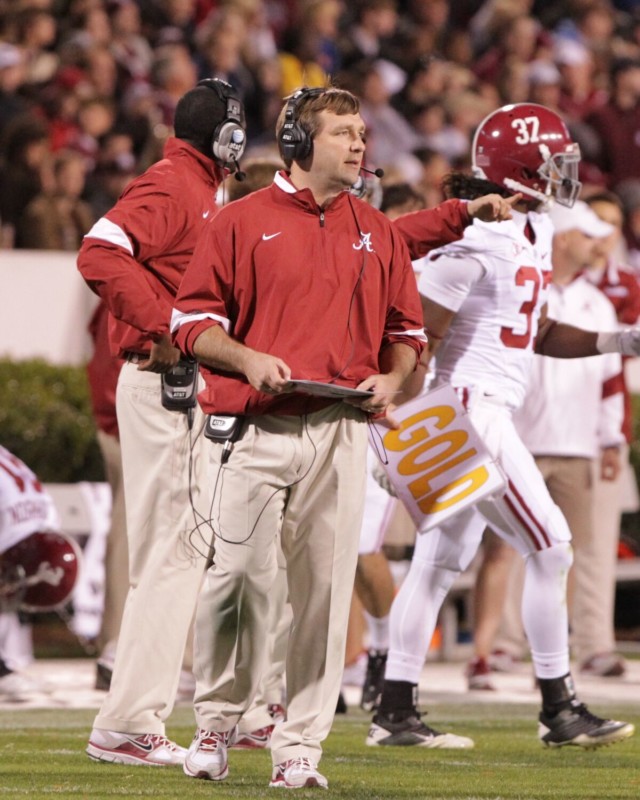 Explaining the Smart Exit Strategy
By: Larry Burton
There are so many Alabama fans confused by coach that leaves the Alabama program to become a head coach. They don't understand "coach speak" and they don't understand the inner workings of deals are made out of the public eye and done out of the media.
Some don't realize that these coaches have split allegiances now with coach and team they've been with and still have feelings for and their new employer.
Much has been written about Kirby Smart leaving Alabama. Some Alabama fans point to him saying he has never been contacted by this school or that school directly, so it must not be true that he's leaving. They don't realize that while he's telling the truth, he hasn't spoken to them directly, but his agent has been burning up the phone lines being the intermediary.
How such a deal works is the school contacts the agent and asks if Kirby would be interested in the head coaching job at Georgia, the agent says he knows he would be under the right circumstances and then the deal making begins. It's not just about the salary, but power is also worked out. Will Smart have full hiring authority? What is the limit for his assistants salaries and so forth.
Then there comes the transition. For that, look at history.
Fans have forgotten how Jim McElwain left a coordinators job for Colorado State. All the deals were worked out far in advance of McElwain making a public announcement. Saban prefers his coordinators and other coaches to stay throughout the remaining games in the post season and McElwain did.
McElwain never missed a practice, yet flew out to Colorado to do recruiting during every free few hours. McElwain told his players, but no announcement was made public until everyone thought the timing would create the least distraction or "clutter" as Saban calls it.
This is standard operating procedure in these matters and both Saban and Georgia know and respect this. Remember, when Richt came over from Florida State, the deal was made weeks before it was ever public. Georgia allowed Richt to finish the season with the Seminoles who were also playing for a national title.
South Carolina had been in hot talks with Smart and Georgia was told that Smart was ready to give the go ahead if nothing better came up. In other words, Smart's agent knew that Georgia had expressed interest in Smart for some time, but it was now or never for them. Had Smart said he was not interested in the Gamecock job and content to stay at Alabama, Mark Richt may have stayed the head coach for one more year, but Smart was always the Georgia succession plan for Richt, so rather than lose him for good, they pulled the trigger, fired Richt and made the deal for Smart.
Smart is "coming home" to Georgia. It is where he and his wife both played college sports. For Smart, it was akin to the same thing coach Paul "Bear" Bryant went through when he told the press, "Mama's calling and I have to go home."
Smart does not want to make the SEC Championship byline be about him leaving, he wants the team, the press and the fans focused on the game.
He can not be called a liar when he says he's not talked to any school directly about a job because he hasn't. That's just one of the reasons you have an agent. When Saban says no school has yet inquired about Smart, Saban also is telling the truth. He's been there himself and he knows that everything has already been worked out and once the ink is dry and the contract is ready to sign, Georgia will "officially" contact Alabama. But this is something that Saban and Alabama have known about for a while now and Saban has all but publicly given Smart his blessing if you read between the lines in what he's said about him lately in press conferences.
Georgia does this so it's a done deal before they announce. No school wants to be publicly turned down by a coach after an official offer is made, it makes them look bad. Smart does this to insulate himself, his present school and his players from a sea of constant news and speculation. The only bad thing is when fans don't understand how the process works and think there's still hope that a coach may stay because he won't admit anything.
The purpose of this article is not to add to the "clutter" but to help fans understand why Georgia's not saying this or Smart's not saying that. After the last article speculating who would be Smart's replacement, some fans were insistent that because Smart hasn't said anything, that he's not leaving.
Now hopefully they'll understand how things are done, research just how it was done before with McElwain, who is now at Florida and will be facing his old team in the SEC Championship and understand more why things are done the way they are.
Hey don't kill the messenger, I've just been around far too long, talked to a slew of coaches and agents and understand how this strange "dance" is done. Unless Smart is given a timeframe and a coach in waiting status at Alabama, (which no one there has talked about doing) the announcement is likely to be made after the SEC Championship Game so as not steal the limelight from that achievement. Then he'll stay to work the playoffs.
But if there's one thing I've learned, is that nothing is done until it's done. LSU wanted Jimbo Fisher, they wanted him bad. Talks with his agent were underway and were being listened to and some negotiation was started with the middle men from the school and the agent. Les was gone, but the school jumped the gun in hanging their coach out to dry because something we don't know happened.
Either Fisher's agent made a deal for more money from FSU, Jimbo got cold feet about jumping into the SEC West or whatever, but when he said no, LSU had no plan B, so they kept Miles, for now, until a plan B, C and D could be worked out. They came off looking like idiots.
Georgia won't let that happen. They got everything worked out in advance. So yes Alabama, Smart is gone, but remember, they won championships before he was a coordinator and they're likely to win them after he's gone. The Tide will keep rolling.
Larry has been published in almost every media outlet for college sports and now primarily writes here for Touchdown Alabama. Follow Larry on Twitter for inside thoughts and game time comments at https://twitter.com/LBSportswriter
THANKS FOR SHARING THE LINK TO THIS STORY ON YOUR FACEBOOK PAGE