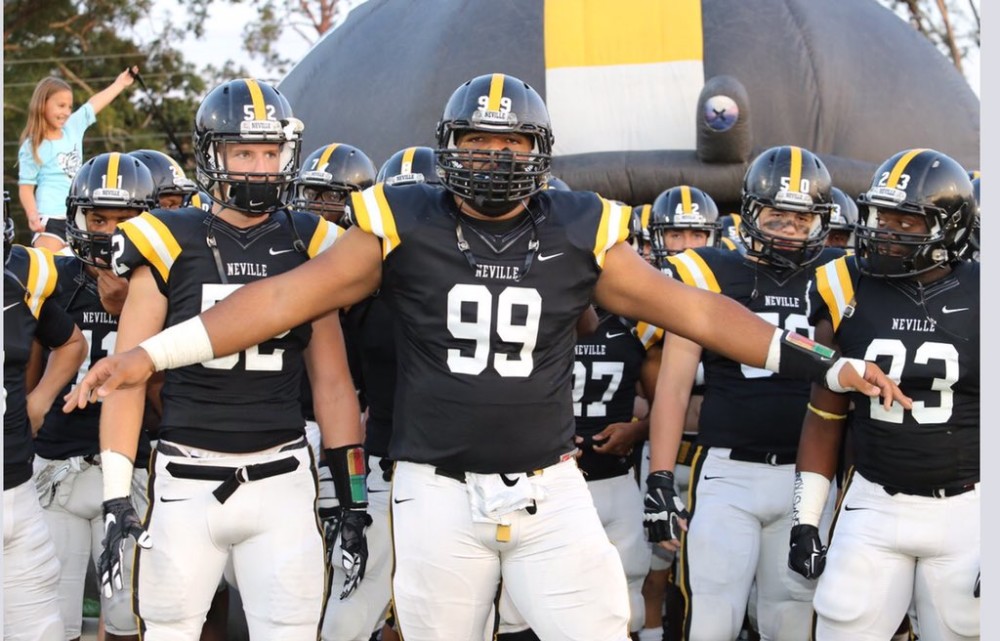 Ben Davis' season ended two weeks ago at the hands of Bayside Academy. He has recently had in-home visits from Notre Dame and LSU and will have visits from Auburn and Alabama very soon. Davis is set to take official visits Auburn, Alabama and Notre Dame as he has already taken his officials to LSU and Georgia.
2.) Gregory Little – OT – Allen, TX (Allen)
Little helped Allen in a 36-11 victory over Martin last week, extending the Eagles' win-streak to 56 games. They are now just one game away from that illustrious state title. They will face Ryan in a top 5 matchup. Little had an in-home visit with TCU next week. More news on Little's recruitment should arise after the playoffs.
3.) Rashan Gary – DT – Paramus, NJ (Paramus Catholic)
Gary was on hand to visit Auburn this weekend for the Iron Bowl and called it a "great experience". He met a plethora of Auburn's notable alumni including Cam Newton, Bo Jackson, and even NBA legend Charles Barkley and the visit moved Auburn up on Gary's list. He already officially visited Michigan and Ole Miss, and has trip set to USC on January 15th. He is also trying to set up a last official visit, which will be to either Clemson, LSU or Alabama.
4.) Jeffrey Simmons – DT – Meridian, MS (Noxubee County)
Simmons was the anchor of the Noxubee defense as they held Greenwood to just 5 yards rushing. His defensive stats were not recorded in the game but he did score on a 1-yard TD run in the first quarter. Simmons and the Tigers will take on undefeated St. Stanislaus for the state title this weekend. Simmons should be releasing a top 5 or 6 list some time after the title game.
5.) Isaac Nauta – TE – Bradenton, FL (IMG Academy)
Nauta was on hand at Bedlam this weekend in Stillwater, Oklahoma as Oklahoma tore apart Oklahoma State. Nothing was posted on Twitter or reported about his visit, which could be negative. On Monday, Jim Harbaugh had an in-home visit with Nauta in which he was selling Nauta on Ann Arbor, his vision and Nauta's role in their pro-style offense. Another thing to watch in his recruitment is how the firing of UGA head coach Mark Richt and the hiring of Kirby Smart will affect Nauta as UGA has been high on his list
6.) Demetris Robertson – ATH – Savannah, GA (Savannah Christian)
Savannah Christian's season came to an end at the hands of Prince Avenue Christian by a score of 30-10. No stats were recorded for Robertson. There has not been any major news regarding his recruitment but former UGA head coach Mark Richt did reach out to Robertson after he was fired and told Demetris to not give up on Georgia. Surely, the hiring of Kirby Smart will play into his recruitment.
7.) Lyndell Wilson – LB – Montgomery, AL (Carver)
Lyndell Wilson made the most noise this week of the Top Ten and he didn't even play a game. He announced that he will be dropping his top five list later this afternoon and will be committing December 4th, the day before the SEC Championship game. His leader at the moment is Florida, followed by Alabama. After the recent hiring of Kirby Smart, Georgia has shot up Wilson's list. Stay tuned on Touchdown Alabama for more on his decision and top five.
8.) Nigel Knott – CB – Madison, MS (Germantown)
There has not been much news regarding Knott's recruitment but you can expect some in-home visits from Ole Miss, Mississippi State, Alabama and more. Right now, Alabama seems to be his leader as he prepares for the Alabama-Mississippi All Star Game on December 12th.
9.) Rashard Lawrence – DT – Monroe, LA (Neville)
Lawrence was the key to Neville's 42-14 blowout of North DeSoto in the state semi-finals. He was in their backfield on almost every play, disrupting any momentum DeSoto would have had. The Tigers will face 12-1 Easton in the 4A state finals. Lawrence had an in-home visit with LSU on Sunday and tweeted about the visit saying, "Great visit with Coach Frank, Coach Pev, and Coach O… Meant a lot". He will more than likely meet with Alabama and Ohio State soon.
10.) Mecole Hardman Jr. – ATH – Elberton, GA (Elbert County)
Elbert Country's season came to a halt in a 33-30 triple overtime loss to undefeated Calhoun. Hardman ran 35 times for 144 yards and scored three touchdowns. After leaving it all on the field Friday, he was in Ann Arbor on Saturday for "The Game" between Michigan and Ohio State. He had a great visit and even stated "I can see myself at Michigan now after the visit and I think I fit in just right there." Harbaugh told Hardman that he would be in the same role as Jabrill Peppers, playing both sides of the ball. Michigan has become the team to watch for Hardman, especially after UGA firing Mark Richt, UGA was thought to be his leader for some time.
Justin Wagner is the Scouting Coordinator and Lead Recruiting Analyst for Touchdown Alabama. You can follow him on Twitter, at @jwag718.