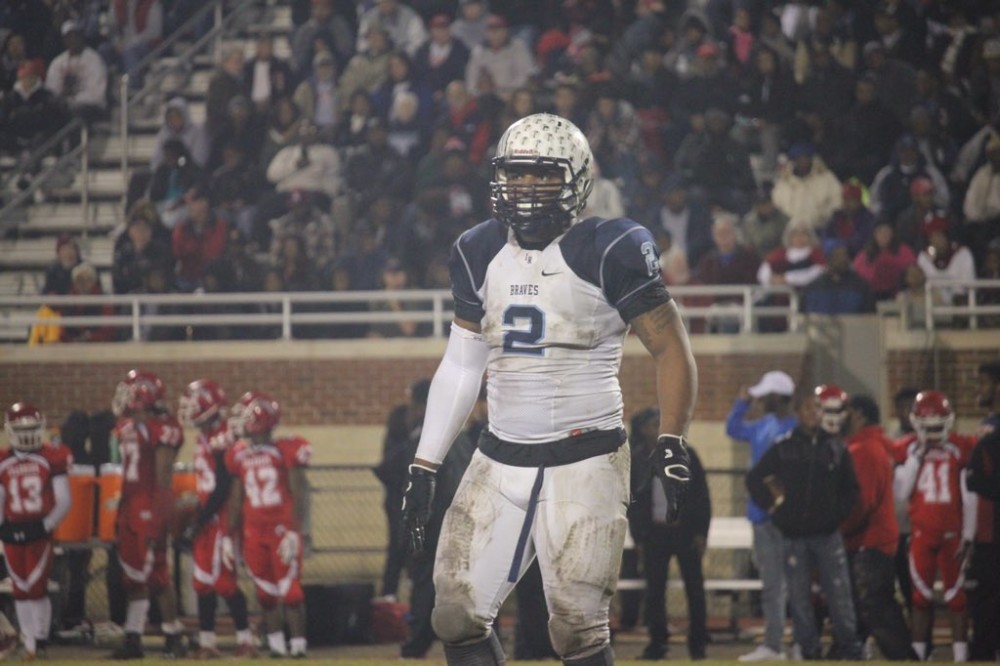 Twelve Alabama commitments were featured in their respective state playoffs last weekend and here is how each of them fared.
2016
 Jonah Williams, OT, Folsom, CA (Folsom)
Folsom came back to beat St. Mary's 56-49 on Friday. Williams covered his QB, Jake Jeffrey's back the whole night, helping him total 618 yards of offense and six touchdowns on 386 yards passing and 238 yards on the ground. The Bulldogs now move to 13-0 and will see Elk Grove this week in the championship.
Raekwon Davis, DT, Meridian, MS (Meridian)
Meridian was eliminated from the playoffs by Petal in a 36-28 loss.  No stats were recorded for Davis. The Wildcats finish the year 8-6.
Chris Owens, OG, Arlington, TX (Lamar)
Lamar's season came to an end after being eliminated in the playoffs by Mansfield 34-29 on Saturday. No stats were listed from the loss. Lamar finishes 11-2.
Deonte Brown, OG, Decatur, AL (Austin)
Austin was knocked out of the playoffs by Clay-Chalkville Cougars and another Alabama commit, T.J. Simmons on Friday, 45-35. The Black Bears finished the season 11-4 and reached their first state semi-final in over 30 years.
Jaquan Yulee, ILB, Chesapeake, VA (Indian River)
Indian River took care of Hampton by a score of 21-17 on Friday. Yulee was the key to the Braves' defense as he sealed the game with a big hit that forced a fumble to get Indian River the ball back in the fourth quarter. Yulee will lead indian River to face Highland Springs this week in the 5A semi-finals.
Miller Forristall, TE, Cartersville, GA (Cartersville)
Cartersville beat a good Jonesboro team by a score of 38-14 on Friday to move to 13-0 and will face Bainbridge in the 4A state semi-finals this week. Forristall caught a 28-yard touchdown in the win.
T.J. Simmons, WR, Pinson, AL (Clay-Chalkville)
Simmons was the catalyst for Clay Chalkville's offense as the Cougars went on to defeat fellow Alabama commit, Deonte Brown and the Austin Black Bears by a score of 45-35. Simmons had four catches for 117 yards and a big 65-yard touchdown catch in the victory. Clay-Chalkville moves to 15-0 and will face Spanish Fort for the 6A state title this week.
Joshua Perry, S, Amite, LA (Amite)
Amite defeated Bogalusa 56-20 in the 3A quarterfinals last Friday. No stats were recorded for Perry in the win. Amite moves to 8-5 as they are set to play St. James in the state semifinals next week.
2017
 Najee Harris, RB, Antioch, CA (Antioch)
The Panthers' season came to an end in a loss to Foothill by a score of 55-54. Harris was electric rushing for 364 yards and 6 touchdowns, but Antioch failed a 2 point conversion that would've won them the game. Antioch finished 11-1.
Netori Johnson, OF, Ellenwood, GA (Cedar Grove)
Cedar Grove won by a score of 41-25 against Westside in the semi-final round of the 3A playoffs. The Saints move to 11-1-1 as they are set to play Westminster this week.
Jake Fromm, QB, Warner Robbins, GA (Houston County)
HC fell 59-47 to Allatoona, ending their season. Fromm still posted outstanding numbers completing 24 of 47 passes for 369 yards and two touchdowns. The Bears finished 11-2.
Xavier McKinney, S, Roswell, GA (Roswell)
Roswell squeaked by Collins Hill 17-10 on Friday. McKinney totaled seven tackles and two pass breakups in the win. Roswell moves to 13-0. The Hornets will advance to the semi-finals of the 6A playoffs against Grayson.
Justin Wagner is the Scouting Coordinator and Lead Recruiting Analyst for Touchdown Alabama. You can follow him on Twitter, at @jwag718.