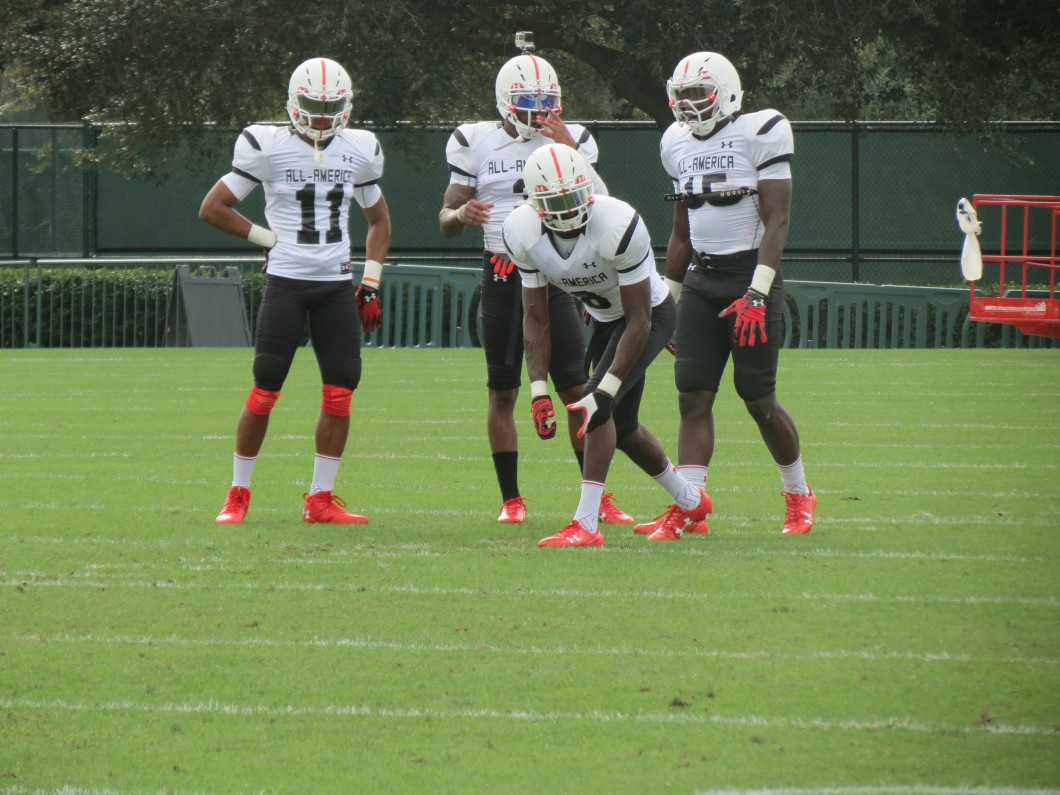 Alabama have four of it's commitments and roughly over ten top targets competing in the Under Armour All America Game this Saturday. Touchdown Alabama was on site at The ESPN Wide World of Sports to see these guys in action. Here's how each fared on the first day of practice.
Alabama Commitments
Kendall Jones – DT – Killeen, TX
Jones went out at the end of the practice with an ankle tweak but before that, he was dominant in the middle, using his strength and size to have his way in the trenches.
Deonte Brown – OG – Decatur, AL 
Brown was an imposing figure on the field, standing at 6'3″, 350 pounds, stomach out and all and his play was imposing as well. He was able to win a majority of his one on one matchups using his surprisingly quick feet and hand placement.
Chris Owens – OG – Arlington, TX
Owens looked a bit flustered at some point, probably due to nerves but when he got comfortable, he looked good. He looked fluid within his movements,especially off of the pull blocks.
B.J. Emmons – RB – Morgonton, NC
Emmons got a good number of carries for Team Highlight today and made the most of them, he showcased his speed as well as his vision and strength through the hole, consistently creating good bursts.
Alabama Targets
Ben Davis – LB – Gordo, AL 
Ben Davis looked like he was having a blast out there, dancing around and making plays, he hit the gaps consistently and was always around the ball, as expected of Davis.
Lyndell Wilson – LB – Montgomery, AL
Wilson looked to be all business on the field and showed it in his game, executing his assignments and playing both inside and outside linebacker, showing his versatility.
Nigel Knott – CB – Germantown, MS
Knott was dominant, locking down just about everyone he covered. He looked comfortable against his matchups and it should be a good week for him if he can keep it up.
A.J. Brown – WR – Starkville, MS
A.J. Brown made some great catches, showcasing his athletic ability but more than anything showed his outstanding route running ability in drills, keeping it crisp and tight within his movements.
Cavin Ridley – WR – Deerfield Beach, FL
Ridley, like Brown also showcased an impressive route tree, executing his routes fully and making good catches on his intermediate routes.
Rashan Gary – DE – Paramus, NJ
All eyes were on the nation's top player as he had a pretty good day, he was not dominant but he did showcase his abilities to move and push. He has a whole week to do his thing but we all know what Gary can do.
Rashard Lawrence – DT – Monroe, LA
Lawrence also wasn't dominant but he was a presence, showing his motor in the middle, making plays when needed and using good moves to get into the backfield.
Keith Gavin – WR – Crawfordville, FL
Gavin was another receiver who's about as physically gifted as they come and he was able to make a number of great catches mid-air and on the deep ball as well.
Terrell Hall- LB – Washington, D.C.
Hall is injured but in attendance for the events going on throughout the week
Landon Dickerson – OT – Hickory, NC
Dickerson looked comfortable out there, proving he's been with this type of talent before (camps and Rivals 5-star Challenge). He was very good on his feet and got good pop off the snap throughout practice.
Tune in each day this week to find out what Alabama's prospects are up to in Orlando.
Justin Wagner is the Scouting Coordinator and Lead Recruiting Analyst for Touchdown Alabama. You can follow him on Twitter, at @jwag718.