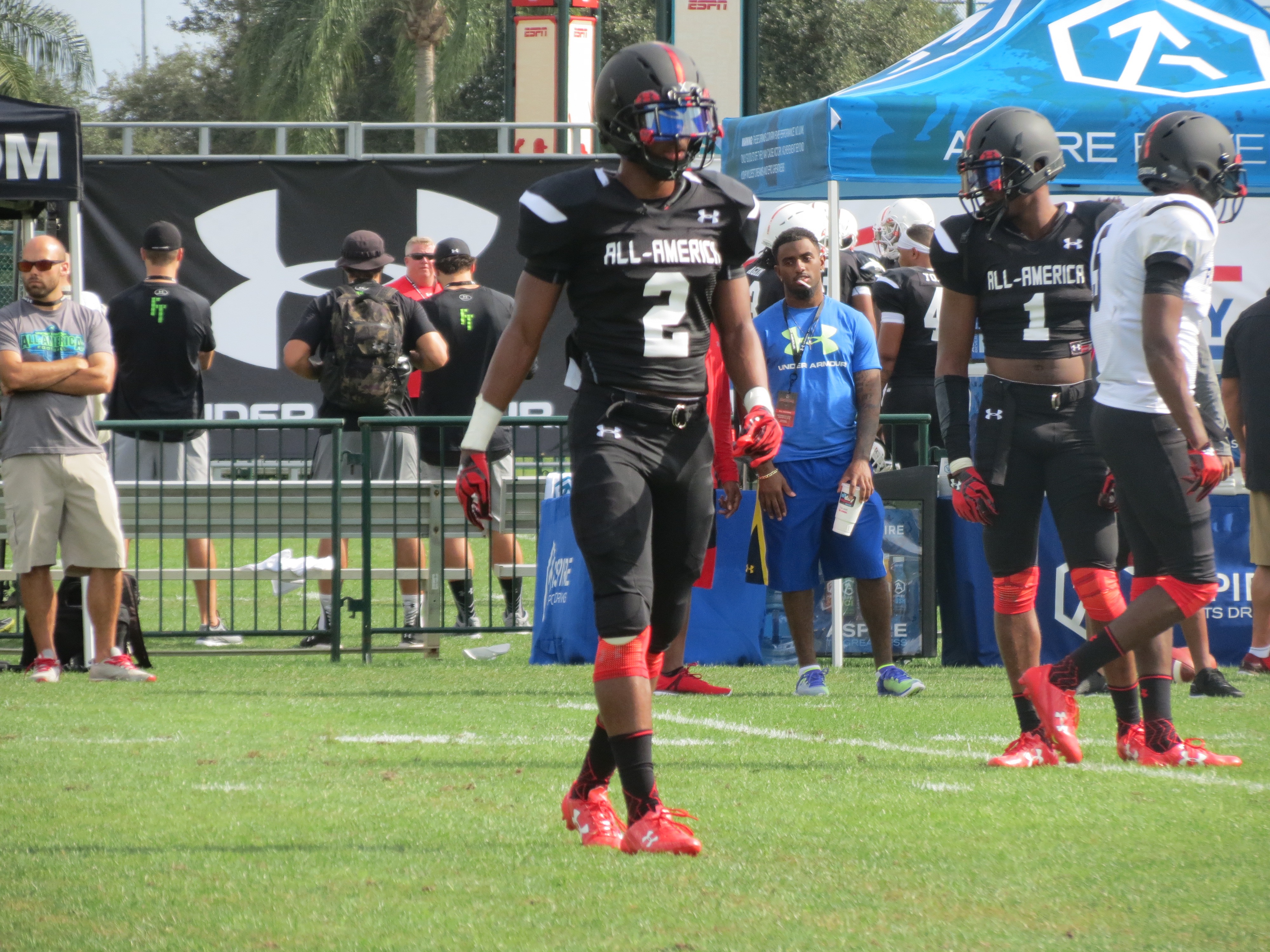 The first day of practice here at Under Armour All America week in Orlando, FL has come to a close and today was just a sneak peek of the future of college programs across the nation. Touchdown Alabama was on hand and saw the best performances of the day from each team.
Overall Best Performances:
Team Highlight: 
DT Benito Jones – Waynesboro, MS – Committed to Ole Miss

The Ole Miss commit was dominant on day one, making use of his strength and hand placement off of the first step in drills

DT Kendell Jones Jr – Killeen, TX – Committed to Alabama

The 6'5″, 360 pound Alabama commit towered over everyone and used his abnormal strength to beat the interior linemen on many occasions

QB Dwayne Haskins– Potomac, MD – Committed to Maryland

Haskins was the clear-cut best QB on Team Highlight, showcasing his cannon arm and vision on intermediate routes. He is likely to start for Team Highlight.

DE McTelvin Agim – Hope, AK – Committed to Arkansas

The Arkansas commit stood out to many by using his above average speed for his size and plethora of moves to break through offensive linemen.

DL Marlon Davidson – Greenville, AL – Committed to Auburn

As expected, the Auburn early enrollee had a big day, showing his off the charts athleticism and consistently winning in one v one drills.

WR A.J. Brown – Starkville, MS – Considering Alabama, Mississippi State & Ole Miss

A.J. Brown is about as physically gifted as they come for a receiver, he used his stalky build to muscle defenders but showed his speed and route tree well today.

RB Devwah Whaley – Beaumont, TX – Considering Texas, Arkansas and Georgia

Whaley got the load of the carries in practice, but that will change every day. He showed great vision and strength as well as a good burst through holes.

OLB Aaron Hansford – Washington D.C. – Considering Penn State, Ohio State & more

Hansford was the quiet but solid performance today, he made a lot of good plays around the ball, including an INT on Miami commit Jack Allison.

CB Nigel Knott – Considering Alabama, Oregon, LSU and more

Knott was dominant at the corner spot, he seemed to have a good feel for his matchups and had great instinct on cover plays.
Team Armour:
CB Kristian Fulton -Metairie, LA – Considering LSU, Florida and Arkansas

The third-ranked CB in the country was lock down today, not allowing any big plays and consistently making plays on the ball.

QB Jarrett Guarantano – Oradell, NJ – Committed to Tennessee

Guarantano was the best QB on the field for Team Armour, making smart and consistent throws as well as moving well on the run. He is looking like the starter for Team Armour

DE Antonneous Clayton – Vienna, GA – Committed to Florida

Antonneous Clayton was a guy everyone wanted to watch, as he was seemingly in the backfield on every play, and was the most dominant lineman of the day.

CB Marquill Osborne – Cornelius, NC – Committed to Tennessee

Osborne was also dominant from the corner spot, not allowing any big plays and knocking down numerous deep ball attempts.

WR Nate Craig-Myers – Dade City, FL – Considering Auburn, North Carolina & Maryland

Nate Craig-Myers is considered by many to be the best receiver in the nation and he showed why, high pointing the ball and not dropping passes.

CB Chauncey Gardner – Cocoa, FL – Committed to Florida

The Florida commit was the most vocal defender on the field, seeming to be the leader of the secondary, he made great jumps on the ball, snagging an interception at one point. He will be a guy to keep an eye on
Justin Wagner is the Scouting Coordinator and Lead Recruiting Analyst for Touchdown Alabama. You can follow him on Twitter, at @jwag718.