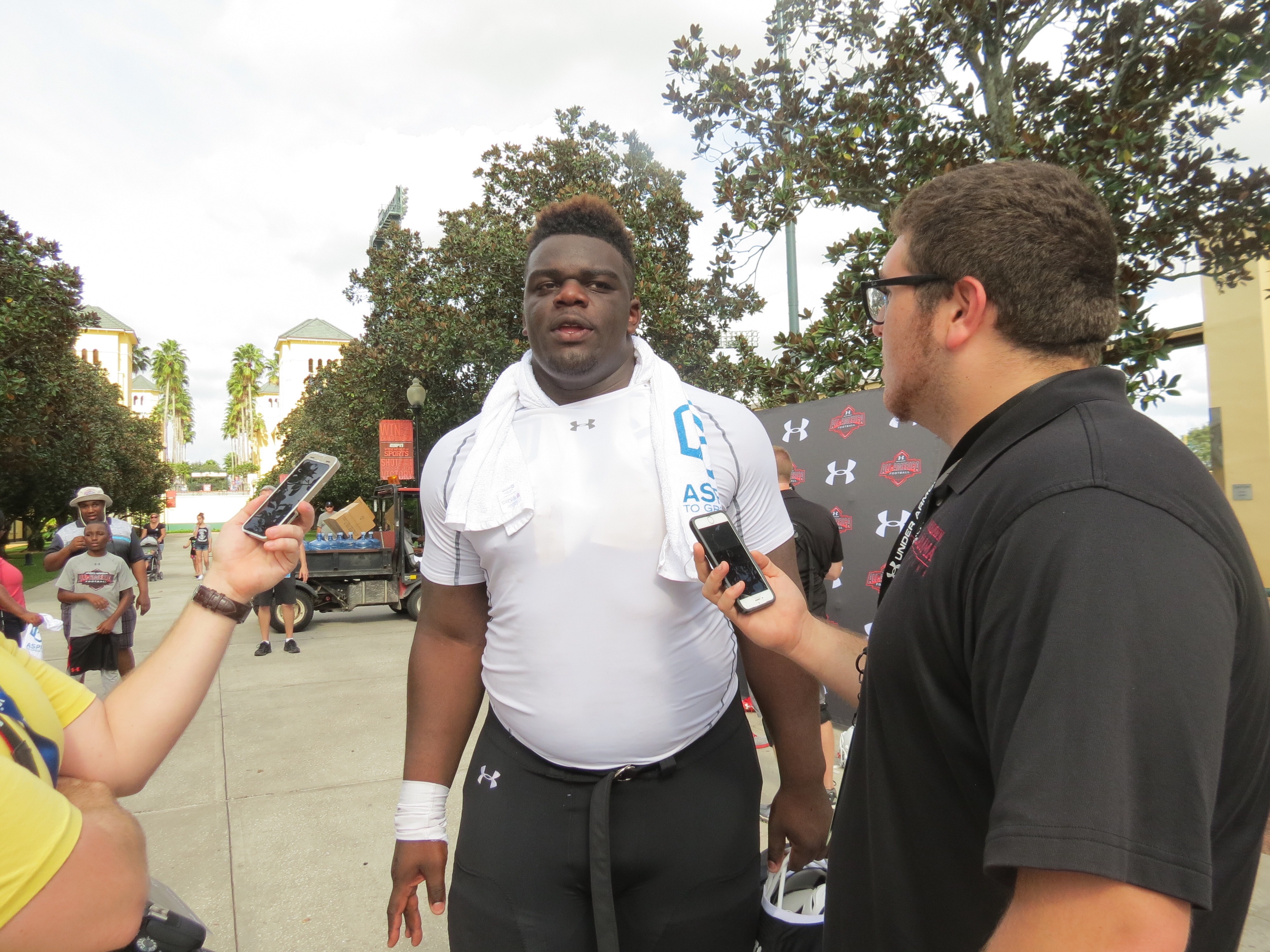 Day one of Under Armour All America week is in the books and Alabama commit Kendell "Hulk" Jones is loving every second of it. "It's going to be a great experience, my teammate [LSU commit, Rahsaan Thorton] is here too and it's going to be great." said Jones, who was very excited to be in Orlando and even more excited to be in Tuscaloosa. "It's amazing, I started from the bottom and now look at me, going places."
Jones has three of his future teammates here, 4-star OG Deonte Brown, top five running back B.J. Emmons and 4-star OL Chris Owens, (all on Team Highlight) and when I asked him what it's like to play with the guys he will spend the next four years with, he was almost speechless, "It's amazing, I can't wait to get to know these guys better." said Jones.
The 4-star says he's been in good contact with Coach Saban and defensive line coach, Bo Davis, they call him whenever they can with bowl practice going on and check in on him to make sure he's doing well.
Jones has been seen recruiting other prospects to join him at Alabama via Twitter.
*Top LB Lyndell "Mack" Wilson*
https://twitter.com/HULKJONES50/status/671725543880916993
*Top 5 ILB Dontavious Jackson*
https://twitter.com/HULKJONES50/status/661204364183232512
He says his top targets this week are number one linebacker, Lyndell "Mack" Wilson and the country's number one overall player, defensice lineman Rashan Gary of New Jersey. He is trying to get new defensive coordinator Jeremy Pruitt's first freshman defense to become one to remember. "There is definitely is going to be change, but I think it was the right hire." said Jones of Pruitt.
Kendell Jones will be tuned in on Thursday to watch the Crimson Tide take on Michigan State and when asked about his thoughts on the matchup, his face lit up. "I'm not saying it's going to be a blowout, but Michigan State has a very small chance of beating Alabama."
Jones did come up limping at the end of the practice but did assure us he was fine, he just tweaked his ankle and was more disappointed he couldn't finish out the practice with what he called "the best of the best".
Be sure to tune in on Saturday as Jones is set to showcase his massive 6'5″, 350 pound frame and just what he'll be bringing to Tuscaloosa in August.
Justin Wagner is the Scouting Coordinator and Lead Recruiting Analyst for Touchdown Alabama. You can follow him on Twitter at @jwag718