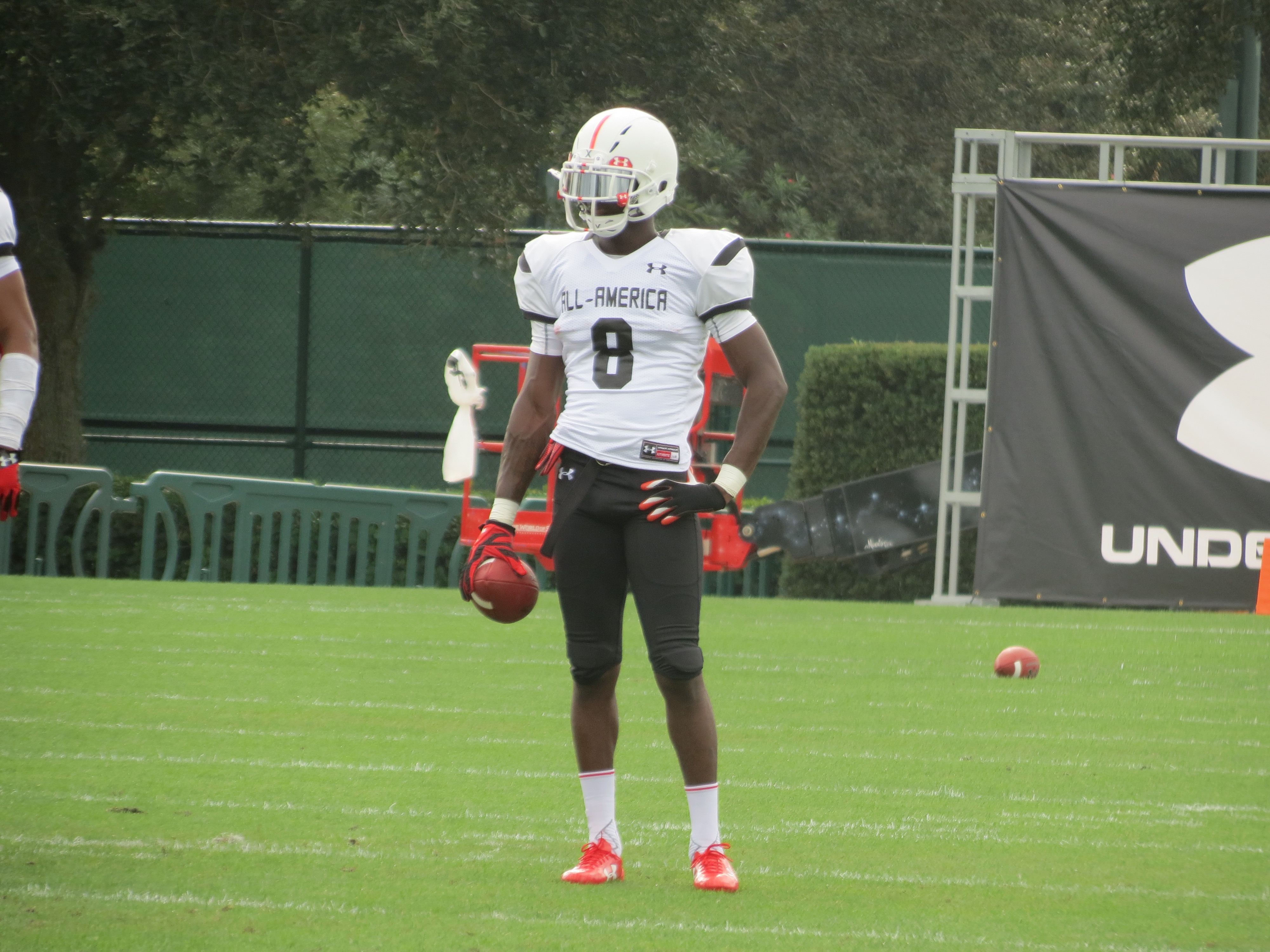 Today afree the Under Armour All-America Game at the Citrus Bowl in Orlando, FL, 4-star wide receiver Cavin Ridley, younger brother of Alabama star Calvin Ridley told Touchdown Alabama that he would be committing to the University of South Carolina. He chose the Gamecocks over Alabama, which shocked many Alabama faithful.
"They have all new coaches, new players, new playbook, it's a fresh start." said Ridley. We also spoke to Ridley earlier in the week about his top two schools and he had only positive things to say about each of the two.
"When they recruited me from Auburn, they did a great job, him [Will Muschamp] and Coach T-Rob [Travis Robinson], so when they moved to South Carolina, they told me it was a fresh start and who doesn't love a fresh start." Ridley said of the Gamecocks. "They told me I could come in and make an impact. None of the players know the new playbook, the new coaches, and that I could be the next guy up."
Ridley will be following the footsteps of Pharoh Cooper who had 973 yards and 8 TDs this season and has consistently been the standout guy for South Carolina for the last four years.
The question that all Crimson Tide fans want to know is simple. "Why not Alabama?" By no means was this an easy decision for Cavin, he teetered back and forth between the two schools. "Alabama attracted me heavily because they just said to "be me", rather than my brother being there, they just told me to be me and that they needed a player like me because in the end I'm a bigger and different player than my brother and they wanted me to do different things."  Cavin Ridley is a kid who wants to learn and feeds off of learning, but at the same time, his goal is to make an impact, and South Carolina gave him the best opportunity for him to pave his own path and make that impact.
So what does this mean for Alabama? The world is not ending. Rumors are flying around that Alabama could be receiving big news about another big time 2016 wide receiver. Mecole Hardman, the number one athlete in the country was reported to be in Tuscaloosa this weekend and could be a potential commitment for the Crimson Tide. This would be a huge boost to this class, Hardman would bring a level of athleticism and explosiveness that could be a vital piece of Alabma's offense.
Another potential target is A.J. Brown out of Starkville, MS who was also a participant in the Under Armour All America Game, recording a touchdown in the game. He is set to take an official visit to Alabama on January 22nd and could be a serious pick up for Aabama's staff. Brown is the best route runner in this class and probably the most physically gifted guy as well. At 6'1″ 220 pounds he is a thick frame who has great upfield speed and ball skills. He is a big time deep ball and end zone threat that could be a nightmare for teams of pored with Calvin Ridley.
There is still time left in this recruiting period and there is a chance for big things to happen for this Alabama class. Although the Tide did miss out on a Ridley brothers duo, the targets on the board are superstars too.
Justin Wagner is the Scouting Coordinator and Lead Recruiting Analyst for Touchdown Alabama. You can follow him on Twitter at @jwag718