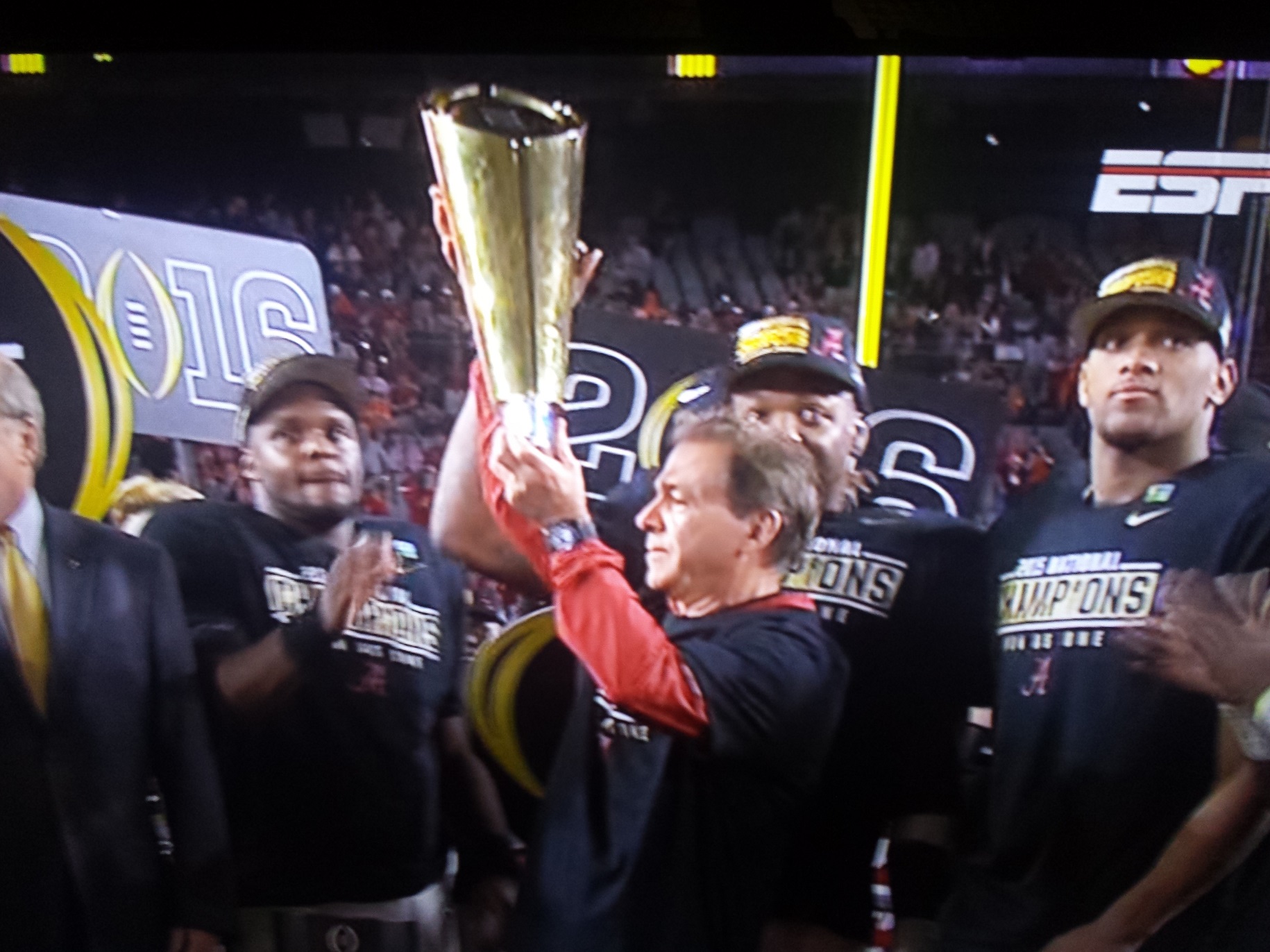 No Losers, But One Winner: Alabama Rolls!
By: Larry Burton
This was a game that had no losers. Both teams played like the champions they were. No one walked off the field a loser, no one walked off with their tail between their legs, this was a game from start to finish by two proud teams who gave no quarter and fought like winners.
But in the end, there could only be one winner and Alabama lifted the trophy for the fourth time in seven years establishing Alabama as the greatest football dynasty of all time in college football.
It was a game of guts and grit, with both team making sensational plays and both teams having cracks appear in the armor. The first half was dead even and the second half was like two heavyweight prize fighters trading punches. In the end though Alabama landed one more punch that Clemson and left with their dreams fulfilled and a trophy in hand.
Most of the offensive and defenses stats were close.
Passing yards: Alabama 335 yards – Clemson 405 passing yards
Passing percentage: Alabama 16 for 25 – 0 INT – quarterback rating 77.7 – Clemson 30 for 47 – 1 INT – quarterback rating 70.9
Rushing: Alabama 138 yards – Clemson 145 yards
But the difference in the game was special teams. Both teams missed one field goal each, but Alabama's special teams won the day.
Kickoff returns: Alabama 196 yards and 1 touchdown – Clemson 68 yards, no touchdowns
Punt returns: Alabama 12 yards – Clemson 11 yards
And the other big special team that proved to be as big as Kenyan Drake's 95 yard touchdown return was the perfectly executed offside kick which changed the momentum and put Clemson's back to the wall for the rest of the second half.
So in total offense and special teams yardage it was Alabama 681 – Clemson 629. That my friends, is a very close game. The big difference was Clemson's one interception and Alabama's surprise successful onside kick.
Alabama had a hard time finding an answer for Deshaun Watson and Clemson had a hard timekeeping Alabama from making big plays and that in the end, was all the gap needed for the Alabama Crimson Tide to roll to yet another championship.
Larry has been published in almost every media outlet for college sports and now primarily writes here for Touchdown Alabama. Follow Larry on Twitter for inside thoughts and game time comments at https://twitter.com/LBSportswriter
Thanks for Sharing This Link on Your Home Page of Facebook!